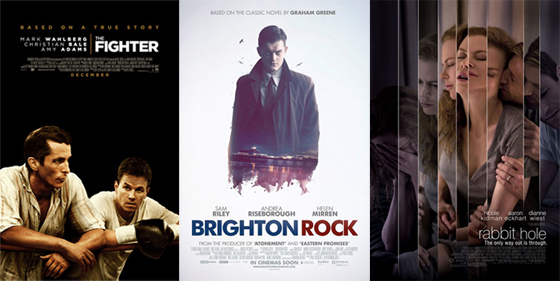 NATIONAL RELEASES
The Fighter (Paramount/Momentum): The real life story of boxer 'Irish' Micky Ward (Mark Wahlberg) and his half-brother and trainer Dickie Eklund (Christian Bale) is brought to the screen with formidable skill and energy by director David O'Russell. The story of two very different fighters from Lowell, Massachusetts, it explores the wider tensions within their large Irish family, which include his tough mother-manager (Melissa Leo), father (Jack McGee), several sisters and Micky's girlfriend (Amy Adams).
Although the framework of the film is familiar, the performances are electric: Bale is astonishing as the crack-addicted trainer, Wahlberg nicely underplays the lead role and Leo chews up her scenes as the controlling matriarch. Working from a screenplay by Scott Silver, Paul Tamasy and Eric Johnson, director David O'Russell uses his considerable skills to transcend the limitations of the conventional boxing movie.
Part of this involves some brilliant camerawork from Hoyte Van Hoytema, which makes great use of handheld and Steadicam, drawing us in to the world of the characters and infusing the film a restless, raw energy. Another clever element is the visual look of the boxing sequences, shot on video to duplicate the TV look of HBO pay-per-view fights in the 1990s, with ringside reactions, instant-replays and image pixelation.
Like his best films, O'Russell seems to inspire technical excellence across the board: the acting, cinematography, Pamela Martin's editing, and the convincing period detail are all stellar and they combine to create a convincing portrait of the boxing world. [Read our full review] [Odeon Leicester Square & Nationwide / 15]
Brighton Rock (Optimum Releasing): Graham Greene's classic crime novel has been updated to the 1960s, during the Mods and Rockers era, with budding gangster Pinkie Brown (Sam Riley) in charge of a protection mob challenging the status quo of Colleoni (Andy Serkis). When a chance sequence of events leads to an incriminating photograph being taken, Pinkie seduces the innocent Rose (Andrea Riseborough) in order to avert arrest.
Directed by Rowan Joffe and co-starring Helen Mirren and John Hurt, the film got a decidedly mixed reception at the London Film Festival (where it screened in the surprise film slot) although other reviews have been more positive. It will need very good word of mouth to make an impact in the current box office climate. [Curzon Soho, Hampstead Everyman & Nationwide / 15]
Rabbit Hole (Metrodome Distribution): Adapted for the screen by David Lindsay-Abaire from his own Pulitzer Prize-winning play, this drama explores the grief of a married couple (Nicole Kidman and Aaron Eckhart) who struggle to cope with the aftermath following the loss of their young child. Although a lot of potential viewers (especially parents of young children) will find the subject matter radioactive, this is a powerful and absorbing film filled with fine performances. 
The two leads are superb as they depict complex emotions of loss and love, whilst in the supporting cast Miles Teller is terrific as the teenager Kidman's character strikes up a friendship with. Director John Cameron-Mitchell has crafted a moving film, the kind that is rarely seen in modern Hollywood, and although the subject matter has meant less-than-stellar US box office, it is well worth seeking out. [The Renoir, Electric Cinema, Clapham Picture House, Everyman Belsize Park & Key Cities / 12A]
Sanctum (Universal): Presented as 'James Cameron's Sanctum' this tale of underwater explorers who get trapped in underground caves combines his passions for deep sea exploration and 3D. However, Cameron is only an executive producer on the film which is directed by Alister Grierson and stars Richard Roxburgh as a diver who wants to be the first to explore the Esa-ala cave system in the South Pacific, only for things to go horribly wrong.
Co-starring Rhys Wakefield and Ioan Gruffudd, the posters and publicity will probably have fooled many suspecting viewers in to thinking it is the new 3D film from Cameron, which could be a disappointment for some. [Vue West End & Nationwide / 15]
ALSO OUT
The Clink Of Ice (Wild Bunch): French black comedy written and directed by Bertrand Blierabout an alcoholic writer (Jean Dujardin) who is confronted by an incarnation of his own cancer (Albert Dupontel). [Cine Lumiere]
A Little Bit Of Heaven (Entertainment Film Distributors): A romantic comedy directed by Nicole Kassell about a woman (Kate Hudson) with cancer who meets her soulmate (Gael García Bernal). [Odeon West End & Nationwide / 12A]
Nenette (Artificial Eye): Documentary by Nicolas Philibert (best known for Être et Avoir) about an orang-utan who is the oldest inhabitant at the oldest zoo in the world, in Paris. [Curzon Renoir / PG]
New York I Love You (The Works): A belated release for this collective work of eleven short films, with each segment running around 10 minutes long. The various segments star Natalie Portman, Shia LaBeouf, Hayden Christensen, Orlando Bloom, Irrfan Khan, James Caan and Christina Ricci with each shooting their part in one of New York's five boroughs. [Curzon Mayfair & Key Cities / 15]
Silken Skin (bfi Distributors): A re-release for Francois Truffaut's Hitchcockian tale of adultery which the director described as 'a violent answer to Jules Et Jim', his previous film about a love triangle. [BFI Southbank & Key Cities / PG]
> Get local cinema showtimes at Google Movies or FindAnyFilm
> UK DVD & Blu-ray releases for Monday 31st January 2011, including Winter's Bone and The Town