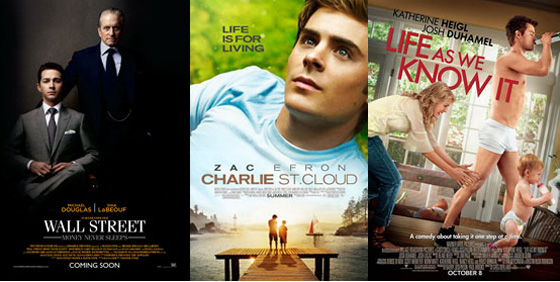 NATIONAL RELEASES
Wall Street: Money Never Sleeps (20th Century Fox): The sequel to the 1987 film begins with Gordon Gekko (Michael Douglas) getting out of jail in 2001 and moves forward to 2008 where a trader, Jake Moore (Shia LeBeouf), is looking for revenge after his firm is taken over by a ruthless rival, Bretton James (Josh Brolin).
Enter Gekko, now the author of a new book warning of a market meltdown. Jake happens to be dating Gekko's estranged daughter Winnie (Carey Mulligan) and agrees to help him reconnect with her, in return for information about James' firm.
Although watchable, this is curiously flat and lifeless and despite being set amidst the recent economic meltdown, lacks tension and intrigue.
The best thing about it is Douglas, who portrays a fallen villain with just the right amounts of regret and cunning, so when he is absent for long stretches the film gets bogged down in characters talking inside rooms about finances or their relationships.
Oliver Stone appears to have lost the energy and anger that marked out his best work and too much of the film is given over to inconsequential domestic drama, which makes this a missed opportunity to bookend the long economic boom which began in the 1980s.
Fox opened this early on Wednesday and with built-in awareness from the first film, can expect a decent opening weekend which will almost certainly see it claim the top slot. [*Read the full review here*] [Cineworld Haymarket, Empire Leicester Sq., & Nationwide / 12A]
The Death and Life Of Charlie St. Cloud (Universal): A drama based on Ben Sherwood's best-selling 2004 novel about a sailor (Zac Efron) who has to choose between keeping a promise he made to his brother, who died in a car accident, or going after the girl he loves (Amanda Crew).
Directed by Burr Steers, it co-stars Kim Basinger and Ray Liotta. Universal will be hoping teenage girls turn out in force for this one as the poor box office and negative reviews from the U.S. do not bode well for its prospects over here. [Vue West End & Nationwide / 12A]
Life As We Know It (Warner Bros.): A romantic comedy about a caterer (Katherine Heigl) and sports director (Josh Duhamel) who have a first a bad first date, who have end up looking after their goddaughter.
Directed by Greg Berlanti, it co-stars Josh Lucas, Christina Hendricks and Jean Smart. Warner Bros will be hoping that undemanding female audiences don't read the mixed reviews for this and won't mind the fact that Heigl seems to be getting typecast as a sour, struggling career woman. [Nationwide / 12A]
Mr Nice (E1 Entertainment): A British made biopic about drug dealer Howard Marks (Rhys Ifans) and his life and times, adapted from his autobiography of the same name.
Directed by Bernard Rose, it co-stars Chloe Sevigny, David Thewlis and Christian McKay. [Cineworld Haymarket, Curzon Soho, Vue West End & Nationwide / 18]
ALSO OUT
Restrepo (Dogwoof): A documentary that chronicles U.S. soldiers on a remote 15-man outpost in Afghanistan's Korengal Valley during the current conflict.
Directed by Tim Hetherington and Sebastian Junger, it garnered mostly positive reviews in the US and also won the documentary prize at Sundance earlier this year. [Curzon Renoir, Empire Leicester Sq., Ritzy & Nationwide / 15]
A Town Called Panic (Optimum Releasing): Based on the cult European animated TV series, this features three plastic toys named Cowboy, Indian and Horse who share a house in a rural town. Directed by Stéphane Aubier and Vincent Patar. [Curzon Soho & Key Cities / PG]
Jackboots On Whitehall (Vertigo Films): A satire set in an alternative WWII where the Nazis have seized London and the Allies must fight back from Hadrian's Wall. Utilising the same techniques used in Team America: World Police, it features animatronic puppets and the voices of Ewan McGregor, Rosamund Pike, Richard E. Grant, Timothy Spall, Richard O'Brien and Richard Griffiths.[ Empire Leicester Sq., & Nationwide / 12A]
Freight (IndyUK Films/Icon): A British crime film about a Russian human trafficking gang who cross a local businessman. [Selected Key Cities / 18]
> UK DVD and Blu-ray picks for this week including Se7en, Memento and Greenberg
> Get local cinema showtimes for your area via Google Movies