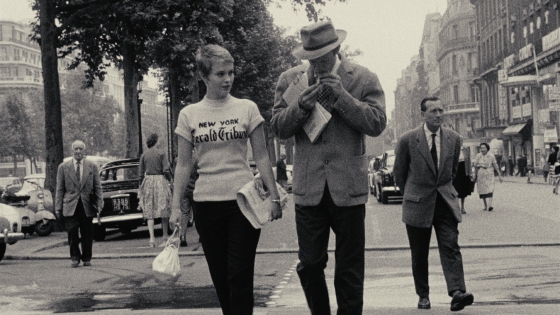 Breathless (A Bout De Souffle) is being re-released in UK cinemas to celebrate the 50th anniversary of its original release.
One of the key films of the French New Wave, it is the story of Michel Poiccard (Jean-Paul Belmondo), a small-time criminal on the run, and Patricia Franchini (Jean Seberg), an American who sells the International Herald Tribune along the boulevards of Paris.
With its loose narrative, location shooting, improvised dialogue, jump cuts, deliberately mismatched shots and literary references, it remains a landmark film.
It gave French and European cinema a much needed shot of inspiration when it first came out in 1960, with audiences and critics responding to its energy and artistic verve.
Pierre Rissient was the assistant director on Breathless and for the past fifty years has been a key figure in the film world: a critic, publicist and consultant to film festivals, he has helped champion directors as diverse as Joseph Losey, Jules Dassin, Anthony Mann, Hou Hsiao Hsien, Zhang Yimou, Clint Eastwood, Quentin Tarantino, Werner Herzog, Jane Campion and Abbas Kiarostami.
I recently spoke to Pierre about the re-release of Breathless and you can listen to the interview here:
[audio:http://filmdetail.receptionmedia.com/Pierre_Rissient_on_Breathless.mp3]
You can also download this interview as a podcast via iTunes by clicking here
Breathless is currently showing at selected UK cinemas and will be released on Blu-ray and DVD on September 13th
> Breathless at the IMDb
> NY Sun profile of Pierre Rissient from 2008
> Learn more about the French New Wave at Wikipedia
> Find out if a cinema near you is showing Breathless via Google Movies