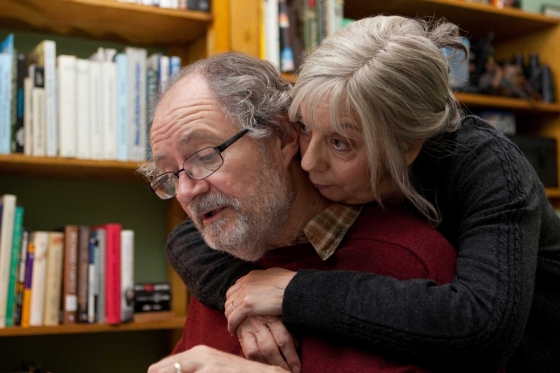 Mike Leigh's latest film is a pitch-perfect ensemble piece revolving around the friends and family of an ageing married couple.
Nearing retirement age, Tom (Jim Broadbent) and Gerri (Ruth Sheen) live in North London and seem genuinely happy as they work, tend to their allotment and play host to an array of characters who come in and out of their lives.
These include: their son Joe (Oliver Maltman), who is still close to them; Mary (Lesley Manville), a needy divorcee with relationship problems; Ken (Peter Wight), an old friend with a taste for food and alcohol; and Katie (Karina Fernandez), a therapist who forms a relationship with Joe.
Each section of the film is titled with a season and as they change, so do the characters to varying degrees as they deal with the stuff of life: love, death, humour, despair, loneliness and friendship.
It follows the familiar Leigh formula of finding drama in lives of distinctive characters in a particular setting and, like his previous films, relies heavily on the actors to make it work.
The good news is that nearly all the cast bring something distinctive to their roles, creating a rich tapestry of emotions and memorable situations.
Broadbent and Sheen play their couple with just the right amount of affection and tenderness. Their deep love for one another, shown through subtle body language and speech is so good you might not notice it at first.
Lesley Manville is especially outstanding in what initially might seem a clichéd role. But as the film progresses, she conveys the piercing frustrations of her life whilst also managing to be funny, annoying and sympathetic, in what is one of the performances of the year.
The other supporting actors also fill into their roles with an ease which is often a hallmark of a Leigh ensemble and there are also small but perfectly formed turns from Imelda Staunton and Phil Davis.
Not every character is minutely dissected, nor has their conflicts neatly resolved, but we get to observe them at close quarters as time gradually changes their lives, for the better or worse.
Small talk is present in much of the dialogue, but Leigh finds a way to make it revealing, as people either gradually get to the point or reveal their true feelings with a look or gesture.
This means that everyday locations are a theatre of emotions: a dinner featuring Joe's new girlfriend is awkwardly hilarious; a living room after a funeral becomes a sombre venue for old family tensions; an allotment in the rain seems like the happiest place for a family to be.
Mainstream cinema can be a medium prone to the obvious and bombastic, but the subtle drama Leigh shapes in this film is a master class in exploring the emotional temperatures of everyday life.
These qualities are mirrored in the quietly excellent technical contributions, which feature Dick Pope's lean and elegant cinematography and Simon Beresford's convincing but unobtrusive production design.
After coming out of Another Year, it was hard not to think of Secrets and Lies (1995), which, in an already acclaimed career, was arguably Leigh's creative and commercial high point to date.
The humanity and sheer pleasure of that film is mirrored in his latest, a wonderfully executed exploration of the ups and downs of everyday existence.
Another Year screens at the London Film Festival this week (Mon 18th-Weds 20th) and opens in the UK on Friday 5th November
> Another Year at the LFF
> Another Year at the IMDb
> Reviews from Cannes via MUBi
> Find out more about Mike Leigh at Wikipedia and Screenonline