A low-budget drama with a big sci-fi premise offers us a startling blend of genres.
Although the science fiction is frequently associated with gigantic effects-driven spectacles, the debut feature of writer-director Mike Cahill offers us an intriguing alternative.
The central premise involves a student (Brit Marling) and music teacher (William Mapother) whose fates intersect after a car accident.
After four years pass, they gradually get to know each other properly and whilst the discovery of another planet identical to Earth lingers in the background.
Beginning with a major plot development right up front, it is hard to go into to details about the plot without significant spoilers, except to say that the narrative is consistently surprising and enjoyable.
Part of that is because Cahill and co-writer Marling don't go for the obvious sci-fi tropes that have been done to death, as they have fashioned a story that's like an episode of The Twilight Zone scripted by Kryzstof Kieslowski.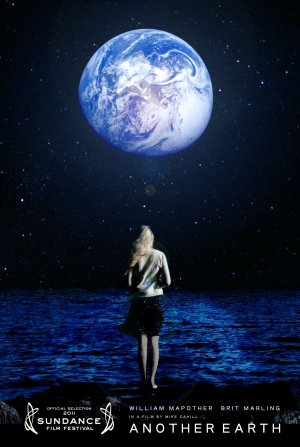 Despite the sci-fi elements, a large part of the drama is given over to themes of grief, regret and secrets, but it skilfully avoids being a signature, self-indulgent indie movie.
Part of this is down to the tantalising backdrop of an identical planet, skilfully evoked via news clips, reaction shots and recurring images of the sky.
But it is also a surprisingly powerful study of loss, regret and possible redemption.
In an age where seismic news events seem to be experienced through ever more unbelievable news updates on television, the film had a tangible resonance.
Despite the fantastical premise, emotions and events are wisely kept grounded in a believable reality.
Essentially this boils down to two actors who really deliver the goods: Marling has a natural screen presence and pulls off a difficult part with some aplomb.
Her confident delivery of dialogue was probably due to the fact that she co-wrote them, but there are some difficult scenes here which she handles extraordinarily well.
Likewise Mapother, who for most of the film has to make his grief-stricken character interesting but, to his credit, he convincingly rebuilds his inner and outer life.
The production makes highly effective use of his low-budget, shooting with a handheld HD camera in such a way that doesn't call attention to itself, but feels organic to the story.
Visual compositions are also impressive, with characters often tastefully framed through an appropriately chilly palette that's heavy on the blues and greys.
News footage, often done so badly in bigger budget films, is very convincing here and a couple of scenes are brilliantly effective through ideas and execution alone, rather than expensive graphics.
The electronic score by Fall on Your Sword is perhaps the joker in the pack – a pulsating melange of beats and hooks that fits the film perfectly, giving it unexpected shifts in mood and pace.
Shot in and around New Haven, Connecticut for a reported budget of under $200,000, this represents a significant commercial and artistic achievement, which was why it was one of the big breakout hits at Sundance earlier this year with Fox Searchlight swiftly acquiring the rights.
Since the collapse of the indie film bubble in 2008, Sundance in recent times has rediscovered its original spirit by providing a welcome platform for films like Winter's Bone, Exit Through The Gift Shop, Senna and Martha Marcy May Marlene.
All of these didn't come off the studio production line, nor were they vanity projects looking for faux-indie credibility or a bidding war studios would later regret.
Another Earth is a good example of a modern Sundance success – a genuine independent that has broken through to the mainstream by force of its ideas and execution alone.
In an age where genre movies are designed to please carefully targeted demographics, this feels suitably fresh.
I'll close by mentioning that it features one of the most effective closing shots of any film in recent memory.
> Official site
> Reviews at MUBi and Metacritic