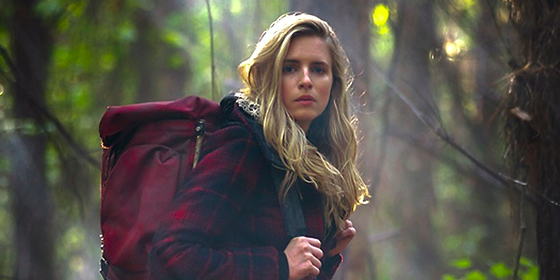 An intriguing thriller about the penetration of an eco-terrorist group provides a reminder that interesting ideas realised on a lower budget can be highly effective.
It also marks another auspicious development in the partnership between writer-director Zal Batmanglij and co-writer/star Brit Marling, whose previous collaboration – The Sound of My Voice (2011) – explored similar themes.
Whilst that film revolved around a cult, this one is set amongst a secretive organisation of eco-activists called 'The East', who stage disruptive events (or 'jams' as they call them) as payback for companies who dump toxic waste or other damaging environmental activity.
In a prologue we see a mysterious masked gang break in to the house of an oil executive and stage their own oil spill, as punishment for his company's activity.
The focus then shifts to Sarah (Brit Marling), an eager operative working for a private intelligence firm as she has to convince her skeptical boss (Patricia Clarkson) to allow her to go deep undercover and penetrate The East.
After slowly gaining their trust, she finds a new home amongst the group who include a skeptical Izzy (Ellen Page), a medical student (Toby Kebbell) and the de facto leader Benji (Alexander Skarsgard). Slowly she begins to find out more about their philosophy and activities.
These early sequences are the most effective as they are genuinely unpredictable and intriguing: we see a highly unusual communal meal, the gripping infiltration of a drinks party and the ever-growing tension that Sarah might go native with the group she is investigating.
Although it shows its hand a little too early, the narrative is filled with satisfying twists and turns demonstrating again the screenwriting chemistry between Marling and Batmanglij, more than fulfilling the promise of their auspicious debut.
Marling's performance demonstrates her undeniable screen presence that she established in both Sound of My Voice (2010) and Another Earth (2010) which may have been partly down to her own writing contributions, which mark her out amongst her contemporaries.
In some ways this is a reverse of Batmanglij's first film in which Marling played the cult leader, whereas here she plays the outsider trying to get in to a cult-like organisation.
The political issues are blended in cleverly with the plot: in one sequence we see how tensions and ethical dilemmas run deep within the protagonist and also the wider group.
It is also executed with considerable technical panache: Roman Vasyanov's widescreen visuals and the editing by Andrew Weisblum and Bill Pankow give the film an extra polish often absent in films on this kind of budget (reportedly around the $6m mark).
The icing on the cake is Halli Cauthery's score (working from themes by Harry Gregson-Williams), which lends the film more layers of mood and tension.
Over the last few years studios have shied away from mid-budget films like this by making a few blockbusters and lame comedies. (Credit to Fox Searchlight for making this with Ridley Scott's production company, Scott Free).
The film's tagline "Spy on us. We'll spy on you" is eerily prescient in light of the recent NSA revelations and it may well be that in years to come this is a film people will see as emblematic of the Occupy Wall Street era.