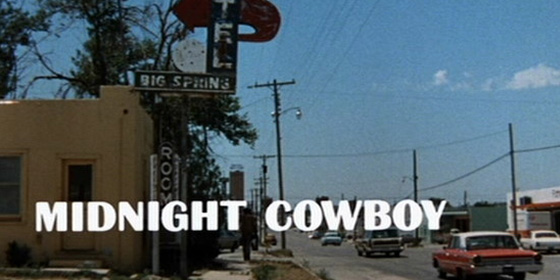 The latest release of this groundbreaking 1969 drama is a reminder of the film's power and charm.
Based on the novel by James Leo Herlihy, it begins with a young Texan named Joe Buck (Jon Voight) quitting his job and travelling to New York to become a hustler.
Once there he struggles until he forges an unlikely friendship with conman Enrico "Ratso" Rizzo (Dustin Hoffman), who had at first tried to trick him.
An oddball couple who do their best to survive in the big city, they come across various characters, including religious fanatics, rich middle age women and disciples of Andy Warhol.
Although dated in some respects (the sexual content which shocked back then, seems relatively tame now) it is still a moving depiction of outsiders making a connection with each other as they join forces to survive in a harsh metropolis.
Director John Schlesinger had already made a name for himself in England during the 1960s with films such as Billy Liar (1963) and Darling (1965), but this was his first in America and he shoots with the keen and curious eye of an outsider.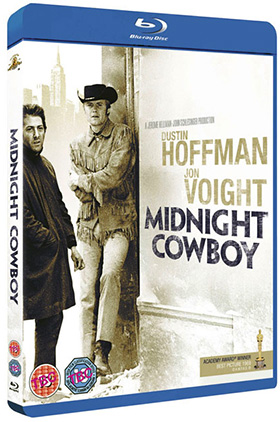 The flashbacks and jump cuts, which are central to the narrative, appear to be influenced by the French New Wave and the depiction of urban squalor seems to be a hat tip to the Italian neo-realist directors of the 1940s and 50s.
Using actual locations and a raw, shooting style gives everything a feeling of authenticity which is more than matched by the central performances.
A breakout film for Voight, who is charmingly innocent in the title role, it also showed a different side to Hoffman who had only recently become a star with The Graduate (1967).
Both manage to carve out memorable characters and it is their unlikely chemistry that still powers the emotional heart of the film.
Coming at the tail end of the 1960s, Midnight Cowboy almost certainly struck a chord with audiences who empathised with the rural innocence of Joe and the urban opportunism of Ratso.
But it was the frank approach to modern, urban existence – especially sex – which marked it out as a film to watch and one that reflected a reality other mainstream cinema had ignored up to that point.
On a deeper level, it is a powerful parable showing how the perpetual optimism of the American dream can be undermined a darker American reality.
Joe's flashbacks hint of a dark past in rural Texas (involving rape and cruelty), whilst Rizzo is trapped by the very city his friend has dreamt about.
It isn't a coincidence that both chase for the dream of another place, whether it be the streets of New York or the sunshine of Miami.
There is also the comic contrast of Joe's politeness with the rather sordid things he gets up to, whilst Rizzo reveals unexpected depths beneath his sleazy exterior.
Screenwriter Waldo Salt had had some lean years after being blacklisted during the 1950s but he brings some nice touches to the screenplay: notice the bookending of the story by key bus journeys, the clever use of non-verbal action and his empathy with outsiders. (Look out for his daughter Jennifer in a key role).
The use of music, supervised by John Barry, is also highly effective from Nillson's song 'Everybody's Talkin' over the opening credits to the sublime melodies of the Florida fantasy sequence.
Revisiting the film today, it may be hard to appreciate the impact it had in 1969 but it came at a time when the major studios were deeply confused at what younger audiences wanted.
The success of films such as Bonnie and Clyde (1967), The Graduate (1967) and Easy Rider (1969) flummoxed the old school studio executives who were still living in a previous era.
Even at the enlightened folk at United Artists – a studio who mixed commercial nous with artistic integrity – weren't fully convinced by what Schlesinger was doing until they saw the finished film.
On its release in May 1969 it became a massive success (despite negative reviews from high profile critics such as Judith Crist and Pauline Kael) and went on to be the fourth highest grossing film of that year.
Given that it was awarded an X-rating by the MPAA, preventing it from being shown in certain markets, this was some achievement, even though it probably boosted the must-see aura surrounding the film.
When it triumphed at the Oscars a few months later, it famously became the only X-rated film to win Best Picture, along with trophies for John Schlesinger (Best Director) and Waldo Salt (Best Adapted Screenplay).
Look out for the startling coincidence in the actual film when Rizzo talks about his father in a graveyard and remarks that his tombstone should have 'one big lousy X'.
A further eerie moment happens in the scene where Hoffman and Voight argue about the latter's cowboy outfit and actually mention Wayne by name.
Both Hoffman and Voight were up for Best Actor awards that year (as this LIFE magazine profile shows), which may have split the vote, as it went to none other than John Wayne for True Grit.
I can only imagine how Duke felt when he saw this:
The image quality on this Blu-ray release is good without being great. Whilst probably the best this film has ever looked, it has a grainy appearance and doesn't appear to have been given a full and proper restoration.
After some controversy over previous transfers to DVD, I can only assume this is due to the legacy of titles made under United Artists, a studio which has undergone various owners since the end of the 1970s.
After the fiasco of Heaven's Gate (1980) the ownership of their library has been a turbulent one and even today the company remains in financial trouble despite ownership of key franchises including James Bond and The Hobbit.
This may account for benchmark titles like this not getting the kind of high-def restoration we see with other classic titles from the same period such as The Godfather (1972) or The Exorcist (1973).
The extras seem to have been ported over from the 2004 DVD release and include three making of featurettes, the most substantial of which is 'Celebrating Midnight Cowboy', a 30 minute documentary featuring interviews with actors Jon Voight and Dustin Hoffman, producer Jerome Hellman, actress Jennifer Salt, DP Adam Holender and music supervisor John Barry.
Despite these drawbacks, this is still a classic title worth seeking out and it is still a key film which marked a watershed period in Hollywood history.
Midnight Cowboy is out now from 20th Century Fox Home Entertainment
> Buy Midnight Cowboy on Blu-ray or DVD from Amazon UK
> Midnight Cowboy at the IMDb