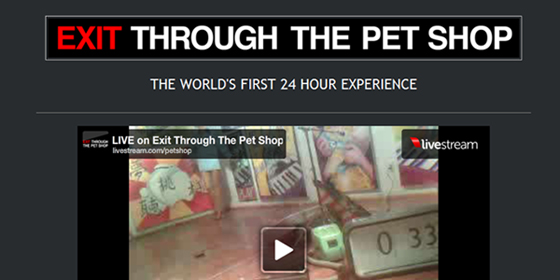 A new video has surfaced, appearing to be some kind of viral spoof of the Banksy documentary Exit Through The Gift Shop.
After the raves at Sundance, widespread critical acclaim and a truly maverick indie release, the debut film of renegade street artist Banksy recently got nominated for a Best Documentary Oscar.
The big question was whether or not the reclusive man himself would turn up at the ceremony on February 27th, so when a mysterious Oscar-themed mural appeared in Los Angeles, it seemed his own renegade Oscar campaign had begin.
Now, there is this bizarre spoof trailer titled 'Exit Through The Pet Shop' which plays on the internet meme of a keyboard-playing cat:
There is also a livestream of a gallery which appears to be littered with Keyboard cat art in the style of Mr Brainwash:
For those unfamiliar with the film (and if you haven't seen it, you really should), it features a filmmaker named Thierry Guetta who documents Banksy and then later becomes an artist himself, using the moniker of Mr. Brainwash.
This new cat-themed site purports to be that of a performance artist and 'professional nose dancer' Charlie Schmidt, the originator of the Keyboard Cat meme from a couple of years ago.
But it looks to me like this is the work of Banksy and his cohorts as they mount what is the most unusual campaign in Oscar history.
> The recent Banksy Oscar mural
> The history of the Keyboard Cat meme
> Buy Exit Through The Gift Shop on Blu-ray or DVD
> Official site for the film