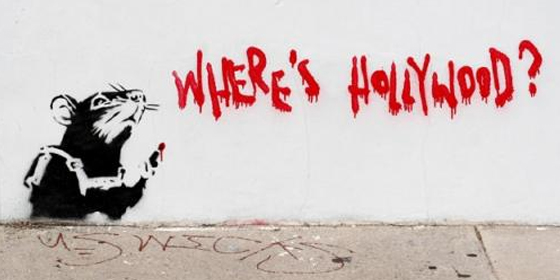 After his his film Exit Through the Gift Shop was nominated for Best Documentary, will the reclusive street artist Banksy turn up at the Oscars?
Whilst Hollywood and Oscar pundits digested the Oscar nominations yesterday, in the documentary category a small bombshell went off when Banksy's debut film made it on to the final list.
A year after it premièred at Sundance 2010, where Banksy left this commemorative mural in Park City, it has reaped huge acclaim (98% on Rotten Tomatoes and 85 on Metacritic) and extensive speculation as to whether it is all some kind of elaborate hoax.
It purports to be the story of Thierry Guetta, a Frenchman who films street artist in Los Angeles, who comes across the reclusive Banksy and also starts making his own art under the name 'Mr. Brainwash'.
An intriguingly constructed film-within-a-film, it is also a gleefully anarchic film with plenty of intelligence underneath the frequently hilarious exterior.
At Sundance Banksy opted not to introduce the film but got festival director John Cooper to read a statement at the premiere:
"Ladies and gentlemen, and publicists.Trying to make a movie which truly conveys the raw thrill and expressive power of art is very difficult. So we haven't bothered.

Instead, this is simply an everyday tale of life, longing, and mindless vandalism. Everything you are about to see is true, especially the bit where we all lie.

Thanks for coming, please don't give away the ending on Twitter. And please, don't try copying any of this stuff at home, wait until you get to work."
The relatively low budget nature of the film, plus its unlikely subject matter, meant that the films backers (Cinetic Media) opted to bypass the traditional indie route of trying to attract a distributor.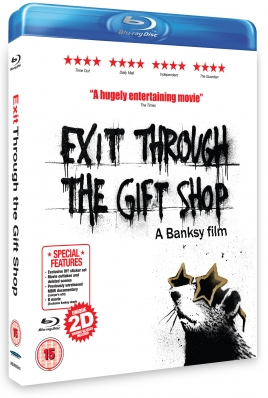 IndieWire explained the strategy back in April:
John Sloss – who represented rights to the film at Sundance (and then Berlin) – co-founded a distribution entity called the Producers Distribution Agency with his Cinetic partner Bart Walker.

With a team including Richard Abramowitz, Donna Daniels and Marc Schiller, the company decided that despite offers coming in the wake of "Exit"'s acclaimed screenings in Sundance and Berlin, it was a highly unlikely project for a traditional distributor.

Sloss explained last week that this was due to the fact that not only is Banksy very controlling, but you can't talk to him (Sloss himself never expects to meet the elusive man).
With this in mind Sloss raised a 'sizeable chunk' of money and created a specific distributor called the Producers Distribution Agency in order to give it a platform release.
To call this unconventional is an understatement (or is it all part of the ingenious marketing?), but the grass roots campaign worked with strong showings in April at cinemas in New York, Los Angeles, and San Francisco.
The enigma of Banksy helped build buzz and once people saw the film as it rolled out to other cities, it ended up grossing a highly respectable $3.3m in the US and $4.9m worldwide.
As Sloss explained:
"We very little P&A to work with in buying traditional awareness," he said. "We did not have a 'money' New York Times review. So I think this is close to unprecedented to make this kind of film work with very limited resources."
By November it featured on the Oscar longlist for Best Documentary and its reputation was further enhanced when it cropped up on many end-of-year films lists (including mine).
Some didn't expect it to make the final nominations, but yesterday it did and Banksy issued this statement:
"This is a big surprise, I don't agree with the concept of award ceremonies, but I'm prepared to make an exception for the ones I'm nominated for. The last time there was a naked man covered in gold paint in my house, it was me."
But will he show up at the Kodak Theatre on February 27th?
I'm expecting that another Banksy mural might be seen outside the morning after.
> Official site for Exit Through The Gift Shop
> IndieWire on the release strategy for the film
> More on Banksy and the debate surrounding the film at Wikipedia
> Buy Exit Through The Gift Shop on Blu-ray or DVD