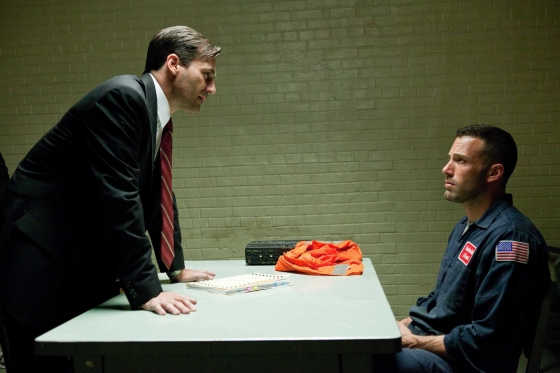 Ben Affleck's second film as director is a satisfyingly lean crime drama about bank robbers in Boston.
The town of the title refers to the Charlestown district of Boston which provides the setting and, as an opening title informs us, has produced generations of thieves.
Adapted from Chuck Hogan's novel 'Prince of Thieves', the story sees Affleck plays the leader of a gang who play cat and mouse with a local FBI agent (Jon Hamm) keen to bring them to justice.
After a heist goes slightly wrong, they fear that a hostage (Rebecca Hall) may have recognised one of them behind their masks. To complicate matters further, Affleck's character soon falls for her which creates tensions with his fellow gang member and friend (Jeremy Renner).
Whilst not as strong as Affleck's first outing as director, the quietly brilliant Gone Baby Gone, it nonetheless establishes him as a confident storyteller who can get draw compelling performances from his actors.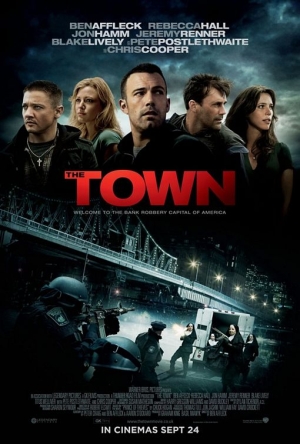 Affleck's acting performance is also solid, cutting a likeable but anguished figure in the lead role whilst Renner has a scene-stealing supporting turn as an unpleasant, edgy sidekick.
Hamm is good value as the driven FBI agent. Even though at times his character feels a little too close to his Mad Men persona, he gives his role here a sense of gravitas and bite as he pursues Affleck's gang.
The female parts are a little undercooked, as is often the case in male dominated crime dramas, although Hall does her best in an underwritten role and Blake Lively manages a major transformation for those that know her from the television show Gossip Girl.
The script – co-written by Affleck, Aaron Stockard and Peter Craig – feels like it has been forged in a good deal of research.
The local slang the characters frequently use and the little details of the robberies all add help to paint a convincing world, even if a couple of major plot points stretch that credibility.
Affleck has also cannily recruited some first-rate talent behind the camera: cinematographer Robert Elswit shoots contemporary Boston with a gritty but vibrant look, whilst editor Dylan Tichenor gives the pacing an extra snap and crackle during the set pieces (it is worth noting that both regularly work with Paul Thomas Anderson).
The score by Harry Gregson-Williams and David Buckley also adds to the overall mood, with the strings and piano giving certain scenes an extra emotional kick and at times it is reminiscent of the excellent Gone Baby Gone score.
When it comes to the fundamentals, The Town is a highly watchable and pleasingly old-fashioned piece of work. There is no CGI, no pandering to the geek crowd and the characters, dialogue and action are all executed without bluster or excess.
That said, this is very familiar territory for anyone who has seen crime dramas such as The Departed (2006) and Heat (1995).
In fact the parallels with Michael Mann's film are striking to the point of distraction: a head to head battle between a cop and a thief; bank robberies involving automatic weapons; romantic entanglements; a protagonist struggling to escape his past; and the now-familiar 'one last job'.
It doesn't detract from the overall qualities on display, but for viewers familiar with Mann's film, it lingers like a ghost over stretches of the material.
That said The Town still has many qualities to admire. Even if it isn't especially groundbreaking, it holds the attention and is packaged with skill and efficiency.
Affleck has certainly had his fair share of ups and downs as an actor, but on the evidence of his first two films, he is quickly maturing in to a very fine director.
The Town opens in the US today and in the UK on Friday 24th September
> Official site
> Reviews of The Town at Metacritic
> Find out more about Charlestown at Wikipedia
> NPR interview with Jon Hamm about The Town and Mad Men