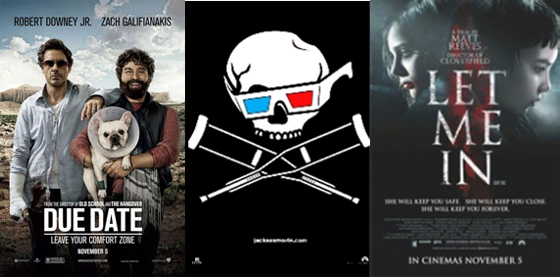 NATIONAL RELEASES
Due Date (Warner Bros.): The latest comedy from director Todd Phillips is about an odd couple travelling across the US: a highly strung expectant father to be (Robert Downey Jnr) and an aspiring actor (Zach Galifianakis) find themselves on a cross country road trip so the former can see his child's birth.
It bears more than a few similarities to Philips last film (The Hangover) although after a week in the US doesn't seem like it will be as successful. Reviews have been mixed-to-good so far in the US after one week, although the wide release over here will make it an attractive alternative for male and females not keen on the gross-out humour of Jackass. [Nationwide / 15]
Jackass 3D (Paramount): The latest instalment of the Jackass franchise has been resurrected with Jonny Knoxville and his cohorts performing all manner of pranks for 3D cameras.
As with the first two films, it is a hit and miss affair depending on the particular stunt. Some are funny (especially the ones that make use of the 3D perspective) whilst others are deliberately grotesque.
Like Knoxville, it has noticeably aged and the sound of the Jackass gang laughing at their own stunts grates with repetition. But it has some funny moments and arrives after a stunning opening weekend in the US two weeks ago, earning over $50 million.
Although the closing credits have an elegiac feel, Paramount will probably be keen to milk this insanely profitable franchise further. It opens on a competitive weekend here in the UK but I suspect this will be the film of choice for males aged 16-34. [Vue West End & Nationwide / 18]
Let Me In (Paramount/Icon): The US remake of the 2008 Swedish vampire film is not only surprisingly good, it is actually on par with the original and in some ways improves on it.
Relocated to New Mexico in the early 1980s, it is the story of a lonely young boy (Kodi-Smit McPhee) and his relationship with a mysterious girl (Chloe Grace Moretz) who has moved in next door with an older guardian (Richard Jenkins).
Director Matt Reeves (who made Cloverfield) has wisely stayed faithful to the source material, which includes the 2008 film and the original novel by John Ajvide Lindqvist.
From the opening sequence, a convincing sense of time and place is established and Michael Giacchino's wonderfully creepy score sustains an ominous mood throughout.
Shooting mostly on location, Reeves and cinematographer Greig Fraser have crafted their own visual style which keeps things atmospheric and murky, whilst the performances all around are excellent.
Despite the quality on display, this has bombed at the US box office (perhaps a victim of distribution and marketing support) but should find a much more appreciative audience over time. [Odeon West End & Nationwide / 12A]
* Read our full review of Let Me In here *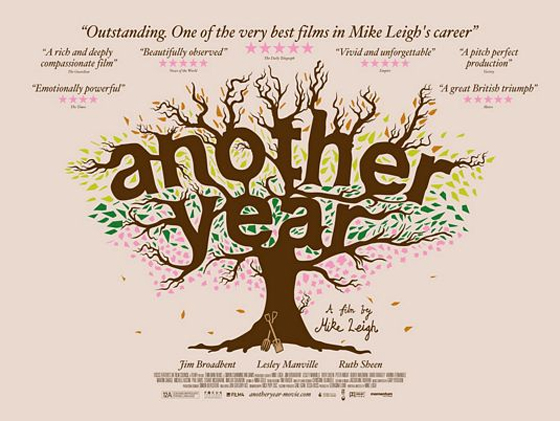 Another Year (Momentum Pictures): The latest film from Mike Leigh is one of his very best, a pitch-perfect ensemble piece revolving around the friends and family of an ageing married couple.
Nearing retirement age, Tom (Jim Broadbent) and Gerri (Ruth Sheen) live in North London and seem genuinely happy as they work, tend to their allotment and play host to an array of characters who come in and out of their lives.
These include: their son Joe (Oliver Maltman), who is still close to them; Mary (Lesley Manville), a needy divorcee with relationship problems; Ken (Peter Wight), an old friend with a taste for food and alcohol; and Katie (Karina Fernandez), a therapist who forms a relationship with Joe.
Each section of the film is titled with a season and as they change, so do the characters to varying degrees as they deal with the stuff of life: love, death, humour, despair, loneliness and friendship.
It follows the familiar Leigh formula of finding drama in lives of distinctive characters in a particular setting and relies heavily on the actors to make it work.
The good news is that nearly all the cast bring something distinctive to their roles, creating a rich tapestry of emotions and memorable situations, with Manville especially outstanding.
Buoyed by great buzz on the festival circuit and glowing reviews, this will dominate the art house box office this week and may do decent multiplex business amongst more discerning audiences. [Cineworld Haymarket, Curzon Soho, Everyman, Screen On Baker St. & Nationwide / 12A]
* Read our full review of Another Year here *
Mammoth (Soda Pictures): Swedish director Lucas Moodysson returns with a drama about a successful New York couple (Gael García Bernal and Michelle Williams) struggling to maintain a long distance relationship. Tepid reactions from the festival circuit mean this will probably come and go, despite the notable lead actors and director. [Odeon Panton Street & Key Cities / 15]
Fit (Peccadillo Pictures): A drama about 'gay and straight millennials' directed by Rikki Beadle Blair. [Shortwave, Tricycle & Key Cities]
Golmaal 3 (Eros): A Hindi comedy directed by Rohit Shetty, which is the sequel to Golmaal Returns. [C'Worlds Feltham, Ilford, Wood Green, Vue Acton & Key Cities / 12A]
Red & White (Kaleidoscope Entertainment): A war film about Indonesia's history and the country's struggle for independence, directed by Yadi Sugandi and starring Doni Alamsyah, Joe Sims and Lukman Sardi. [Key Cities / 15]
> Find out what films are showing in your area with Google Movies
> UK DVD and Blu-ray Releases for Monday 1st November 2010