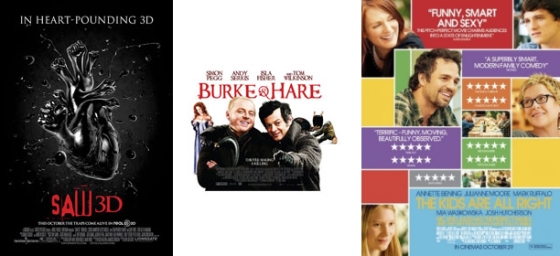 NATIONAL RELEASES
Saw (3D) (Lionsgate UK): The seventh part of the Saw franchise arrives for its now customary Halloween slot. The story for this instalment involves the battle over Jigsaw's 'brutal legacy', a group of survivors, and a self-help guru. All in 3D.
Directed by Kevin Greutert, it stars Tobin Bell, Costas Mandylor and even has a returning part for Cary Elwes, who featured in the original film (how long ago that seems). The big questions for this Saw film will be: are audiences burnt out on their yearly dose of torture porn? Will 3D have a positive or negative impact on the box office? I suspect it will do well and that the franchise will be rebooted in some bizarre way because this film series is a cash machine for Lionsgate. [Vue West End & Nationwide / 18]
Burke & Hare (Entertainment): A black comedy about the 19th century grave robbers (played by Simon Pegg and Andy Serkis) who sold bodies to an Edinburgh medical school.
Directed by John Landis, it co-stars Tom Wilkinson, Ronnie Corbett and Tim Curry. Although the period detail is well realised, everyone involved is let down by a poor script, which makes for some awkwardly unfunny sequences, and some dodgy accents which become distracting. The pull of Pegg (a genuine star in the UK) might attract audiences but negative critical buzz and word-of-mouth is likely to hamper the film's prospects. [Nationwide / 15]
The Kids Are All Right (Universal): A comedy-drama about the complications that ensue when a Los Angeles lesbian couple (Annette Bening and Julianne Moore) discover their two teenage kids (Mia Wasikowska and Josh Hutcherson) have got in touch with their biological father (Mark Ruffalo) it causes various complications.
The third film from writer-director Lisa Cholodenko is a delight: funny, moving and featuring some stellar acting from all concerned. Bening, Moore and Ruffalo are all outstanding whilst Wasikowska and Hutcherson are equally affecting in less showy roles.
Since debuting at Sundance back in January, it has basked in richly deserved critical acclaim for painting a warm and deeply human portrait of family relationships. Word of mouth will be very strong amongst upscale audiences and the likelihood of Oscar nominations will help spread the buzz when the film eventually hits the home market. [Cineworld Haymarket, Curzon Soho, Odeon Covent Gdn. & Nationwide / 15]
* Read my LFF review of The Kids Are Alright here *
ALSO OUT
Involuntary (Trinity Filmed Entertainment): A Swedish ensemble drama exploring various characters including a man who likes to play salacious pranks; a school teacher and two girls who like pose for photos. Directed by Ruben Östlund , it stars Villmar Björkman, Linnea Cart-Lamy, Leif Edlund and Sara Eriksson [Key Cities / 15]
The Hunter (Artificial Eye): An Iranian drama about a factory worker (Rafi Pitts) who ends up on the run in a nearby forest after something goes wrong. Directed by Pitts, it also stars Ali Nicksaulat, Hassan Ghalenoi, Malek Jahan Khazai and Mitra Hajjar. [Curzon Renoir, Ritzy & Key Cities / 15]
It Happened One Night (Park Circus): Reissue of the Frank Capra film about a pampered socialite (Claudette Colbert) who falls in love with a roguish reporter (Clark Gable). [BFI Southbank & Key Cities]
Forbidden (Park Circus): Another Capra reissue, this is the 1932 melodrama starring Barbara Stanwyck as a librarian who falls for a married man (Adolphe Menjou), with serious consequences. [BFI Southbank & Key Cities]
Out Of The Ashes (Independent Cinema Office): Documentary about the Afghan cricket team and their rise from refugees to the World Cup. Directed by Tim Albone and Lucy Martens. [ICA Cinema & Nationwide]
Spiderhole (Soda Pictures): A British horror film about four students who end up having problems in a seemingly deserted house in London. [Empire Leicester Square & Key Cities]
This Prison Where I Live (Dogwoof): A documentary about the imprisoned Burmese comedian Zarganar, who was imprisoned in 2008 for 35 years after complaining about the government's response to cyclone Nargis. [Ritzy Picturehouse]
> Find out what films are showing in your area with Google Movies
> UK DVD and Blu-ray Releases for Monday 25th October 2010