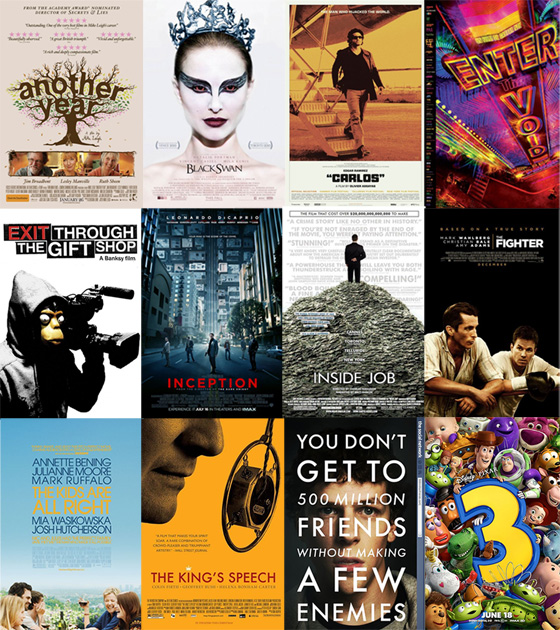 As usual these are my favourite films of the year in alphabetical order (just click on each title for more information).
THE BEST FILMS OF 2010
Animal Kingdom (Dir. David Michôd): The outstanding debut feature from director David Michôd is a riveting depiction of a Melbourne crime family headed by a sinister matriarch.
Another Year (Dir. Mike Leigh): A moving, bitter-sweet drama about relationships, filled with great acting, is arguably the peak of Mike Leigh's career.
Biutiful (Dir. Alejandro González Iñárritu): Searing exploration of life and death in a modern European city, featuring a tremendous central performance from Javier Bardem.
Black Swan (Dir. Darren Aronofsky): Swan Lake is retold with glorious intensity, channelling Polanski and Cronenberg whilst giving Natalie Portman the role of a lifetime.
Carlos (Dir. Olivier Assayas): Scintillating and immersive depiction of a 1970s terrorist with a tremendous performance by Edgar Ramirez.
Enter the Void (Dir. Gaspar Noé): Technically dazzling depiction of a dead drug dealer that also features what is possibly the greatest opening title sequence of all time.
Exit Through The Gift Shop (Dir. Banksy): An ingenious and hilarious hall of mirrors which is brilliantly executed and so much more than a 'Banksy documentary'.
Inception (Dir. Christopher Nolan): The ingenious puzzles of Christopher Nolan's early films were given the scale of his blockbusters in this hugely ambitious sci-fi actioner.
Inside Job (Dir. Charles Ferguson): Devastating documentary about the financial crisis which plays like a heist movie, only this time it is the banks robbing the people.
Tabloid (Dir. Errol Morris): The media feeding frenzy surrounding a bizarre 1970s sex scandal provided Errol Morris with the raw material for one of the most entertaining documentaries in years.
The Fighter (Dir. David O'Russell): A boxing story which follows a familiar path but remains energetic, inspirational and funny, with Christian Bale on career-best form.
The Kids Are Alright (Dir. Lisa Cholodenko): A perfectly pitched comedy-drama that explores modern family life with genuine heart and humour.
The King's Speech (Dir. Tom Hooper): Wonderfully crafted period drama with two brilliant lead performances and a moving story filled with hilarious one liners.
The Social Network (Dir. David Fincher): The inside story of Facebook is a riveting tale of ambition and betrayal, which sees Fincher, Sorkin and a young cast firing on all cylinders.
Toy Story 3 (Dir. Lee Unkrich): The ground breaking animated series gets a worthy final chapter whilst maintaining Pixar's impeccable standards of story and animation.
HONOURABLE MENTIONS
127 Hours (Dir. Danny Boyle)
Blue Valentine (Dir. Derek Cianfrance)
Catfish (Dir. Ariel Schulman and Henry Joost)
Four Lions (Dir. Chris Morris)
Let Me In (Dir. Matt Reeves)
Restrepo (Dir. Tim Hetherington and Sebastian Junger)
Somewhere (Dir. Sofia Coppola)
The American (Dir. Anton Corbijn)
The Ghost Writer (Dir. Roman Polanski)
The Illusionist (Dir. Sylvain Chomet)
Winter's Bone (Dir. Debra Granik)
> Find out more about the films of 2010 at Wikipedia
> End of year lists at Metacritic
> The Best DVD and Blu-ray Releases of 2010