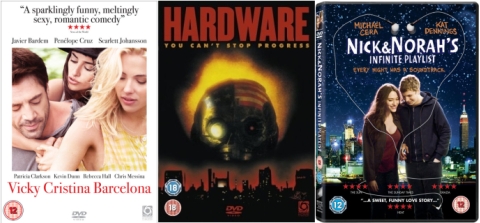 DVD PICKS
Vicky Cristina Barcelona (Optimum): A return to form for Woody Allen, after two major misfires (Scoop and Cassandra's Dream).
The story involves two American women, Vicky (Rebecca Hall) and Cristina (Scarlett Johansson) who spend a summer in Barcelona, where they meet an artist (Javier Bardem) who is attracted to both of them while still enamored of his ex-wife (Penelope Cruz).
Although Hall and Johansson are fine in the two lead roles, it is Bardem and Cruz who give the film an extra flavour with both showing a wonderful light touch for comedy.
Cruz deservedly scooped an Oscar for Best Supporting Actress earlier this year and the film got some of the best reviews Allen has had in some time. The extras are a little thin on the ground (the trailer) but the film is a breezy delight.
Look out for a cameo by the Spanish actor Joan Pera, who often voices Allen in Spanish dubs of his movies.
Hardware (Optimum): This 1990 cult sci-fi has often been hard to track down on DVD due to various rights problems and now Optimum have finally re-issued a special edition on DVD and Blu-ray.
Directed by Richard Stanley, the story involves the head of a killing cyborg found in the desert, which ends up repairing itself and wreaking havoc in the apartment of a sculptress.
It stars Dylan McDermott, Stacey Travis, John Lynch and William Hootkins.
The extras include:
Audio commentary with Richard Stanley & Paul Trijbits
Deleted, Extended & Behind the Scenes
Sea of Perdition
The Early Days Richard Stanley Super 8 Movies
The Voice of The Moon
Original Hardware Promo
* Listen to my interview with Richard Stanley here *
Nick & Norah's Infinite Playlist (Sony): A charming romantic-comedy, minus the usual cliches of the genre, with Michael Cera and Kat Dennings two teenagers who fall in love during one sleepless night in New York while searching for their favourite band's unannounced show.
The extras on the DVD are:
1.85:1 Anamorphic Widescreen
English, Catalan and Spanish DD5.1 Surround
English Audio Description Track
Subtitles: English, English HOH, Danish, Finnish, Hindi, Norwegian, Portuguese, Spanish, Swedish
Director and Cast Commentary
Director and Writers Commentary
Deleted & Alternate Scenes
Outtakes
A Nick & Norah Puppet Show by Kat Dennings
Ari Graynor's Video Diary: A Look Behind-the-Scenes
Storyboard Animations with optional commentary
Storyboard Animation Piece
Faux Interview with Kat Dennings and Eddie Kaye Thomas
Peter Sollett's Photo Album
Music Video: "Middle Management" by Bishop Allen
The extras on the Blu-ray Disc (coded for all regions A, B and C) include:
1080P 1.85:1 Widescreen
English and Italian 5.1 Dolby TrueHD
English Audio Description Track 5.1
Subtitles: English, English HOH, Danish, Dutch, Finnish, Hindi, Italian, Norwegian, Swedish
Cinechat
Trivia Track
Telestrator Commentary with Director and Cast
Nick & Norah's interactive playlist – create and share a playlist of your favourite Nick & Norah songs
Director and Writers Commentary
Deleted & Alternate Scenes
Outtakes
A Nick & Norah Puppet Show by Kat Dennings
Ari Graynor's Video Diary: A Look Behind-the-Scenes
Storyboard Animations with optional commentary
Storyboard Animation Piece
Faux Interview with Kat Dennings and Eddie Kaye Thomas
Peter Sollett's Photo Album
Music Video: "Middle Management" by Bishop Allen
[ad]
ALSO OUT
A Hill in Korea (Optimum)
A Waste of Shame (Demand DVD)
Anchoress (BFI)
Before Stonewall (Peccadillo Pictures)
Belle Toujours (ICA)
Bulldog Drummond At Bay (Optimum)
Doctor Who: Delta and the Bannermen (2 Entertain)
Electra Glide in Blue (Optimum)
Franklyn (E1 Entertainment)
Keep Your Seats Please (Optimum)
Nine Men (Optimum)
Notorious (Fox)
Occupation (2 Entertain)
Painted Boats (Optimum)
Punisher: War Zone (Sony)
Queer as Folk Season 4 (Warner)
Return of Bulldog Drummond (Optimum)
Robin Hood Series 3 (2 Entertain)
Stargate Atlantis Season 5 Volume 4 (Fox)
The Pink Panther 2 (Fox)
The Unborn (Universal)
This Filthy Earth (BFI)
Tokyo Sonata (Eureka/Masters of Cinema)
> Browse more DVD Releases at Amazon UK and Play
> Check the latest DVD prices at DVD Price Check
> Take a look at the current UK cinema releases (W/C Friday 19th June)