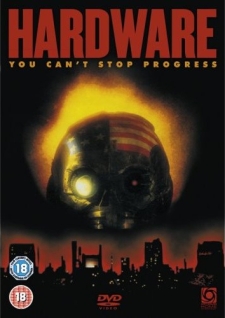 Hardware is a 1990 sci-fi film set in a post-apocalyptic future.
The story involves the head of a killing cyborg found in the desert, which ends up repairing itself and wreaking havoc in the apartment of a sculptress.
Written and directed by Richard Stanley, it stars Dylan McDermott, Stacey Travis, John Lynch and William Hootkins.
A cult sci-fi horror, it hasn't ever had a proper DVD release due to various rights difficulties until now.
I spoke with Richard Stanley in London recently and we discussed various aspects of the film including: where it was shot, how it got funded, the various influences and the long delay in securing a proper DVD release.
You can listen to the interview here:
[audio:http://filmdetail.receptionmedia.com/Richard_Stanley_on_Hardware.mp3]
You can also download this interview as a podcast via iTunes by clicking here.
The extras on the DVD include:
Audio Commentary with director Richard Stanley and producer Paul Trijbits
Deleted, Extended and Behind the Scenes
Sea of Perdition
The Early Days Richard Stanley Super 8 Movies
The Voice of the Moon
Original Hardware Promo
Hardware is out on DVD and Blu-ray in the UK on Monday 22nd June from Optimum Releasing
> Download this interview as an MP3 file
> Buy Hardware on DVD and Blu-ray from Amazon UK
> Hardware and Richard Stanley at the IMDb
> Everything Is Under Control – A Hardware fansite