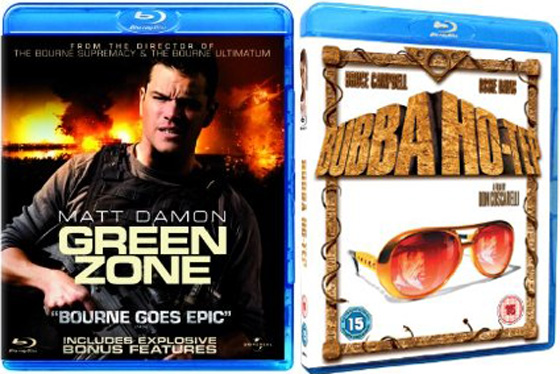 [ad]
DVD & BLU-RAY PICKS
Green Zone (Universal): When director Paul Greengrass re-teamed with Matt Damon for this Iraq War drama there were high hopes that it would repeat the box office success of the Bourne films and the critical acclaim of Bloody Sunday and United 93.
Originally based on based on Rajiv Chandrasekaran's book 'Imperial Life in the Emerald City', it follows a 'WMD hunter' (played by Damon) as he begins to suspect something is wrong with the intelligence used to justify the invasion of Iraq in 2003.
People Miller comes across in his search for the truth involve: the newly arrived US Administrator of Iraq (Greg Kinnear); a CIA agent (Brendan Gleeson); a Wall Street Journal reporter (Amy Ryan); a local Iraqi (Khalid Abdalla); and a special forces Major (Jason Isaacs).
Although I have more than a few reservations with the historical approach to the material, there is no doubt that Greengrass is a master at creating suspense and a vivid sense of realism.
The production design is particularly impressive and Baghdad circa 2003 is recreated with some excellent use of sets and CGI, whilst Barry Ackroyd's cinematography pulls us right into the frenetic world of political and military intrigue.
Presumably worried that audiences would reject the fiercely critical tone of the film towards the US government, Universal tried to market this as 'Bourne in Iraq'.
This was a strategy doomed to failure as when mainstream American audiences finally did see it, as they continued their ongoing rejection of films about the Iraq debacle.
There is still a lot to commend Green Zone and despite being a costly production that reportedly lost a lot of money, it may be a film that earns slow burning respect over time.
The Blu-ray comes with the following extras:
Deleted scenes – Play with Video Commentary by Director Paul Greengrass and Matt Damon
Deleted scenes – Play without Video Commentary
Matt Damon: Ready for Action
Inside the Green Zone
Feature commentary with Director Paul Greengrass and Matt Damon
My Scenes
D-BOX
U-Control – Video Commentary with Director Paul Greengrass and Matt Damon
U-Control – Picture in Picture
BD Live / pocket BLU App / social BLU App
DVD Beaver report that the Blu-ray image is not as sharp as some might expect, but that this is intentional:
[The image] isn't going to turn you on your ear with deft detail and magnificent sharpness. Not supposed to. What it does do is support Greengrass' visual intentions in crafting the film. Earthy browns are prominent and the dusty desert achieves it's lifeless, clandestine, dim aura. When colors shine the infrequency exports a brilliance by comparison. has a genuineness about it that gives me the feeling it is supporting the film appropriately.
> Buy Green Zone on Blu-ray or DVD from Amazon UK
> Read my original review of Green Zone
[ad]
Bubba Ho-Tep (Anchor Bay): This bizarre cult gem from 2002 is well worth a look on Blu-ray, especially if you are fan of genuine cult cinema. Directed by Don Coscarelli, the story features Elvis Presley (Bruce Campbell), a man claiming to be John F. Kennedy (Ossie Davis) and a rogue Egyptian mummy in a Texas nursing home.
Although the scenario is off-the-wall, it is a refreshing change from the po-faced horror remakes of recent times and Campbell actually gives a very funny performance as 'The King'.
Coscarelli is probably best known for his work on the Phantasm films and he reunited with some of the crew that worked on those films. This has some of the sensibility of those films and is probably best enjoyed late at night and in the right frame of mind.
The image on the Blu-ray actually highlights the low budget nature of the film but that isn't too much of the problem given the overall design (this isn't exactly a David Lean-style epic).
The extras are the same as the DVD and include:
Exclusive introduction by Bruce Campbell
Audio commentary by director Don Coscarelli and Bruce Campbell
Audio commentary by "The King"
Optional 5.1 and DTS audio
Joe R. Lansdale reads from his original short story "Bubba Ho-Tep"
Deleted scenes with optional audio commentary by Don Coscarelli and Bruce Campbell
"The Making of Bubba Ho-Tep" featurette
"To Make a Mummy" – make-up and effects featurette
"Fit for a King" – Elvis costume featurette
"Rock Like an Egyptian" – featurette on the music of "Bubba Ho-Tep"
Music video
"The King and I" – an in-depth excavation with Don Coscarelli;
UK Premiere Q&A with Don Coscarelli
"Bruce Talks Bubba" – an interview with Bruce Campbell
Theatrical trailer
Photo gallery
TV spot
Cast and crew biographies
Character biographies
> Buy Bubba Ho-Tep on Blu-ray or DVD from Amazon UK
> Bubba Ho-Tep at the IMDb
ALSO OUT
Baseline (Optimum Home Entertainment) [Blu-ray / DVD]
Chasing Amy (Walt Disney Studios Home Ent.) [Blu-ray / DVD]
Clerks (Walt Disney Studios Home Ent.) [Blu-ray]
Leap Year (Optimum Home Entertainment) [Blu-ray / DVD]
Lourdes (Artificial Eye) [Blu-ray / DVD]
The Storm Warriors (Showbox Media Group) [Blu-ray / DVD]
Valentine's Day (Warner Home Video) [Blu-ray / DVD]
Youth in Revolt (Momentum Pictures) [Blu-ray / DVD]