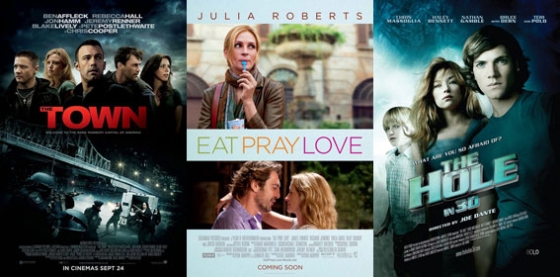 NATIONAL RELEASES
The Town (Warner Bros.): Ben Affleck's second film as director is a satisfyingly lean crime drama about bank robbers, set in the Charlestown district of Boston. Adapted from Chuck Hogan's novel 'Prince of Thieves', Affleck plays the leader of a gang who play cat and mouse with a local FBI agent (Jon Hamm) keen to bring his crew to justice.
After a heist goes slightly wrong, they fear that a hostage (Rebecca Hall) may have recognised one of them behind their masks. To complicate matters further, Affleck's character soon falls for her which creates tensions with his fellow gang member and friend (Jeremy Renner).
Whilst not as strong as Affleck's directorial debut, the quietly brilliant Gone Baby Gone (2007), it establishes him as a confident storyteller who can evoke a strong sense of place (most of it was shot on location in Boston) and a very capable director of actors.
After screening at festivals in Venice and Toronto, it built up momentum and topped the US box office last weekend, scoring great reviews in to the bargain. British critics will probably be cooler on it, but audiences may be keener as word of mouth spreads. Warner Bros may be quietly confident that this could do better than expected and give Eat Pray Love a run for its money. [Nationwide / 15] *Read a longer review here *
Eat Pray Love (Sony Pictures): Adapted from the best selling memoir by Elizabeth Gilbert about a woman (Julia Roberts) who reboots her life by going on a journey around the world, which takes her to Italy, India and Indonesia. Along the way she meets various people, eats food, prays and falls in love (as the title might suggest).
Directed by Ryan Murphy (who is also the creator of Glee), it co-stars Javier Bardem, James Franco, Viola Davis and Richard Jenkins. Aimed firmly at the female cinemagoer, it opened to mixed reviews and respectable box office in the US last month. Sony will be expecting this to top the box office this weekend although it will face competition from The Town. [Nationwide / PG]
The Hole (Entertainment One UK): A thriller about a family who discover a mysterious hole in the basement of their house, which appears to be a scary bottomless pit.
Directed by Joe Dante, this is the director's first film since Looney Tunes: Back In Action (2003) and stars Teri Polo, Chris Massoglia and Haley Bennett.
This is a rare thing these days, a family-orientated suspense film that touches on the horror genre, with nods to Stephen King and The Twilight Zone. Whether the 3D will help or hinder its box office chances is an open question and the absence of stars might also be a drawback. [Vue West End & Nationwide / 12A]
ALSO OUT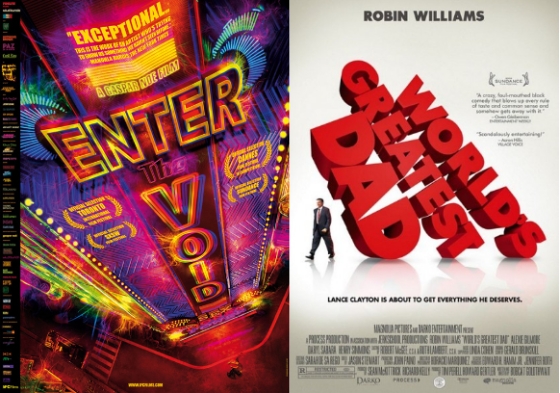 Enter the Void (Trinity Filmed Entertainment): The first film from Gaspar Noé since the controversial Irreversible (2002) is a strange and hypnotic set in contemporary Tokyo. When a young American drug dealer (Nathaniel Brown) is killed he becomes a disembodied soul, observing his sister (Paz de la Huerta) and other acquaintances like a ghost.
Ambitious and technically dazzling, it is ultimately a disjointed exploration of life after death. Although at times grandiose and clumsy, generally the level of craft here is something to behold and the sheer visceral assault on the senses is unlike anything in recent memory.
It has had a troubled journey to the screen, with various cuts shown to different festivals over the last year, suggesting even Noé might have got lost inside the material. It will be strictly for arthouse audiences – and will probably divide even them – but still features some of the most interesting cinema you will see this year. [Curzon Soho & Key Cities / 18] * Read a longer review here *
World's Greatest Dad (The Works): A black comedy about a teacher (Robin Williams) who is also a struggling writer and frustrated father to his teenage son (Daryl Sabara).
When something drastic happens, he finds himself as an unlikely celebrity and gets the attention he always craved. Although the poster might suggest a much more commercial film, this is actually a genuine independent that screened to considerable acclaim back at Sundance in 2009.
Directed by Bobcat Goldthwait, the presence of Williams in the lead role is initially misleading as this is a darkly funny and subversive film, which will probably get a more appreciative audience over time. [Odeon Covent Garden & Key Cities / 15]
Frozen (Momentum Pictures): A horror about college students who encounter some problems at a ski resort. Directed by Adam Green, it stars Emma Bell and Shawn Ashmore. [Empire Leicester Square, Ritzy Brixton, Screen on the Green & Key Cities / 15]
Peepli Live (Artificial Eye): A Hindi satire about farmers' suicides and the subsequent media and political response starring Omkar Das Manikpuri and written and directed by Anusha Rizvi. [Curzon Renoir, Empire West End, Genesis Mile End & Nationwide / 15]
True Legend (Optimum Releasing): A Chinese-Hong Kong martial arts film about a Qing dynasty general (Man Cheuk Chiu) who retires in order to pursue his dream of a family and his own martial arts school. Directed by Yuen Woo-Ping, it also stars Vincent Zhao, Zhou Xun, and Michelle Yeoh. [Curzon Soho & Nationwide / 15]
The Wildest Dream (Serengeti Ent/National Geographic): A documentary which intersects the stories of George Mallory, the first man to attempt a summit of Mount Everest, and Conrad Anker, the mountaineer who finds Mallory's frozen remains 75 years later. Directed by Anthony Geffen. [Apollo Piccadilly Circus, BFI IMAX & Nationwide / PG]
Budrus (Dogwoof): Drama about a Palestinian leader who unites Fatah, Hamas and Israelis in an unarmed movement to save his village from destruction. Directed by Julia Bacha. [Empire West Gate, Clapham Picturehouse & Key Cities / 15]
Confucius (CineAsia): A Chinese biographical film directed by Hu Mei, starring Chow Yun-fat as the famous Chinese philosopher. [Key Cities / 15]
Dragon Hunters (Stealth Media): An animated film about two dragon hunters, directed by Guillaume Ivernel and Arthur Qwak. [Selected Key Cities / PG]
From Here To Eternity (Park Circus): A re-release for the 1953 World War II drama, based on the novel by James Jones, which explores the troubles of soldiers in Hawaii before Pearl Harbour. Directed by Fred Zinnemann, it stars Burt Lancaster, Montgomery Clift, Frank Sinatra, Ernest Borgnine, Deborah Kerr and Donna Reed. [BFI Southbank & Key Cities/ PG]
> UK DVD and Blu-ray picks for this week including The World at War and The Ghost
> Get local cinema showtimes for your area via Google Movies