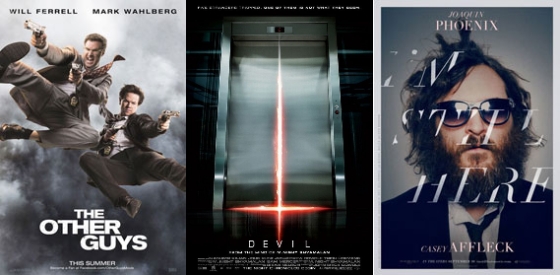 NATIONAL RELEASES
The Other Guys (Sony Pictures): An action-comedy directed by Adam McKay, which stars Will Ferrell and Mark Wahlberg as two average detectives who get the chance to prove they can do more than push pencils.
Co-starring Samuel L. Jackson, Dwayne Johnson and Steve Coogan, it is the latest team up of McKay and Ferrell after Anchorman (2004), Talladega Nights (2006) and Step Brothers (2008). Like those films it did good business and scored warm reviews, although UK critics are likely to be less enthusiastic than their US counterparts. Despite that, this looks to be the favourite for the top spot this weekend. [Nationwide / 12A]
Devil (Universal): The latest film from 'the mind of M. Night Shyamalan' (which means he wrote the story) is a supernatural thriller about five strangers trapped in an elevator, who realize the Devil is amongst them.
Directed by John Erick Dowdle and Drew Dowdle, it features a cast of relative unknowns and was shot on a low budget (reportedly $10 million). Given the critical disasters Shyamalan has been involved over the last few years this one has been kept under wraps, but should ultimately prove profitable even if the critics get their knives out. [Vue West End & Nationwide / 15]
I'm Still Here (Optimum Releasing): A spoof documentary about the supposed career meltdown of Joaquin Phoenix, which goes 'behind the scenes' of the actor's life as he tries to forge a career in hip-hop.
Directed by Casey Affleck, it is an extended hoax which cleverly blends real life with all kinds of pranks, which may or may not be staged. We see Phoenix attempt to hook up with Sean 'Diddy' Combes, berate Ben Stiller about the script of Greenberg, get life advice from Edward James Olmos, rap at a hotel in Miami, take copious amounts of drugs, abuse his assistants and generally act like a delusional celebrity ogre.
It is frequently hilarious and fiendishly clever, although a bit too similar in places to the work of Sacha Baron Cohen. Many in the media appear to have missed the joke and taken it all a bit too seriously. Despite all the press coverage it is likely to remain a cult comedy with a more appreciative audience beyond its run at cinemas. [Curzon Soho & Key Cities / 15]
* Read my longer thoughts on I'm Still Here *
Just Wright (20th Century Fox): A romantic comedy starring and Queen Latifah a physical therapist (Common) who falls in love with a pro basketball player (Common). Directed by Sanaa Hamri, it received fairly dire reviews on its US release and meagre box office. [Nationwide / PG]
ALSO OUT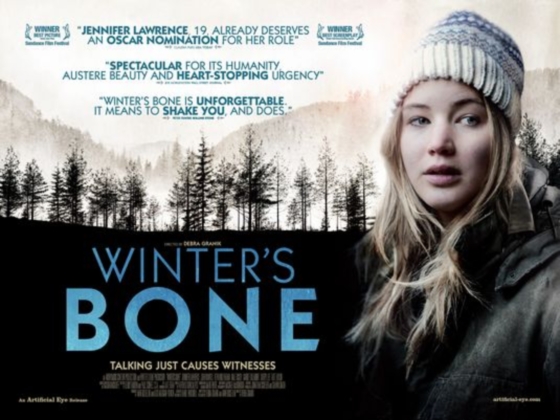 Winter's Bone (Artificial Eye): One of the genuine breakout performances of the year from Jennifer Lawrence is the highlight of this gritty drama about a teenage girl trying to track down her father in the Ozarks.
Directed by Debra Granik, this is a whodunit wrapped up inside a realist drama, with strong supporting performances from John Hawkes, Lauren Sweetser, Garret Dillahunt and Dale Dickey. A hit at Sundance back in January, where it won the Grand Jury Prize, it is also likely to get Oscar recognition for Lawrence who is terrific in the lead role. The bleak setting and scenes of rural poverty might be a turn off for some, but given positive reviews and Oscar buzz, it might do decent arthouse business. [Curzon Soho, Curzon Renoir, Curzon Richmond & Nationwide / 15]
Grease Sing-A-Long (Paramount): A karaoke re-release for the 1978 musical which is having an exclusively run at Vue Cinemas. [Vue West End / PG]
The Kid (Revolver Entertainment): A British biopic based on the the life of Kevin Lewis, who grew up in a violent, abusive family on a council estate in the 1980s. Directed by Nick Moran, it stars Rupert Friend, Natascha McElhone, Ioan Gruffudd and David O'Hara. [Natiowide / 15]
Night Of The Demons (Kaleidoscope Entertainment): A remake of the 1988 cult horror, directed by Adam Gierasch and starring Shannon Elizabeth, Edward Furlong and Diora Baird. [Selected Key Cities / 18]
The Horde (Momentum Pictures): A French horror film about a group of policemen who storm a housing complex in Paris, only to discover something sinister inside. Directed by Yannick Dahan and Benjamin Rocher, it stars Jean-Pierre Martins, Eriq Ebouaney and Doudou Masta. [Empire Leicester Square & Key Cities / 18]
F (Optimum Releasing): A British film about a group of teachers who have to defend themselves from a gang of murderous kids when their school comes under siege. Directed by Johannes Roberts. [Curzon Soho & Key Cities / 18]
Release (Parasol Pictures): A prison drama directed by Darren Flaxstone and Christian Martin about a priest convicted for a serious crime.
Ik Kudi Panjab Di (Kornerstone Films Ltd): A Punjabi film directed by Manmohan Singh about a girl challenging her male-dominated society. [Nationwide]
> UK DVD and Blu-ray picks for this week including The Third Man, Breathless and Dogtooth
> Get local cinema showtimes for your area via Google Movies