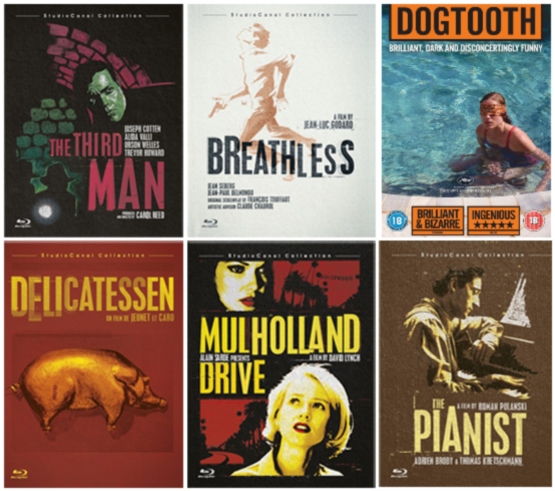 DVD & BLU-RAY PICKS
The Third Man (Optimum Home Entertainment): One of the genuine landmarks of cinema, a tale of a writer (Joseph Cotten) visiting an elusive friend (Orson Welles) in post-war Vienna. It featured a bewildering array of talent behind and in front of the camera: Carol Reed directed from a script by Graham Greene, whilst Alexander Korda and David O'Selznick co-produced and aside from Welles and Cotten the cast features Trevor Howard and Allida Valli.
Famous for its iconic set pieces – light illuminating a doorway, a dialogue on a enormous ferris wheel, a chase through the sewers and two funerals, it also has one of the most distinctive scores courtesy of Anton Karas' zither. It also won the Palme D'Or at Cannes and the Oscar for Best Cinematography. [Buy it on Blu-ray] *Read our longer review here*
Breathless (1960): Perhaps the iconic film of the French New Wave, this tale of a small time crook (Jean-Paul Belmondo) who goes on the run after stealing a car and shooting a cop, sees him end up in Paris with an American girlfriend (Jean Seberg).
With its loose narrative, location shooting, improvised dialogue, jump cuts, deliberately mismatched shots and literary references, it remains a landmark film. It gave French and European cinema a much needed shot of inspiration when it first came out in 1960, with audiences and critics responding to its energy and artistic verve. N.B. The Special Edition DVD release also comes out the same day as the Blu-ray but has slightly different extras. [Buy it on Blu-ray / Buy the 50th Anniversary DVD]
The Graduate (1967): One of the iconic films of the late 1960s saw Dustin Hoffman play the eponymous graduate, a recent university graduate drifting aimlessly in life, who is seduced by an older woman, Mrs. Robinson (Anne Bancroft), only to fall in love with her daughter (Katharine Ross).
Director Mike Nichols struck a chord with a younger generation of audiences by using techniques borrowed from the French New Wave to craft a witty tale of youthful alienation. Odd angles and unconventional editing were combined with a sharp script by Buck Henry and Calder Willingham (adapted from from Charles Webb's novel) and the result was a huge hit, launching Hoffman's career and also boosting Simon and Garfunkel whose music features heavily on the soundtrack. [Buy it on Blu-ray]
Extra features include:
Region A & B
English, French and German 2.0 DTS-HD MA
English; French, Spanish, Danish, Dutch, Finnish, Norwegian, Swedish and Japanese subtitles
Audio Commentary with Prof. Koebner, film historian (new to UK)
About The Music (7'55) – analysis of music by Prof.Koebner & Helga La Motte-Haber, music professor & author (new to UK) (SD)
Analysis of the Seduction Scene (12'10) (new to UK) (SD)
Trailer (1'48) (SD)
The Graduate at 25 (22'21) (SD)
Interview with Charles Webb (20'07) (SD)
The Graduate: Looking Back (12.56) (SD)
The Music in the Film – 4 tracks: The Sound of Silence, April Come She Will, Scarborough Fair, Mrs. Robinson as they appear in the film (HD)
Booklet Essay by Marc Webb, writer / director – Marc Webb is the writer/director of 500 Days of Summer and the director of the forthcoming Spider-man reboot
Le Cercle Rouge (1970): A stylish French crime drama about two criminals (Alain Delon and Gian-Maria Volonté) who join forces with a corrupt ex-cop (Yves Montand) for a tricky heist becomes something much deeper in the hands of director Jean-Pierre Melville.
Exploring the moralities of those breaking and enforcing the law, it features excellent performances from the leads, a wonderfully teasing narrative and some brilliantly executed set-pieces. It was heavily cut for its initial US release in 1970, but this id the fully restored version. [Buy it on Blu-ray]
Extra features include:
Region B
1080P 1.85:1 Widescreen
French, English and German 2.0 DTS-HD MA
English, French and German subtitles
New or previously unreleased material:

Codename Melville Documentary directed by Olivier Bohler (76'35) (SD)
Interview with José Giovanni (15'03) (SD)

Interview with Rui Nogueira (author of Melville on Melville, produced by the Criterion Collection) (26'11) (SD)
Introduction by Ginette Vincendeau (12'30) (SD)
Interview with assistant director Bernard Stora (30'45) (SD)
Trailer ('45) (HD)
Booklet Essay by Ginette Vincendeau, Professor / Author – Ginette Vincendeau is Professor of Film Studies at King's College London. Among her works on French cinema are Stars and Stardom in French Cinema (2000) and Jean-Pierre Melville, An American in Paris (2003)
Delicatessen (1991): The wonderfully surreal debut of the Jean-Pierre Jeunet and Marc Caro, set in a post-apocalyptic world where food is scarce, is about an ex-clown (Dominique Pinon) who gets a job in an apartment building and then falls for the daughter of the building's owner – an imposing and sinister butcher. Below them, down in the sewers, live some rebel vegetarians. [Buy it on Blu-ray]
The extra features include:
Region A & B
1080P 1.85:1 Widescreen
French, German and Spanish 2.0 DTS-HD MA
English, French, Spanish, Danish, Dutch, Finnish, Norwegian, Swedish and Japanese subtitles
NEW: Main Course Pieces (1h05'28) – brand new retrospective documentary (SD)
The Archives of Jean-Pierre Jeunet: actor's Casting tests (Callbacks) and rehearsals, behind the scenes etc (8'43) (SD)
Audio Commentary by Jean-Pierre Jeunet
Making Of: Fine Cooker Pork Meats making of/short film by Diane Bertrand (13'30) (SD)
Trailer (2'08) (SD)
Teasers (1'06) (SD)
Booklet Essay by Adam Woodward, Journalist – Adam Woodward has worked as online editor for Little White Lies magazine since 2009 and currently writes for a number of film-related publications, including Playground magazine and Eye For Film.
Mulholland Drive (2001): David Lynch's neo-noir journey through the dark side of Hollywood is still as fresh, disturbing and trippy as it was when it first came out. The tale of a woman (Laura Elena Harring) who loses her memory in a car accident and the actress (Naomi Watts) who tries to help her out, it weaves a hypnotic spell as it unfolds in wildly unconventional ways.
Featuring all manner of memorable characters including a director, a cowboy and a mysterious singer, it is one of those films which has inspired all manner of theories due to the hallucinogenic games Lynch plays with the audience. [Buy it on Blu-ray]
The extras break down as follows:
Region B
1080P 1.85:1 Widescreen
English, French and Italian 5.1 DTS-HD MA
Italian, French and Dutch subtitles
New or previously unreleased material:

Angelo Badalamenti: audio interview 10 years on (audio only: 16'30)
Back to Mulholland Drive (21') (new to DVD / blu-ray) (SD)
Introduction by Thierry Jousse (10') (HD)
In the Blue Box (27') – retrospective documentary featuring directors and critics (HD)

Interview with Angelo Badalamenti (Music Composer) (16'46) (SD)
Interview with Mary Sweeney (Editor and Producer) (6'03) (SD)
Making of (23') (SD)
Booklet Essay by Adam Woodward, Journalist
The Pianist (2002): Roman Polanski won the Oscar for Best Director for this World War II drama about Polish pianist Wladyslaw Szpilman, who escaped the Nazi death camps by hiding in the Warsaw ghetto. Played by Adrien Brody (who also won an Oscar for his performance) it is a gruelling tale of survival which features an interesting (and true life) twist.
The gradual destruction of Warsaw provides a haunting backdrop to Szpilman's story of survival is treated with a powerful blend of intelligence and emotion. Polanski's own personal experiences during the war no doubt made the film a personal one and the craft, especially Pawel Edelman's cinematography, is impeccable throughout. [Buy it on Blu-ray]
Extras include:
Region B
1080P 1.85:1 Widescreen
English, French and Italian 5.1 DTS-HD MA
French, Italien, Danish, Dutch, Finnish, Norwegian and Swedish subtitles
New or previously unreleased material:

Interview with Ronald Harwood (20'45) (SD)
Interview with Andrzej Szpilman (29'49) (SD)
Interview with Daniel Szpilman (2'28) (SD)

A Story of Survival: behind the scenes of The Pianist (39'43) (SD)
Trailer (1'30) (SD)
Booklet Essay by Anwar Brett, journalist – Anwar Brett is a journalist specialising in cinema, who has written for a wide variety of newspapers and magazines over the years, publications such as BAFTA's Academy magazine, Total Film, Film Review and The South London Press. He is also a freelance interviewer for film and DVD, occasional moderator of audience Q&As and has recently finished his first book on the rarefied theme of films shot in his native county of Dorset.
Dogtooth (Verve Pictures): One of the most startling and original films of the last year was this creepily absorbing tale of a Greek family headed by two parents (Christos Stergioglou and Michelle Valley) who go to extreme lengths to shelter their three children (Aggeliki Papoulia, Mary Tsoni and Christos Passalis) from the outside world.
Directed by Yorgos Lanthimos, it examines how the world the parents create is taken by the children as their only reality. Imagine the Big Brother house as designed by Samuel Beckett and you'll get some idea of the bizarre ways in which language and ideas are subverted for strange, cruel and often deviously funny ends.
Everything is presented with a cool, detached formality: the editing and cinematography are calm, considered and make the increasingly bizarre world of the house seem ordinary, even though it is anything but.
It explores similar territory to The Truman Show (1998), but manages to have its own hypnotic power. In the light of recent kidnap stories in Europe (such as the Fritzl case), it manages to echo contemporary anxieties as well as examining age old themes of power, control and the social forces that shape us.
After winning the Prix Un Certain Regard at Cannes in 2009, it played to considerable and richly deserved acclaim on the festival circuit and remains one of the most startling European films to emerge in years. [Blu-ray / DVD]
ALSO OUT
Date Night (20th Century Fox Home Ent.) [Blu-ray / DVD]
Glee: Complete Season 1 (20th Century Fox Home Ent.) [Blu-ray / DVD]
Here We Go Round the Mulberry Bush (BFI) [Blu-ray with DVD]
Hung: Season 1 (Warner Home Video) [Blu-ray / DVD]
Inferno (Arrow Films) [Blu-ray / DVD]
Kandahar Break – Fortress of War (Revolver Entertainment) [Blu-ray / DVD]
Lost: The Complete Seasons 1-6 (Walt Disney Studios Home Ent.) [Blu-ray / Box Set]
Lost: The Complete Sixth Season (Walt Disney Studios Home Ent.) [Blu-ray / Box Set]
Mountain Gorillas (2 Entertain) [Blu-ray / DVD]
Prince of Persia – The Sands of Time (Walt Disney Studios Home Ent.) [Blu-ray / with DVD and Digital Copy]
Unthinkable (E1 Entertainment UK) [Blu-ray / DVD]
Vincere (Artificial Eye) [Blu-ray / DVD]
> The DVD and Blu-ray releases for September 2010
> The Best DVD and Blu-ray releases of 2009