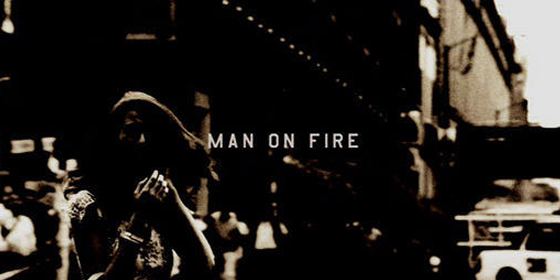 Tony Scott's 2004 revenge drama starring Denzel Washington is Number 10 in my 30 day Film Notes series.
For newcomers, this month-long series of posts involves me watching a film every day for 30 days.
The following rules apply:
It must be a film I have already seen.
I must make notes whilst I'm watching it.
Pauses are allowed but the viewing must all be one session.
It can't be a cinema release.
The point is to capture my instant thoughts about a movie and my overall film diet for 30 days, as well as post interesting links to the film in question.
Here are my notes on Man on Fire (2004) which I watched on BBC1 HD via PVR on Saturday 24th March.
There is a weird Harry Potter connection to this film: JK Rowling's agent Christopher Little also represents the A.J. Quinnell – author of the book on which it is based.
It has been filmed once before in 1987, with Scott Glenn in the Creasy role.
In that film the action was in Italy but here it has been relocated to Mexico.
Chanting music over opening titles, interchanging film stocks and the AVIDs are working overtime!
Walken and Washington have an instinctive rapport – we immediately get the vibe that these guys know each other
Dialogue establishes that they have been involved in some heavy stuff (ex-special ops)
Harry Gregson's score has been used in a lot of news documentaries
Note the sound on the lighting of Mickey Rourke's match – Scott loves a visceral audio mix.
The fleet of cars driving across the landscape recalls REVENGE (1990) another revenge themed film Scott shot in Mexico.
Some stylistic similarities between the two films, even though Scott has utilised the advances in digital editing and post-production
Neat trick making Dakota Fanning a precocious child – she's essentially playing a version of herself.
Radha Mitchell was coming of the success of PITCH BLACK (2000) – she looks beautiful but her role is rather underwritten
First time I've seen this in HD and the clarity of image and golden hues are stunning (like his brother Ridley, Tony Scott is a master of light).
Nice tension created about a possible kidnapping in the traffic through cutting and camera.
Mitchell and Washington's conversation is unusually constructed – use of zooms into the mirror used as well as conventional edits.
The 'Creasy getting drunk' scene is a little overcooked.
Like the fact that Walken has several phones – well researched detail.
Pita at the pool sequence is a good example of Scott's attention to sound.
Pita: "Creasy, what's a concubine?"
Nice chemistry between Fanning and Washington
Build up to the kidnapping is nice – interesting blend of camera moves, edits and sounds
Note the calm of the classical piano
Scott is using digital editing systems almost as a paintbox
Old school editors must be turning in their grave at a film like this
Like the fact that Spanish is spoken and the way the subtitles are done – slinking along the screen in sync with the words
Bursts of Lisa Gerrard's vocals are used in this film to indicate emotion – her extraordinary voice was first used in THE INSIDER (1999) and then GLADIATOR (2000)
The visuals used to denote the kidnappers are insane
Ransom demand scene is not quickly edited (although it feels like it) but the flashing and speeded up effects give that vibe.
Like the way "La Hermandad" pops up in sync with dialogue.
Reverse chopper shot of Mexico skyline used from earlier?
Walken's performance has a nice easy vibe that provides some welcome relief from the heavy drama.
Rachel Ticotin previously filmed TOTAL RECALL (1990) in Mexico.
Creasy quickly becomes a vengeful badass but that's logical given his line of work.
Finger cutting scene is intense but it's the kind of sequence that would infuriate the late Pauline Kael and her many acolytes.
Car falling off cliff recalls similar scene in THE LAST BOY SCOUT (1991).
Creasy looks a bit out of place at the rave with that head scarf.
I think Tony Scott should do a whole film set at a rave – really go to town.
Split screen, bleach bypass, hand cranked cameras – this is visual overload!
One way Scott and his DP Paul Calderon relieve the furious style is to cut to a relatively pristine image.
The dancers cheering Creasy's shotgun blasts is an effective touch – shows the atmosphere of mayhem.
Great night time photography in the conversation between Washington and Ticotin
Walken line about Creasy's art is priceless – still not sure if it's delivered with a metaphorical wink to the audience
Would it really be practical to fire a rocket launcher into a busy Mexican high street?!
Impressive explosion and flames however, plus this scene gave us the poster image.
Great location for the ass bomb scene. Really notice the lighting in HD.
It would have been really cool if the on screen stopwatch had synced in real time.
Washington's delivery of his lines in this scene is excellent.
I bet someone somewhere has actually used the line "I wish. You had. More time!" just to be a badass.
Tony Scott was clearly born to shoot in Mexico.
Interior lighting of characters is tremendous.
Radha Mitchell doesn't seem that distressed her husband has just blown his head off in their home.
It would be fair to say that this film is not a study of the social conditions that produce violence and kidnapping.
Creasy refusing money and blowing the hand off the Voice's brother shows he really doesn't care about what drives the ransom business (i.e. money)
Nice reverse offer from The Voice ("I will give you her life for your life").
Interesting choice of time and location for the climax (often films end
Great shooting and use of music for the end.
Film has a slightly different resonance after the Fritzl case and all the subsequent kidnap films which almost became a Euro subgenre.
Like the way a mainstream film doesn't wimp out at the end.
Nice symbolic touch of him dropping the St Jude medallion at the end and the credit that gives the date of the final day (Dec 16th 2003)
Alternate ending has Creasy going to the house of the Voice and blowing it all up.