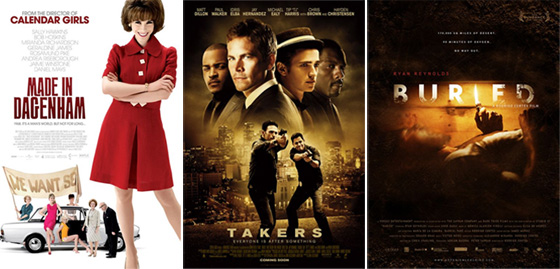 NATIONAL RELEASES
Made In Dagenham (Paramount): Period drama about which dramatises the 1968 strike at the Ford Dagenham assembly plant, where workers protests proved instrumental in leading to the Equal Pay Act of 1970.
Starring Sally Hawkins, Rosamund Pike, Bob Hoskins and Miranda Richardson, it is directed by Nigel Cole and produced by Stephen Wolley. Paramount are giving this a wide release and will be hoping that it will be a contender for BAFTA and – maybe Oscars – with its mixture of feel-good comedy and social awareness. [Odeon Leicester Square & Nationwide / 15]
Takers (Sony Pictures): A action film about a group of notorious bank robbers (Idris Elba, Paul Walker, T.I., Chris Brown, Hayden Christensen and Michael Ealy) who attempt to pull off one last job (is there any other?) with a hardened detective (Matt Dillon) on their tail.
Directed by John Luessenhop, it comes just seven days after another drama about bank robbers (The Town) and is likely to do well despite less than stellar reviews. [Nationwide / 12A]
Buried (Icon): A Spanish low budget thriller about a US contractor in Iraq (Ryan Reynolds) who is buried alive in a box with only a lighter, a knife and a cellular phone.
Directed by Rodrigo Cortés, it premiered at Sundance in January and was one of the most talked about genre films of the festival. Reasonable reviews, word-of-mouth and the novelty of the concept might help attract a decent opening weekend. [Vue West End & Nationwide / 15]
Back To The Future (Universal): A re-release for the inventive 1985 hit about a teenager (Michael J Fox) who travels back in time to 1955 and has to make sure his parents get together.
Directed by Robert Zemeckis, this is a short theatrical run for the film which is being released on Blu-ray next month. [Empire West End & Nationwide / PG]
ALSO OUT
Police, Adjective (Artificial Eye): A Romanian drama about a policeman (Dragoş Bucur) investigating a teenage boy who has been smoking dope, who gradually questions the case. Directed by Corneliu Porumboiu. [Curzons Mayfair, Renoir & Richmond, Ritzy & Key Cities / 12A]
The Secret Of Kells (Optimum Releasing): An animated feature set in the ninth century which was nominated for an Oscar earlier this year. [Ritzy & Key Cities / PG]
Collapse (Dogwoof): Disturbing documentary about a former police officer who believes the world is on the brink of economic and social collapse. Directed by documentarian Christopher Smith. [ICA Cinema & Key Cities]
Anjaana Anjaani (Eros): A Hindi film directed by Siddharth Anand, starring Ranbir Kapoor, Priyanka Chopra and Zayed Khan. [C'Worlds Feltham, Ilford, Shaftesbury Ave., Odeon Greenwich & Key Cities / 12A]
Bella (Kaleidoscope Entertainment): A 2006 (!) film about a New York chef who helps a pregnant waitress avoid an abortion. [Key Cities / PG]
The First Movie (Picturehouse Entertainment): A documentary by Mark Cousins about taking cinema to a remote part of Nothern Iraq so the local children can experience a film and also get to make their own with digital cameras. [Gate, Ritzy & Key Cities / 12A] (Scotland from October 15th).
Garfield's Pet Force 3D (Stealth Media): An animated release involving the famous cat. In 3D. [Selected Key Cities / U]
Little Big Soldier (CineAsia): A Chinese action-comedy starring Jackie Chan and Leehom Wang as the two survivors of a battle in the Warring States Period of Chinese history. [Key Cities / 15]
> UK DVD and Blu-ray picks for this week including Bad Lieutenant: Port of Call New Orleans and The Killer Inside Me
> Get local cinema showtimes for your area via Google Movies