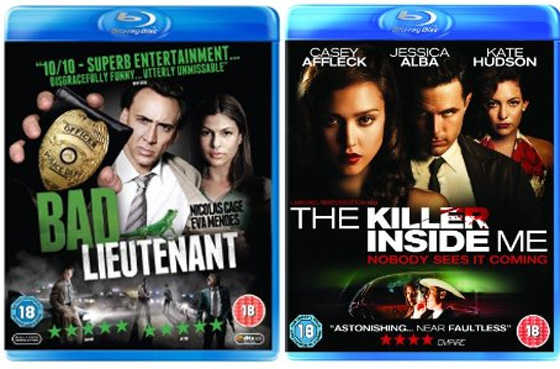 DVD & BLU-RAY PICKS
Bad Lieutenant: Port of Call New Orleans (Lionsgate UK): Werner Herzog's brilliantly surreal remake (or is it?) of Abel Ferrara's 1992 film is relocated to New Orleans where a corrupt, drug addled cop (Nicolas Cage) finds himself involved with a drug dealer (Alvin "Xzibit" Joiner) who is suspected of murdering a family of African immigrants.
On top of this he struggles to keep his life in check, which includes his prostitute girlfriend (Eva Mendes); his hot-headed partner (Val Kilmer); a local bookie (Brad Dourif) and all manner of surreal visions. *Read the full review here * [Blu-ray / DVD]
The Killer Inside Me (Icon Home Entertainment): Adapated from Jim Thompson's 1952 novel about a deputy sheriff (Casey Affleck) in Texas who is also a secretly depraved sociopath. Directed by Michael Winterbottom and co-starring Jessica Alba and Kate Hudson, the film caused considerable controversy earlier this year due to the graphic violence in certain scenes.
Despite that kerfuffle and some sequences which drag, it manages to effectively convey the dark side of Eisenhower's America. * Read the full review here * [Blu-ray / DVD]
ALSO OUT
A Nightmare On Elm Street (Warner Home Video) [Blu-ray / DVD]
American – The Bill Hicks Story (2 Entertain) [Blu-ray / DVD]
City of Life and Death (High Fliers Video Distribution) [Blu-ray / DVD]
Death at a Funeral (Sony Pictures Home Ent.) [Blu-ray / DVD]
Fringe: Season 2 (Warner Home Video) [Blu-ray / DVD]
Fringe: Seasons 1 and 2 (Warner Home Video) [Blu-ray / DVD]
House: Season 6 (Universal/Playback) [Blu-ray / DVD]
Infernal Affairs (Palisades Tartan) [Blu-ray / DVD]
Rush: 2112/Moving Pictures (Eagle Rock Entertainment) [Blu-ray / DVD]
She's Out of My League (Paramount Home Entertainment) [Blu-ray / DVD]
Space Chimps 2 – Zartog Strikes Back (EV) [Blu-ray / DVD]
Stephen Hawking's Universe (Demand DVD) [Blu-ray / DVD]
StreetDance E1 (Entertainment UK) [Blu-ray / DVD]
Tetro (Soda Pictures) [Blu-ray / DVD]
The Deep (2 Entertain) [Blu-ray / DVD]
Wake Up Sid (UTV) [Blu-ray / DVD]
Warren Miller: Dynasty (Demand DVD) [Blu-ray / DVD]
> The DVD and Blu-ray releases for September 2010
> The Best DVD and Blu-ray releases of 2009