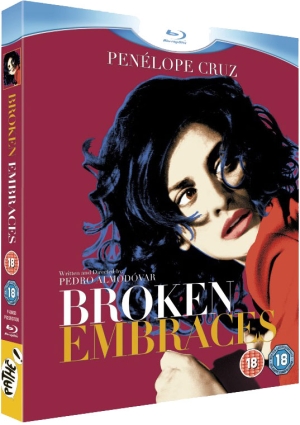 Broken Embraces (Pathe) is the latest film from Spanish director Pedro Almodóvar and a 'romantic noir' spanning 16 years.
Set in 2008, with flashbacks to 1992 and 1994, it focuses on a film director (Lluis Homar) who's lost the love of his life (Penelope Cruz) as well as his eyesight to a jealous lover.
The tricky structure is a dramatic device used to comment on and explain the events of the present and although this seems to have put some viewers off – judging by the  mixed reaction it got at Cannes – is still handled impressively.
It also explores guilt and how it can weigh heavily on human relationships, suggesting that the director was possibly drawing on his own life and art, and this is served by some convincing performances.
Homar convey's a director's restless desire for his life and art, even when he can't see, whilst Cruz is as emotionally convincing as she is physically striking.
Her performance is almost a post-modern wink to the relationship between a director and a leading lady.
As you might expect, Almodóvar fills the frame with some captivating images, using primary colours (especially red) as a counterpoint to the heavy emotional situations and characters.
If there is a flaw with the film, it is that it exists almost too neatly within it's cinema-drenched world: not only is the protagonist a director, but it even references numerous auteurs such as Powell, Hitchcock, Malle, Fellini and even his own 1988 film Women on the Verge of a Nervous Breakdown.
Whilst this makes it a treat for cinephiles and an undoubtedly personal work for Almodóvar, it lacks the heart and feeling of his more recent works like Talk to Her and Volver.
The extras on the DVD and Blu-ray Disc include:
Short Film: The Anthropophagic Council Woman La Concejala Antropofaga (7 mins 32 secs)
3 x Deleted Scenes (11 mins 50 secs)
Directing in Girls and Suitcases (5 mins 30 secs)
Original UK Theatrical Trailer (2 mins)
Photo Gallery
Broken Embraces is out now from Pathe
> Buy the DVD or Blu-ray Disc from Amazon UK
> IMDb entry