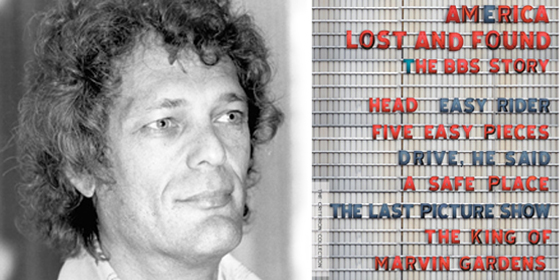 The producer who helped kicked start the New Hollywood era passed away on Monday at the age of 78.
Due to the varied nature of their role, and the dominance of the auteur theory since the 1960s, producers don't tend to get as much credit as directors.
But Bert Schneider was a key figure in the New Hollywood era, producing landmark films such as Easy Rider (1969), Five Easy Pieces (1970) and The Last Picture Show (1971).
For someone who tapped into the radical counter culture in such a big way, he was was the son of former Columbia Pictures chairman Abraham Schneider.
It was whilst working in New York for Columbia that he and Bob Rafelson came up with the idea for The Monkees, a manufactured pop group modelled on The Beatles.
Consisting of Davy Jones, Mike Nesmith, Micky Dolenz and Peter Tork, they had a sitcom which ran from 1966-1968 but also had chart hits including (Theme From) The Monkees and I'm A Believer.
Their success allowed Schneider to move into feature films, beginning with Head (1968), which was directed by Rafelson and co-written by Jack Nicholson.
Heavily influenced by psychedelic drugs, it alienated the core fan base of the group and bombed at the box office, but remains an interesting snapshot of late 60s counter-culture.
However, the overall financial success of The Monkees (they have since sold 65 million records worldwide) allowed him the creative freedom to pursue his ambitions as a producer.
It was with his next film – this time as an executive producer – that Schneider would really make a mark in Hollywood and the wider culture.
At the time the major studios were churning out costly musicals such as Dr. Dolittle (1967) and Paint Your Wagon (1969) which were failing to tap into younger audiences in the way the a film like The Graduate (1967) was doing.
Mike Nichol's film landed like a bombshell – an independently financed phenomenon that ultimately grossed over $104m on a budget of just $3m, it would have raised the eyebrows of many studio executives.
Just as importantly it spoke to a younger generation and oiled the wheels for a film to really break the mould.
Easy Rider (1969) was just that movie – something which tapped right into the late 1960s zeitgeist in a way that the declining studio system was failing to do.
The story of two bikers (played by Peter Fonda and Dennis Hopper) travelling through the American Southwest and South with the aim of achieving freedom, it was made for under $400,000 and went on to make $41m at the box office.
Directed by Hopper from a script co-written with Fonda and Terry Southern, it remains a landmark film, partly due to an iconic soundtrack featuring The Byrds and Steppenwolf, and also made Jack Nicholson a star even though he was in a supporting role.
Interestingly, the crucial use of music in both The Graduate and Easy Rider also paved the way for the modern soundtrack tie-in as studios gradually realised that a tie-in album or song could be another income stream.
The enormous success allowed Schneider and Rafelson to team up with Stephen Blauner to form BBS Productions (an acronym for Bert, Bob and Steve).
Their next film was Five Easy Pieces (1970), a classic drama about a disaffected pianist (Jack Nicholson) caught between the counter-culture and Nixon's silent majority, it caught a mood and grossed $18m on a budget of just $1.6m.
It established Nicholson as a star, earned several Oscar nominations and remains a classic study of class and alienation in America.
The following year he went on to produce another classic film of its era, Peter Bogdanovich's The Last Picture Show (1971).
A beautiful coming of age story set in a 1950s Texas town, it featured an outstanding ensemble cast (Timothy Bottoms, Jeff Bridges, Cybil Shepherd, Ben Johnson, Ellen Burstyn, Cloris Leachman and Randy Quaid) and some gorgeous black and white cinematography by Robert Surtees.
Paying tribute to Hollywood's Golden Era, especially Howard Hawks and John Ford, Bogdanovich crafted a poetic tribute for the America that was vanishing, that chimed perfectly with the disillusionment of the early 1970s (and perhaps 2011?).
There were creative and commercial misfires during this period with Henry Jaglom's A Safe Place (1971) and Nicholson's directing debut Drive, He Said (1971), although they remain interesting examples of independent movies in the pre-Sundance era.
The following year he reteamed with Bob Rafelson for The King of Marvin Gardens (1972), a downbeat drama about a late night radio host (Jack Nicholson) in Philadelphia and his older brother (Bruce Dern).
Co-starring Ellen Burstyn, its portrait of crushed dreams was perhaps too close to the bone for audiences who largely stayed away, even though it has since been reappraised.
Schneider went on to produce Hearts and Minds (1974), Peter Davis' powerful documentary about the Vietnam conflict which earned an Oscar for Best Documentary.
In his acceptance speech during the ceremony – held just 12 days before the fall of Saigon – Schneider scandalised members of the audience by reading out a telegram from the Viet Cong Ambassador (Dinh Ba Thi) thanking the anti-war movement "for all they have done on behalf of peace".
The equivalent today would be the producer of a documentary about the Afghanistan conflict, reading out a telegram from the Taliban.
Elderly Academy members were scandalised, with Frank Sinatra later reading out a letter from Bob Hope (another presenter on the show) saying:
"The academy is saying, 'We are not responsible for any political references made on the program, and we are sorry they had to take place this evening.'"
He later went on to produce Terrence Malick's Days of Heaven (1978) after Paramount CEO Barry Diller offered him a deal to produce films for the studio.
Retaining creative control – by guaranteeing the budget himself and taking responsibility for all cost overruns – Schneider fell out with Malick after a difficult shoot and tortuous two year post-production period.
Schneider was upset with the director due to his unconventional working methods and cost overruns, but the end result was one of the crown jewels of American cinema.
In a rare case of corporate owners displaying great taste, Gulf & Western chairman Charlie Bluhdorn actually loved the movie.
His oil company owned Paramount at the time and he was so impressed he even gave Malick an annual retainer to essentially work on whatever he wanted.
This resulted in pre-production on Q – a drama set in prehistoric times, which may have been the inspiration for what would ultimately become a key section in The Tree of Life.
A strange postscript, is that twenty years later Rupert Murdoch's money (via 20th Century Fox) would result in The Thin Red Line (1998), which not only ended Malick's 20 year career hiatus but also provided us with one of the most unusual films ever made at a major studio.
But for Schneider Days of Heaven ultimately resulted in the end of an era – his last film as a producer was the little seen Broken English (1981) and after that he dropped out of the mainstream producing game.
He died of natural causes aged 78 in his Los Angeles home on Monday.
One person to pay tribute to him on Twitter today was producer and agent Cassian Elwes (given the nature of Twitter, you'll have to read these excerpted messages from the bottom up):

At some point in recent years his house burnt down and this video surfaced in 2009 of the remains:
Last year Criterion issued an outstanding Blu-ray boxset of BBS films called America Lost and Found: The BBS Story featuring Easy Rider, Five Easy Pieces, The Last Picture Show, The King of Marvin Gardens, Head, Drive He Said and A Safe Place.
He was perhaps a reminder that producers can find a way to buck the system and enable talented directors and actors to produce outstanding work against the commercial grain.
A generation of filmmakers have grown up with the legacy of New Hollywood directors such as Coppola, Spielberg, Scorsese and Lucas, but it took a maverick producer like Schneider to really kick things off.
> NY Times, LA Times and MUBi Notebook obituraries
> Bert Schneider at the IMDb
> DVD Beaver with a detailed review of the Crtierion BBS Blu-ray box set