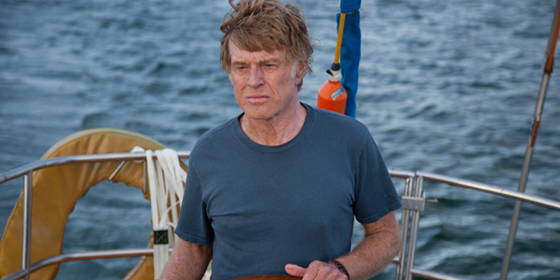 One man adrift in the Indian Ocean is the premise for J.C. Chandor's second film, a compelling tale of survival against the odds.
Opening with a brief, mournful monologue of an enigmatic sailor (Robert Redford), we hear a crash and are plunged back a few days to when his boat, the Virgina Jean, collided with a large metal cargo container.
We immediately see he is calm under pressure, scooping out water and doing the best he can under the circumstances: patching up the hole and trying to fix the wet radio.
Who is this man?
Cryptically listed in the credits as 'Our Man', perhaps he is a retired businessman who took up sailing. Maybe he is a professional sailor. Who knows?
Perhaps he represents any human being caught up in a desperate situation. The point of this film is to put us in there with him as he battles the elements.
Chandor and his crew slowly build the tension as we see all manner of obstacles: the leaking boat, storms and sharks.
Apart from a few words, it is free of dialogue, meaning there is a relentless focus on Redford and his situation.
This is surprisingly riveting, as previously routine acts such as putting up a sail or jumping into a raft become critically important.
But Chandor also has a few more tricks up his sleeve, most notably the casting of Redford. The movie star brings a grizzled gravitas to his part in what is his best work in years.
Cinematographer Frank G. DeMarco brings an immediacy to the action on the boat, whilst visualising the beauty and danger of the oceanic environment.
Cleverly blending in location shooting with work in tanks and visual effects, it paints a hauntingly plausible scenario of what it is to be stuck at sea.
The sound design is outstanding and the large sound team, headed by Steve Boeddeker and Richard Hymns, does sterling work in capturing the many different aural textures aboard the boat, life raft and ocean.
For writer-director J.C. Chandor this marks another remarkable film after his feature debut, Margin Call (2011).
That still remains the best feature about the financial crisis, and seems to be a world away from All is Lost.
But look closely and there may be parallel themes: crisis, dread and the aforementioned survival.
The building and firm in Margin Call which created their own financial problems could be a cousin to the boat in All is Lost – both are sinking fast.
With these two films Chandor has already created powerful parables for our time and the degree of skill and intelligence he applies to his work only makes me hungry for his future work.
All is Lost screened at the London Film Festival on Oct 12th, 13th and 14th
(It opens in the UK on December 26th)
> Official site, Facebook page and Twitter
> Reviews at Metacritic