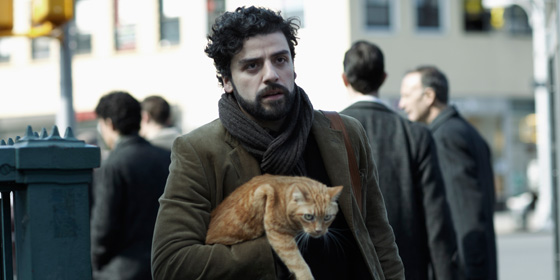 The Coen Brothers are in a more reflective mood for this beautifully crafted drama, set amongst the New York folk scene of the early 1960s.
Opening with folk singer Llewyn Davis (Oscar Isaac) performing in a Greenwich Village nightclub in January 1961, we soon discover he is a man struggling against the odds, in both his personal and working life.
His record label are useless in paying his meagre royalties, a hectoring ex-girlfriend (Carey Mulligan) tells him she is pregnant (and she's unsure who the father is), he frequently has to couch surf and also manages to lose a friend's cat.
Despite all of these mishaps he plugs away in search of a bigger break, travelling to Chicago and back again in the winter, trying to convince people to take a chance on his music or a least help him out financially.
Wilfully subverting the traditions of the rags to riches music biopic, it focuses on a man whose existence appears to be an ever decreasing circle of fame and money.
Imagine if Bob Dylan hadn't quite made it and you'll soon get the idea.
If this seems like a gloomy tale, don't forget that the Coens are past masters at mixing light and dark and this is along the lines of A Serious Man (2009) and Barton Fink (1991).
Like those movies, it features many funny scenes populated with memorable characters: two friendly academics (Ethan Phillips and Robin Barrett); a sister (Jeanine Serralles); singer and ex-partner Jean (Mulligan) who is now seeing a rival Jim (Justin Timberlake).
One of the most striking episodes – which may be related to the film's title – is a road trip to Chicago where Davis hitches a lift with a silent driver (Garrett Hedlund) and a rotund jazz impresario (John Goodman), on the way to see a promoter (F. Murray Abraham).
This sequence, and the film as a whole, bears all the hallmarks of their very best work: immaculately shot by DP Bruno Delbonnel, it also features some stunning production design by Jess Gonchor, who recreates the era in meticulous detail.
At the centre of all this is an excellent performance by Oscar Isaac, who manages to capture the weary melancholy and outsider attitude of a struggling – and not particularly likeable – artist.
As for The Coens, this seems to be another of their more personal films where a Job-like protagonist is constantly struggling within a comically hostile universe.
But the aforementioned connection with Bob Dylan is an interesting one: like the legendary folk singer, they moved from Minnesota to New York and a scene near the end is perhaps more than just a tip of the hat to him.
As for the soundtrack, the Coens team up once again with executive music producer T Bone Burnett, who memorably collaborated on the O Brother Where Art Thou? (2000) soundtrack, and the result is arguably as good.
One of the year's most impressive films, it is a strong addition to the Coen's canon and a memorable depiction of a struggling artist.
Inside Llewyn Davis screened at the London Film Festival on Tues 15th, Thurs 17th and Sat 19th October
(It opens in the UK on Friday 24th January 2014)
> Official site
> Listen to the soundtrack
> Reviews of Inside Llewyn Davis at Metacritic