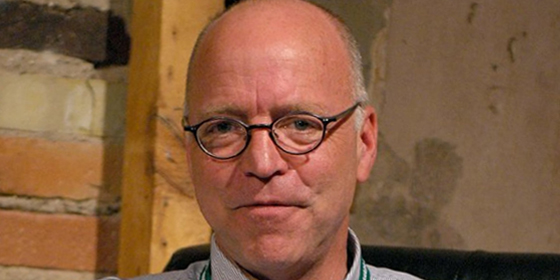 Although often overshadowed by more famous rivals, Bingham Ray was one of the key figures in independent film over the last 25 years.
Just a few days ago I posted a piece on what the phrase 'indie film' means in 2012.
What does independent mean when a subsidiary of a large media company (Fox Searchlight) releases movies like The Tree of Life and Shame?
Or when two of the UK's highest grossing films of 2011 are genuine independents (The King's Speech and The Inbetweeners)?
Part of that post meant going back to Peter Biskind's Down and Dirty Pictures: Miramax, Sundance and the Rise of Independent Film.
The 2004 book essentially told the story of the modern independent film movement from 1989 until the early 2000s.
Much about the movie landscape has changed since then, notably the economic crash of 2008, the reduction of 'dependent arms' and the creative rejuvenation of Sundance from 2009 onwards.
Two large characters dominate the history of modern independent film: Robert Redford, the founder of the Sundance film festival and Harvey Weinstein, who co-ran Miramax Films with his brother Bob.
Both sets of characters seem to embody the ideals, commerciality and contradictions of indie film over the last twenty five years.
But there was a third man: Bingham Ray.
He sadly passed away last month during the Sundance festival and Redford's statement on hearing the news was reflective of the many tributes that poured out at the time:
"He was a valued member of the Sundance family for as long as I can remember, and he is responsible for mentoring countless seminal storytellers and bringing their work to the world."
The recent memorial services in New York and Los Angeles, along with a Sundance fellowship set up in his honour were testament to the esteem in which he was held.
A key figure in the indie film world the company he co-founded, October Films, began as a genuine independent, in an ecosystem where the distinctions could get blurry.
Among the directors he championed in his career were Mike Leigh, Lars von Trier, Jim Jarmusch and David Lynch.
As a producer-distributor, Ray was that rare breed who could not only identify talent but package them for critical and commercial success.
After studying at Simpson College in Iowa, he moved to New York where he became manager at the Bleecker Street Cinema in Greenwich Village.
He later worked in marketing and distribution at the Samuel Goldwyn Company and then in the summer of 1987 was hired by Columbia Pictures, which was then under the brief reign of David Putnam.
In 2001 he recounted the story of his brief time there in the late 1980s:
But soon after he really made his mark by forming October Films with fellow indie stalwart Jeff Lipsky.
Named after Eisenstein's classic film of the same name and the month the two founders were born, Ray later explained their philosophy:
"I'm not some avant-gardist, I know the difference between something that's truly experimental and something that's wholly mainstream, but I'd like to think that somewhere in the middle is a comfort zone where there's an audience. It might not be the largest, or the most lucrative, but for me the rewards are the greatest."
The first film they released was Mike Leigh's Life is Sweet (1990), which appropriately opened in the US during October 1991, and grossed over $2 million – then a considerable sum for an indie release.
After that they released such films as D.A. Pennebaker's documentary The War Room (1993), Guillermo Del Toro's debut Cronos (1993) and John Dahl's The Last Seduction (1994).
Another creative and commercial plateau was to come at the Berlin film festival in 1995.
Ray demonstrated his nose for talent after sitting through five hours of Lars Von Trier's The Kingdom (1994) – a TV series which screened at festivals – by acquiring it.
He not only added a key European auteur to his already impressive stable of directors, but this relationship led to October acquiring US rights to Von Trier's next film, Breaking the Waves (1996).
Originally set to star Gerard Depardieu and Helena Bonham Carter, they were ultimately replaced by Stellan Skaarsgard and (a then unknown) Emily Watson.
Ray saw a cut of Breaking the Waves in early 1996, which he said "blew him away".
Going into Cannes that year he also had a new Mike Leigh film, Secrets & Lies (1996).
It would turn out to be a triumphant festival for October Films as Leigh's film scooped the Palme d'Or and Best Actress (for Brenda Blethyn) but Von Trier's film also claimed the Grand Prix.
You can still see him basking in the glow of that Cannes experience on this Charlie Rose appearance alongside Janet Maslin of the New York Times and David Ansen of Newsweek:
[The piece begins at 24:17]
On the surface, the subsequent awards season was dominated by Miramax.
Fuelled with Disney cash from their acquisition in 1993, they redefined the indie world through a combination of marketing genius and clever targeting of Academy voters.
The English Patient represented the high watermark of Miramax movie of that era: a period piece with literary pedigree it went on to win Best Picture and do excellent box office worldwide.
But the wider story that year was how the major studios had been trumped by the independents, as Jerry Maguire was the only Best Picture nominee to come from a big Hollywood studio (Sony).
There was no more remarkable independent that year than October Films.
Secrets & Lies went on to open the New York Film Festival that year, garner great reviews and eventually receive five Academy Award nominations (Best Picture, Best Director, Best Actress, Best Original Screenplay).
Even Breaking the Waves found an audience and a Best Actress nomination for Emily Watson was a sign that they were punching well above their weight.
This MSNBC piece profiling Ray and the company shows the excitement that year as the nominations were announced.
Although they didn't win any awards on the night, the nominations were a stunning achievement and put October on another level.
I remember watching that ceremony overnight in my first year of college and marvelling at how Mike Leigh and the Coen Brothers were being granted the worldwide TV exposure of the Oscar ceremony.
Their backing of David Lynch's Lost Highway (1997) and Todd Solondz's Happiness (1998) was testament to their faith in projects by visionary directors.
Later on when Universal acquired a majority stake in October, that became a point of conflict as Ray clashed with the new corporate owners.
One of the paradoxes of the indie film boom of the 90s was that it was – to varying degrees – supported by corporate dollars.
In the case of Miramax, though they had autonomy, Pulp Fiction was ultimately released by the same corporation that owned Mickey Mouse.
As for October, the trail they blazed to the Oscars in early 1997 was always a tricky – one of the paradoxes of financial success was that it ultimately pushed them towards the safety of a large owner.
But still they pushed the world cinema envelope.
It is remarkable to think that around this time they were releasing Jafar Panahi's The White Balloon (1995) and Thomas Vinterberg's Festen (1998) at US cinemas.
The costly flop they were dreading happened to be David Lynch's brilliant but defiantly uncommercial Lost Highway (1997) – the first half of which still happens to be amongst his greatest work.
October sold a majority stake to Universal and Ray left after a complicated corporate merry go round which saw Universal sell its stake to Barry Diller in 1999.
He then formed USA Films and merged it with Gramercy Pictures, before Vivendi (new French owners of Universal) acquired Good Machine in 2002.
The combined companies were all merged together as Focus Features, which is still Universal's indie arm today under James Schamus.
Ray later served on festival juries and after a serious car accident in 2000 he returned to the business at United Artists.
The indie boom during the 1990s saw larger studios try to imitate the Miramax model by starting their own specialty arms.
United Artists were certainly not the creative powerhouse they had been in their heyday and after the disaster of Heaven's Gate (1980) seemed stuck in an ever more complex relationship with MGM.
But in the 2000s it was rebranded as a specialty studio and Ray was asked to run it.
His successes there included Danis Tanovic's Balkan War drama No Man's Land (2001), Michael Moore's Oscar-winning documentary Bowling for Columbine (2002), Pieces of April (2003) and Hotel Rwanda (2004).
During his time there he also marshalled the indie sector into opposing the ban on DVD screeners during the 2003 Oscar season.
In what seems like a forerunner to the recent SOPA affair, this was where the seven major studios issued a ban on Oscar voters being sent screener discs at their home.
Although in theory voters should go to see films at a cinema, for many smaller companies it is much more cost effective to send voters a DVD to their homes.
For a specialty film an Oscar nomination – let alone a win – was vital to publicity and box office.
In late 2003 Ray organised a meeting of the then major indie players: UA, Sony Classics, Focus Features, Paramount Classics, Fine Line and Miramax.
The subsequent open letter to MPAA head Jack Valenti (who was representing the big studio view) was drafted on behalf of the indie companies by James Schamus:
"The consumer has a completely cynical attitude towards the companies that make the product, viewing them as gigantic greedy corporations who want to control everything. And stamp out anything of interest that's unique or individual. You just did that, for the movie business, man. Under the rubric of fighting piracy, in one week, you have created precisely the market conditions that have destroyed the record industry".
Eventually a compromise was reached and the screener ban eventually lifted.
After United Artists, Ray then joined Sidney Kimmel Entertainment – where he reportedly couldn't persuade them to make a script called The King's Speech.
He later left for roles at the Film Society of Lincoln Center, the Independent Film Channel and Snag Films before just recently becoming Executive Director of the San Francisco Film Society.
It was somehow fitting that he would pass away during the festival that meant so much to him and helped shape the modern indie film movement.
In 2010, he paid tribute to his friend Bob Berney at the 2010 Woodstock Film Festival:
Last summer he featured on an indieWire panel, which was a celebration of the last 15 years of the website and the possible online future.
(The phrase "everything is possible but nothing works" is genius).
Moderated by Dana Harris, the discussion included Richard Abramowitz, Amy Heller, Bob Berney, Ira Deutchman, Mark Urman, Arianna Bocco and Jeanne Berney.
It is a must-watch for anyone interested in film distribution.
But notice what Ray's answer to the question 'What do you hope you'll be doing in another 15 years?' at 1:02:03:
"I'd like to be celebrating the 30th anniversary of indieWIRE"
It is a real shame he won't be around to see it.
Recently he took up the position of Executive Director of the San Francisco Film Society and someone has posted a speech he gave just after taking up the role.
One of the features of the current age is just how much of our lives ends up on YouTube.
So, it was only appropriate that footage of his New York Memorial Service was put online:
A lot has changed since 2004 when Biskind's book came out, but I couldn't help noticing the final paragraph.
It is actually a quote from Ray and it describes his indie film philosophy perfectly:
"No matter where I go – the only thing consistent is me. I bring out the best and the worst in some of these people. This was all about money, and I still believe that there are decisions that you make that aren't motivated by financial gain. The independent world isn't like the Hollywood world. The motives are different, the goals are different, people aren't necessarily trying to get rich and powerful, they're trying to push art first whilst thinking everything else will take of itself. That's the naive part of it, it doesn't happen that way. You can't even talk about that with a straight face or people will laugh you off the planet. But there's a big big part of me that really does believe that. And will always believe that"
Amen.
>; Obituraries at the NY Times and IndieWire
>; IndieWIRE with tributes from Rachael Horovitz, Cassian Elwes and Michael Moore on his passing
>; Sasha Bronner on The Bingham Ray 101 Film Syllabus
>; Peter Biskind on Miramax
>; Down and Dirty Pictures at Amazon UK