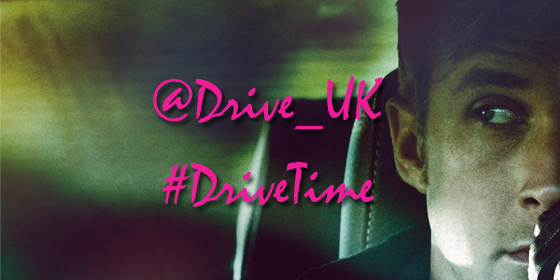 To promote the UK release of Drive on DVD and Blu-ray yesterday the distributors held a 'Tweetalong'.
This essentially involved anyone on Twitter starting the film at 8pm and doing text commentary on it whilst watching.
Organised by online agency Think Jam, the official account was @DriveUK and users tweeted under the hashtag #DriveTime
Twitter commentaries on television shows aren't anything new, but this was the first time I'd seen it used as part of the launch of a new home entertainment release.
(At the end of this article is a Storify post of what the comments looked like)
Although it is still in its relative infancy (it was first launched in 2006), the microblogging service can be a very useful tool in getting the word out about certain films.
The distribution game is still generally dominated by major studios and films with enormous marketing budgets, but beneath them are some interesting exceptions.
Just in the last year, The King's Speech and The Inbetweeners Movie were home grown independent films that ended being the 2nd and 3rd highest grossing films at the UK box office in 2011.
Drive represents a very interesting example of a wide release.
It is essentially a stylish genre movie (LA noir crime drama) with arthouse pedigree (Nic Winding Refn) that stars two hot young actors (Ryan Gosling and Carey Mulligan) alongside an experienced supporting cast (Albert Brooks, Bryan Cranston and Ron Perlman).
Although originally a studio project set up at Universal, it was eventually put into turnaround before being financed independently.
The US distributor was FilmDistrict, a relatively new outfit formed by GK Films, and hopes were high for its US theatrical release when it was warmly received at Cannes (where Refn won Best Director) and Toronto.
Festival buzz, generally great reviews and a hot young cast meant that the distributor opted for a wide release at 2,886 cinemas.
But on opening weekend in mid-September when it came in third behind The Lion King 3D re-release and Contagion (on its second week of release), people realised it wasn't connecting as they hoped.
The post-mortem on widely-read industry site Deadline cited the fact that young males are a more unpredictable demographic than they used to be:
"…young guys who used to be Hollywood's target audience are just not consistently (and indiscriminately) going to the movies anymore. The reason is either financial or too many other entertainment choices. That was the gist of internal conversations inside studios all summer when uncompelling fare like Conan The Barbarian, Fright Night, Cowboys & Aliens, and Green Lantern fell short with young guys. "It didn't dawn on us they weren't coming to the malls," one perplexed exec told me. Instead, adults did."
Bob Berney – who has since left FilmDistrict – was also quoted in the piece:
"Some people thought it should have done $20M the first weekend, but they are crazy! Even with the great reviews and Cannes pedigree, it's still an 'arts-ploitation' film. It's out there in a new genre. It's really a polarizing film but in a good way. The pacing, music, style, and violence creates heated debate and reaction. The people that love it, really love it and talk about it. But it's too extreme for many."
Berney is right – what made Drive such a critical and festival favourite was probably what put off average mainstream audiences.
But only to an extent.
Drive cleverly fused traditional genre elements with considerable artistic flair and obviously the theatrical run didn't conform to expectations, but why do I get the feeling that this is a film which could have a long shelf life ahead of it?
Not only are Gosling and Mulligan captured in their youthful prime but it is perfect for late night home viewing and also has a killer soundtrack to boot.
So Drive clearly has a fan base, if not one as large as the films financiers had hoped for.
How could the UK distributor (Icon) tap into the Drive love for the home entertainment release?
Which brings us to last night's Tweetalong.
Twitter has been fascinating Hollywood ever since it exploded in popularity back in 2009.
Previously studios had to pay substitutional sums of money to market research firms so they could track release expectations.
Whilst they still do this, a quick search on Twitter over opening weekend (either through a basic search of the film's title or relevant hashtag) yields valuable data and insights (although one should be careful to treat it as a sample of the wider audience).
That's why everyone from studio owners (@RupertMurdoch), major actors (@RussellCrowe), producers (@JerryBruckheimer), directors (@edgarwright) are on it.
In terms of reactions to Drive we know that Russell Crowe was upset that Ryan Gosling didn't get an Oscar nomination and that Albert Brooks (@AlbertBrooks) is an absolute master of 140 characters as they are both regular tweeters.
Ryan Gosling didn't get an Academy nomination? There's some bullshit right there.

— Russell Crowe (@russellcrowe) January 25, 2012
You can even use it to follow box office numbers (@ercboxoffice), reviews (@reviewintel) and all kinds of related information.
It is basically a useful filter on the web itself.
But Twitter really rises above other social networks in its flexibility.
Not only can you track reactions over a weekend, but it comes into its own during live events broadcast on TV, such as the Superbowl or The Oscars.
This 'second screen' phenomenon is much talked about in TV circles.
The average room in which viewers watch television almost certainly includes some kind of web enabled device, whether it is a laptop, tablet or even a basic mobile phone.
Part of Twitter's strength is that it is accessible across many different kinds of devices.
Using a hashtag related to a specific programme users can tweet their opinion and read and reply to other users.
If you all think this is trivial just remember the role social media played in the disputed Iranian elections of 2009 and the Arab Spring of 2011.
When it comes to home releases of films it is perfect, as it is a very cost effective way of getting the word out about a particular release.
Twitter is particularly powerful as it has a large user base, lots of influential users in the traditional media and messages can be quickly be duplicated and spread ("retweeted").
Why is this important?
Well, the biggest single challenge any filmmaker faces is getting their work talked about in order to be seen by a larger audience.
This applies to a teenager who has just uploaded his first film to YouTube or the most experienced A-list director.
Like the video made in a bedroom with 4 views, the $100 million film opening on 3,000 locations could always do with a bigger audience.
If you create something good or distinctive, social media can be a powerful ally in building buzz.
Word-of-mouth has always been an elusive but easily recognisable phenomenon in cinema.
Films like Gone With the Wind, The Godfather, Jaws, Star Wars, E.T., Jurassic Park, Titanic, Slumdog Millionaire, Avatar and The King's Speech all became huge hits because they somehow connected with an audience at the cinema.
Home entertainment sales were a slam dunk because they already had the publicity of being huge hits.
But what about films that initially failed at the box office?
Although they are rarer, films like The Wizard of Oz (1939) and The Shawshank Redemption (1994) took time to build their audience.
But where it can be really effective in the modern era is for quality films that aren't obviously 'commercial'.
A black comedy about UK suicide bombers was never going to break box office records but Four Lions (2010) was a quality film that was loved by those who saw it at cinemas (in fact the UK distributor underestimated demand on the opening weekend).
But when it screened on UK television the actor Riz Ahmed (@rizmc) tweeted along to the broadcast.
@Rizmc star of British film Four Lions will be doing a live commentary on Twitter as Channel 4 airs Four Lions on 9pm on Sunday.

— muslimyouthhelpline (@muslimyouthhelp) September 2, 2011
It was a very useful exercise in audience interaction using simple tools (Twitter and a broadcast channel) and highly effective marketing as other users retweeted him and spread the word.
I've already written at length about the role social media played in making Senna such a success at the UK box office, but in the case of the Drive tweetalong you could sense the love for the film.
For the UK distribution people this would provide valuable insights if they decided to put out another edition of the film at a later date, either on another disc or via BD-Live (which up to now has been thoroughly useless).
Time is often the best judge for any film and in the case of tweeting along to Drive last night, it not only reminded me of how good it was but the value of seeing it on Blu-ray.
It was one of the first films to be shot with the Arri Alexa digital camera and even Janusz Kaminski (Steven Spielberg's DP and a die-hard advocate of film) has admitted he was deeply impressed by the imagery put on screen by Newton Thomas Sigel.
The tweetalong reminded me what of how great the film looked and allowed me to spread the word via a very powerful social platform.
We live in an uncertain age of declining DVD sales and massive commercial pressures on the likes of HMV.
Surely this kind of online activity can only help films of all types find new audiences?
It is certainly preferable to them breaking the web with misguided legislation.
> Original review of Drive
> More on Twitter at Wikipedia
> Social Media and Senna
N.B. Here is the Storify stream of what the comments looked like: