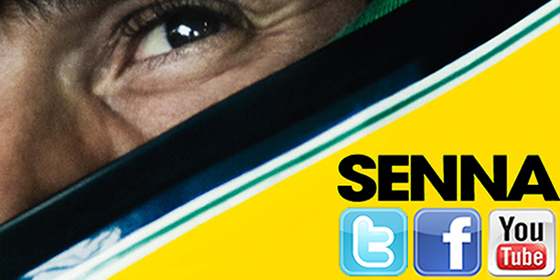 F1 documentary Senna has used the web in interesting ways as it continues to impress audiences around the world.
Like many modern day organisations with something to sell, film companies have embraced websites such as Twitter, Facebook and YouTube.
After early doubts, the major studios seem particularly in love with it as the feedback on these platforms helps them build buzz and gauge feedback from audiences.
Big Hollywood stars like Russell Crowe, major producers such as Jerry Bruckheimer and directors like Jon Favreau regularly use and communicate via the service.
But whilst big studio releases still largely rely on traditional marketing techniques like TV advertising and outdoor posters, how can social media help out smaller releases?
Senna offers a particularly interesting case study.
A documentary about the life of legendary Brazilian motor-racing champion Ayrton Senna, it faced considerable commercial challenges.
After getting permission from Senna's family, director Asif Kapadia faced the prospect of sifting through hours and hours of archive footage.
He had access to the F1 archives but also used the biggest video library on the planet: YouTube.
Much of the film consists of TV footage of Senna's races from broadcasters like Brazil's Globo or Japan's Fuji TV.
Obviously, the production had to eventually get official clearances from those channels, but Kapadia has admitted that the concept for the documentary came as he researched YouTube footage in pre-production.
Speaking to David Poland in a recent interview he says:
"I had eight months to look at footage on YouTube and that's when the idea came about, well, I don't think we need to shoot talking head interviews – I don't think we need to see them – we may well do research, we may well talk to people and hear their voices but actually it's all there. The rushes, the dailies, are so amazing, I don't know if there is anything I could shoot that would improve what's already in existence"
YouTube was not only an invaluable research tool that helped shape the aesthetic of the film, it also helped it get greenlit:
"We cut a short film that came purely from YouTube material, which was 12 minutes long, to show this is how the movie could work. And that's was how we got greenlit by Working Title and Universal"
The film benefits enormously from consisting entirely of found footage, as it makes it stand out from more conventional 'talking head' documentaries.
There is also the neat effect of seeing video technology progress as Senna ages, from the grainy 16mm footage of his early days to the sharper video images of the early 1990s.
Once the film was finished, the filmmakers and distributors faced the challenge of opening it around the world.
The F1 hotbeds of Japan and Brazil were obvious places to start and it premiered in October 2010 at the Japanese Grand Prix before opening in Brazil a month later.
Next stop was the festival circuit and the film played to rave reviews and awards at Sundance, SXSW, Los Angeles and Adelaide.
When it opened in the UK, it achieved a terrific screen average of £5,600 from 67 cinemas and an opening weekend of £375,000.
Over that weekend it was fascinating to watch Kapadia use Twitter to communicate with people who had seen or were thinking of seeing his film.
Before he appeared on a national radio station, he was already fielding questions and interacting with other users.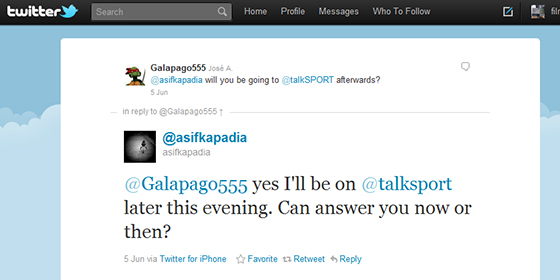 When you think of the tweets under the official movie account (@SennaMovie) and Kapadia's own account (@asifkapadia), it provided the filmmakers and distributors with an amazing amount of direct feedback.
This was augmented by a Facebook page and an amazing YouTube channel which is a terrific video archive of interviews and other related material.
After a month on release – including a special day where it screened at multiplexes across the land – it had outgrossed the Justin Bieber film Never Say Never, and is currently the third highest grossing documentary ever at UK cinemas, behind Fahrenheit 9/11 and March of the Penguins.
For the US release, the movie faced the challenge of opening in a country where F1 is nowhere near as popular.
Given that Universal acted as the UK distributor, one might have expected their indie arm Focus Features to have picked it up at Sundance.
Cinetic Media were the film's sales agent at the festival and decided to opt for the same approach they took with last year's Exit Through The Gift Shop.
Released through upstart distributor PDA (Producers Distribution Agency), which Cinetic boss John Sloss co-founded with his partner Bart Walker, the Banksy documentary had surfed the buzz from a Sundance premiere, to gross $3.3m and get nominated for an Academy Award.
The innovative faux-documentary even outgrossed Kick Ass at the Arclight cinema in Los Angeles on its opening weekend.
Senna producer James Gay Rees had also worked on the Banksy film and seen the grass roots approach reap rich rewards.
Last weekend in the US it achieved the best opening this year for a documentary with a pre-screen average of $36,749 and rave reviews.
So far it has scored 80 on Metacritic, 93 on Rotten Tomatoes, and a 8.8/10 user rating on IMDb.
It will be fascinating to see how much it ends up making in America as word of mouth spreads.
But what lessons can be learnt from Senna and its clever use of social media?
Here are a few:
A great movie is the best marketing tool: Ultimately the movie has to be good, but if it plays with an audience (and Senna really does) then social media can be a great amplifier for positive feedback.
Direct, passionate engagement works: Seeing a passionate director communicating with any audience member on Twitter is kind of infectious. Kapadia didn't just tweet 'go see my movie', he really embraced the platform and interacted with users, which is often what some people fail to do. I saw one tweeter complain about a cinema's projection and Kapadia wanted to know details and also answered all sorts of questions about the film. At times watching his feed was like a permanent online press conference. His genuine passion for the film was evident and if anyone sees that on Twitter, the infectious enthusiasm transmits to other users. They in turn pass that on to their followers, and so it goes.
Efficient screening information: With an indie release like Senna, the biggest question is usually 'where can I see this film?'. Mainstream media often overlooks people who don't inhabit large cities like London, New York or Los Angeles. So a rave review of a film in limited release is no good to someone in the provinces who can't actually see it. However, the @SennaMovie twitter feed and Facebook page provided a wealth of detailed screening information that traditional media can't or won't supply. As social media grows, perhaps traditional movie listings may morph into specialised feeds which, thanks to modern smartphones, can be personalised to local areas.
Think global: F1 truly is a truly global sport, only surpassed by football (a.k.a soccer) in terms of its reach around the world. Senna is not a blockbuster by any means but when the final grosses and ancillary profits are added up, it looks like there will be a nice spread of box office from around the world. Partly this comes from the hero at the heart of the film, but also because inspirational figures translate into any language be it Japan, Brazil or Europe. Its success in the US also disproves the doubters who felt Americans just wouldn't get it. Not all subjects can be as popular as the F1 legend, but certain figures can translate into more cultures than we might initially think.
The drama of documentary: Some of the raw footage in Senna is truly remarkable and reminds you of the challenges faced by biopics. Will Smith is really good in Ali (2001) but is not a patch on the real fighter in When We Were Kings (1996). Even if a crack team of Hollywood A-listers wanted to make a drama of this, they just can't compete with the raw materials. The drama is embedded in the documentary form.
The power of YouTube: Many traditional Hollywood types curse YouTube for the way it has essentially reshaped copyrighted material. Google (who own the site) remove copyrighted material on request, but the sheer amount that is uploaded means that it is still a haven for illegal sourced video, which studios don't see any money from. But whilst they should bite the bullet and cut deals with Google for legal streaming of their movies, it remains an incredible research tool for filmmakers. Not only is it the biggest video library in the history of the world, it can lead to ideas, inspiration and – as the Senna team have shown with their dedicated channel – can be an effective way of spreading the word about the movie.
Small can be beautiful: There is something fantastic about what PDA have done with Exit Through The Gift Shop and Senna. By adopting a grass roots approach they have shown that there is an alternative to the big ad spends of the major studios and the kind of distorted thinking that inflated the indie bubble which popped loudly in 2008. The marketing and release is truly driven by the actual films and the social media tools have connected the filmmakers with audiences in new and exciting ways. In a terrible financial climate for independent filmmaking maybe PDA have shone a light which others can follow.
> Official site and the film on Twitter, Facebook and YouTube
> More on Ayrton Senna at Wikipedia