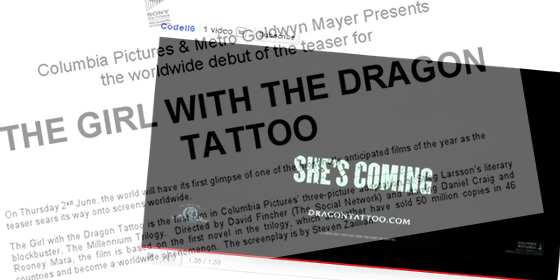 Was the leaked trailer for David Fincher's remake of The Girl With The Dragon Tattoo the first stage of a clever marketing campaign?
The first I heard of it was an official email on Friday morning telling me that the TV debut of the trailer would be Thursday 2nd June.
All this is pretty standard stuff for a major studio announcing the first look at a major production (this is Sony's big film for Christmas).
But then over the weekend a bootleg version of the trailer popped up on YouTube and began lighting up on people's Twitter feeds.
Set to a funky cover version of Led Zeppelin's Immigrant Song performed by Trent Reznor and Karen O, it's one of the most striking and stylish teasers for a big studio film I've seen in quite some time.
Notice the quick cutting (there seems to be a rhythm of one edit per second), the dark Seven-style vibe and big, blocky fonts at the end which spell the fantastic tagline of "The Feel Bad Movie of Christmas".
It feels like Fincher had a hand in personally supervising this, but how did it end up online? More to the point, how does a bootlegged trailer shot in a cinema sound so good?
Could it be the first step in Sony's marketing push for this film?
(Let's also not forget that one of the main characters is a computer hacker, so maybe the idea of an unofficial bootleg trailer fits in with the mood of the story).
> More on the upcoming Fincher version of The Girl with the Dragon Tattoo
> Entertainment Weekly with their take on the trailer