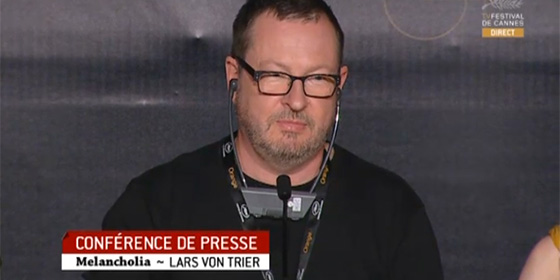 Director Lars Von Trier caused controversy by making jokes about Hitler at the Cannes press conference for his latest film.
Melancholia is a "psychological disaster drama" about the dispute between two sisters (played by Kirsten Dunst and Charlotte Gainsbourg) as a rogue planet hurtles towards Earth.
It screened for the press this morning and whilst the Danish director usually divides opinion, it got some of the more positive notices of his recent career.
When Von Trier turned up at the press conference with the word 'fuck' printed on his hand it may have seemed like his usual provocative behaviour.
For about 20 minutes, the press conference passed by with the usual questions from the foreign press to the filmmaker and actors.
It should be noted that questions during press conferences at Cannes can be unbelievably tedious and anodyne, which is why Von Trier perhaps decided to stir things up around the 20 minute mark.
He claimed he was making an explicit porn film with Kirsten Dunst, which elicited nervous laughter from the actress and journalists, and how it would be connected with the Church (this really has to be heard for the full effect).
So far, it was Von Trier playing his usual games, which I suspect he does to confuse, annoy and create publicity at the world's biggest film festival.
But 3 minutes towards the end Von Trier proceeded to make, even by his own standards, some pretty inflammatory remarks.
When asked by Kate Muir of The Times about a previous comment he made regarding his interest in 'Nazi asthetic' in his films Von Trier said:
"I thought I was a Jew for a long time and was very happy being a Jew. Then later on came Susanne Bier [Jewish and Danish director] and then suddenly I wasn't so happy about being a Jew. No, that was a joke, sorry. But it turned out I was not a Jew but even if I'd been a Jew I would be kind of a second rate Jew because there is kind of a hierarchy in the Jewish population. But anyway, I really wanted to be a Jew and then I found out I was really a Nazi, you know, because my family was German … which also gave me some pleasure. What can I say? I understand Hitler. I think he did some wrong things, yes absolutely, but I can see him sitting in his bunker in the end"
At this point Dunst (sitting next to him) seemed physically uncomfortable, prompting Von Trier to say that there would be a point to his jokey ramblings.
"I think I understand the man. He's not what you would call a good guy, but I understand much about him and I sympathize with him a little bit. But come on, I'm not for the Second World War, and I'm not against Jews. I am of course very much for Jews. No, not too much because Israel is a pain in the ass. But still, …how can I get out of this sentence?"
He then expressed admiration for Nazi architect Albert Speer before ending another rambling sentence with:
"OK, I'm a Nazi."
Peter Howell of the Toronto Sun then asked whether he would make a movie even bigger in scale than Melancholia:
"Yeah, that's what we Nazis … we have a tendency to try to do things on a greater scale. Yeah, may be you could persuade me …the final solution with journalists."
I don't think any sane person would take Von Trier's comments literally but many around the world would certainly take offence at his flippant joking about the mass murder and genocide of World War II.
The festival were quick to issue a press release:
"The Festival de Cannes was disturbed about the statements made by Lars von Trier in his press conference this morning in Cannes. Therefore the festival asked him to provide an explanation for his comments. The director states that he let himself be egged on by a provocation. He presents his apology. The direction of the festival acknowledges this and is passing on Lars von Trier's apology. The festival is adamant that it would never allow the event to become the forum for such pronouncements on such subjects.
Then followed an apology from Von Trier's official apology:
"If I have hurt someone this morning by the words I said at the press conference, I sincerely apologise. I am not anti-semitic or racially prejudiced in any way, nor am I a Nazi."
Although this will undoubtedly get Von Trier and his latest film a lot of worldwide press, how it affects his career will be an open question.
A lot of people in the film world will dismiss this as the usual provocative statement that Von Trier is fond of making.
He angered some US critics with his trilogy about America – Dancer in the Dark (2000), Dogville (2003) and Manderlay (2005) – as they presented an ironic flipside of the American dream and the director proudly claimed he had never been to the country.
In 2009, Antichrist scandalised some of the audience in Cannes with scenes of explicit sex and violence, whilst the ensuing press conference became rather heated.
Although a talented director, he remains a cinematic prankster who seems to revel in the publicity he gets for making provocative films and statements.
But this time he has made comments which, although intended as some kind of joke, will reverberate around the world.
Given that Mel Gibson was in Cannes last night maybe they should team up for a project?
> Reviews of Melancholia at Cannes 2011
> Lars Von Trier at Wikipedia