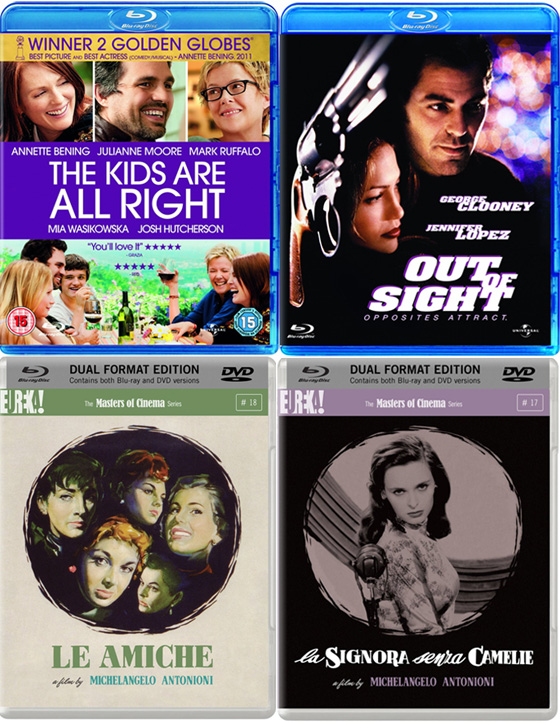 DVD & BLU-RAY PICKS
The Kids Are All Right (Universal Pictures): A perfectly pitched comedy-drama about family tensions, director Lisa Cholodenko's third film is also a showcase for some stellar acting. When a Los Angeles lesbian couple, Nic (Annette Bening) and Jules (Julianne Moore), discover their two teenage kids, Joni (Mia Wasikowska) and Laser (Josh Hutcherson), have got in touch with their biological father (Mark Ruffalo) it causes various complications.
As with Chodolenko's previous films, this is very much a character piece exploring the intricacies and complications of human relationships. But it is a step up from her last two films, applying a light touch to potentially heavy issues, and much of the enjoyment comes from the actors fitting snugly into their roles, especially the two leads who have their best parts in years.
> The Kids Are Alright LFF review
> Buy it on Blu-ray or DVD on Amazon UK
Out of Sight (Universal Pictures): Adapted from Elmore Leonard's novel, this 1998 film re-energised Steven Soderbergh's career and starred George Clooney as a bank robber who falls for a US marshall (Jennifer Lopez). Scott Frank's screenplay captures the wit of Leonard's dialogue and the lead actors have a striking chemistry together. It was the first leading man role for Clooney that worked and Lopez hasn't done anything remotely as good since.
The supporting cast is especially stellar with Ving Rhames, Catherine Keener, Dennis Farina, Albert Brooks, Don Cheadle and Steve Zahn all turning in fine performances. For Soderbergh it was a chance to demonstrate his directing skills in a mainstream picture after years in the indie wilderness with a smart flashback structure, clever editing and a glorious musical score from David Holmes. Although not a big hit, it proved a turning point for Soderbergh and Clooney, helping to establish their credentials as they juggled interesting projects alongside the star-driven Ocean's trilogy over the next decade.
> Out of Sight at the IMDb
> Buy it on Blu-ray or DVD from Amazon UK
La Signora Senza Camelie (Eureka): Two of Michaelangelo Antonioni's early feature films from the 1950s are re-released on Blu-ray this week and although not as important as his work in the next two decades, they are an interesting snapshot of his early career. His second feature is about a shop assistant named Clara (Lucia Bosé) who, following a chance casting, becomes as major screen star in mainstream movies. When her husband persuades her to do a more serious production based on the life of Joan of Arc tensions erupt.
A fascinating look at show business from Antonioni's unique perspective, it explores themes that would be flashed out in later works (mystery, identity, performance). It also provokes an interesting discussion about the director's intentions, exploring the notions of a popular and arthouse cinema, without appearing to come down on one side or the other.
The transfer is excellent, preserving the original 1.37:1 aspect ratio and the special features include:
A new and exclusive video introduction to the film with critic and teacher Gabe Klinger
Gabe Klinger discussing Antonioni in the context of the Italian production system of the 1950s
Optional English subtitles
A lengthy booklet containing newly translated critical pieces about the film, excerpts of interviews with Antonioni, and a lengthy debate between Antonioni and critic Luigi Chiarini on the subject of the film.
> La Signora Senza Camelie at the IMDb
> Buy it on Blu-ray at Amazon UK
Le Amiche (Eureka): This 1955 film marked Antonioni as a director to watch on the interantional stage. Based on an article by Cesare Pavese, it explores the life of a Roman woman (Eleonora Rossi Drago), who leaves the Italian capital to work at a boutique in Turin.
The supporting cast includes Valentina Cortese, Yvonne Furneaux, and Franco Fabrizi and the film is notable for its elegant compositions and the way in which it juggles multiple characters. The transfer is excellent and it is a real pleasure to experience a film like this in high definition, even if it isn't quite the same stature as the director's later work.
The extra features, which like the other disc were shot by Joe Swanberg, include:
A video introduction to the film with critic and teacher Gabe Klinger (8:22 in 1080P)
A video featuring Gabe Klinger discussing the arc of Antonioni's entire career (10:35 in 1080P)
28-page booklet containing newly translated vintage critical pieces about the film, excerpts of interviews with Antonioni, and a 1956 letter written by Antonioni to Italo Calvino
Second disc DVD of the Film
> Le Amiche at the IMDb
> Buy it on Blu-ray at Amazon UK
ALSO OUT
Along Came Polly (Universal Pictures) [Blu-ray / Normal]
Charlie Wilson's War (Universal Pictures) [Blu-ray / Normal]
Evan Almighty (Universal Pictures) [Blu-ray / Normal]
Jack Falls (Lionsgate UK) [Blu-ray / Normal]
London Boulevard (EV) [Blu-ray / Normal]
Ray (Universal Pictures) [Blu-ray / Normal]
Skyline (Momentum Pictures) [Blu-ray / Normal]
Sleepers (Universal Pictures) [Blu-ray / Normal]
Sympathy for the Devil (Fabulous Films) [Blu-ray / Normal]
The Other Boleyn Girl (Universal Pictures) [Blu-ray / Normal]
The Tudors: Season 4 (Sony Pictures Home Ent.) [Blu-ray / Normal]
The Universe: Season Five (Go Entertain) [Blu-ray / Normal]
The Universe: Seven Wonders of the Solar System (Go Entertain) [Blu-ray / 3D Edition]
Ultimate Wave – Tahiti (BPDP) [Blu-ray / with 3D Version]
Wild Child (Universal Pictures) [Blu-ray / Normal]
> UK cinema releases for Friday 18th March 2011
> The Best DVD & Blu-ray releases of 2010