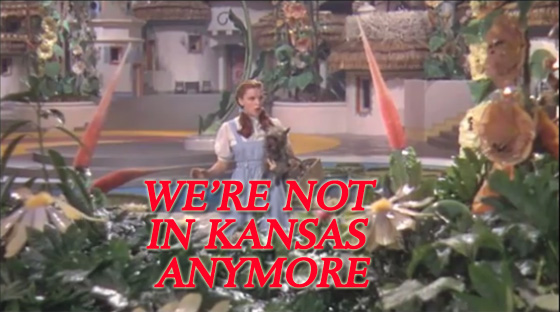 The famous line 'We're not in Kansas anymore' from The Wizard of Oz has cropped up in a lot of films.
Uttered by Dorothy (Judy Garland) to her dog Toto when she first arrives in Oz, the phrase came 4th in the AFI's list of the top 100 movie quotations in American cinema.
But this video shows the extent to which it has firmly embedded itself in pop culture.
Here is the full list of films and TV shows in this video:
The Wizard of Oz
Sex and the City 2
Spring Break
South Beach Academy
Entourage
Talons of the Eagle
Honey, I Shrunk the Kids
Population 436
Inkheart
Highway to Hell
Crocodile
Passport to Paris
New York Minute
The Ben Stiller Show
Married…with Children
Stargate SG-1
Criminal Minds
Captain Planet and the Planeteers
Sliders
Grey's Anatomy
Ghosts of the Abyss
Brothers at War
Mysterious Skin
Swingers
Fat Actress
Spiders
The Man with the Screaming Brain
Blonde Ambition
Lifepod
Supernatural
Lois and Clark
Pretender
Supergator
Trancers 4
Camp Slaughter
Vamp
Alien Species
Sailor Moon
Swamp Thing
Iron Eagle II
Little Shop of Horrors
The Matrix
Fanscape
Smallville
Jack of All Trades
Avatar
Volcano
CSI: Miami
Real Time with Bill Maher
Happy Town
Gilmore Girls
Bones
Scooby Doo and the Loch Ness Monster
Anamaniacs
America's Next Top Model
Ugly Betty
Shutter Island
Stargate SG-1
> The Wizard of Oz at Wikipedia
> AFI 100 Years 100 Movie Quotes