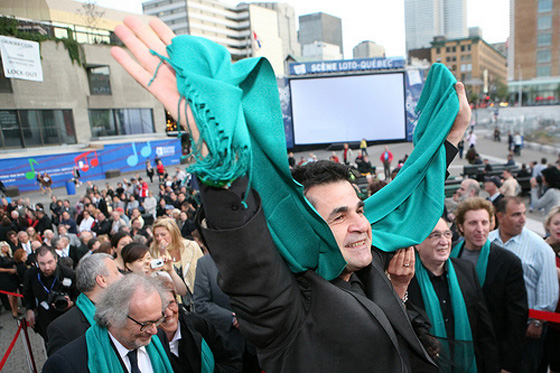 Iranian director Jafar Pahani has been imprisoned for 6 years and 'silenced' for 20.
Best known for films such as The Circle (2000), Crimson Gold (2003) and Offside (2006), he was a supporter of opposition leader Mirhossein Mousavi in last year's disputed presidential election in June 2009 and was arrested a month later.
After being released he showed public support for the Iranian Green Movement at the Montreal Film Festival, as chairman of the jury, in September 2009:
Earlier this year in February he was not allowed to travel to the 60th Berlin Film Festival and in March he was arrested again and taken to Evin Prison.
It has been reported that his arrest was triggered in part by the fact that he had planned to make a film about the 2009 election.
He had been scheduled to be on the jury at Cannes in May and in his absence Juliette Binoche garnered headlines by protesting his imprisonment when she won Best Actress for her role in Abbas Kiarostami's Certified Copy.
The director of that film, Abbas Kiarostami, is also Iranian and said at the festival:
"The fact that a filmmaker has been imprisoned is, in itself, intolerable"
Panahi worked for fellow Iranian Kiarostami as an assistant on Through the Olive Trees (1994) and a few years later they collaborated together on Crimson Gold.
Since his imprisonment, directors, actors and critics from around the world have continued to call for Panahi's release.
The INSA news agency quoted his lawyer Farideh Gheyrat:
"Mr. Panahi has been sentenced to six years in jail for acting and propaganda against the system. He has also been banned from making films, writing any kind of scripts, traveling abroad and talking to local and foreign media for 20 years".
There are 20 days to make an appeal.
Panahi has previously released a statement saying the charges against him are "a joke" and that his house was raided and his film collection seized after being deemed "obscene".
A fellow Iranian film maker, Mohammad Rasoulof, who was arrested along with Panahi in March, has also been sentenced to six years in prison for "acting and propaganda against the system".
The Iranian government have often accused Western governments and media of spreading propaganda against the Islamic Republic.
> Jafar Panahi at Wikipedia
> Various links on the story at MUBi