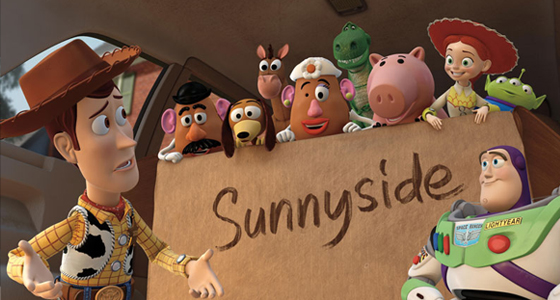 The third film in the Toy Story series sees Andy leaving for college and donating his beloved toys – including Woody (Tom Hanks) and Buzz (Tim Allen) – to a daycare centre, where they soon realise things aren't what they seem.
Directed by Lee Unkrich, it was a richly deserved critical and commercial triumph for Pixar, which managed maintain the high standards of the first two films and concluded the trilogy with wit, emotion and technical brilliance.
Continuing to explore the comedic conceit of toys who come alive whilst humans aren't looking, this film reaches into more reflective territory as characters age and start to consider mortality.
The fact that it can convincingly do this whilst laying on lots of layered gags about new toys is part of the genius of Pixar, who have become so skilled at this kind of film making that a generation of viewers probably doesn't realise how lucky they have been to witness these films first time around.
As with previous films transferred to Blu-ray, the digital source material helps make for a highly impressive transfer, as good as those of Cars, Ratatouille, Wall-E and Up.
The colours are especially vibrant and the world of Sunnyside Daycare has been rendered with marvellous attention to detail.
Given that this is the most successful film of the year, we could expect a decent presentation from Disney and the overall image quality is absolutely pristine.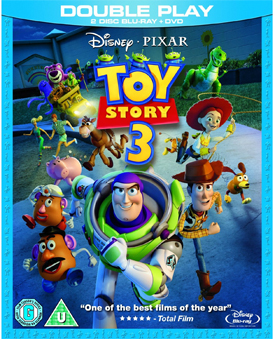 The extra features on the Blu-ray include the following:
Disc 1 – Blu-ray:
"Day & Night" Theatrical Short
Buzz Lightyear Mission Logs: The Science Of Adventure
Disc 2 – Blu-ray:
Toy Story Trivia Dash – Interactive Game
Cine-Explore With Director Lee Unkrich & Producer Darla Anderson
Beginnings: Setting A Story In Motion
Bonnie's Playtime – A Story Roundtable With Director Lee Unkrich
Roundin' Up A Western Opening
Beyond The Toy Box: An Alternative Commentary Track
Paths To Pixar: Editorial
3 Studio Stories
Disc 3 – DVD:
"Day & Night" Theatrical Short
Buzz Lightyear Mission Logs: The Science Of Adventure
The Gang's All Here – A Look At Returning Voice Talent
3 Studio Stories
Toy Story 3D is out now on DVD and Blu-ray from Walt Disney Home Entertainment
> Buy Toy Story 3 on Blu-ray or DVD from Amazon UK
> Find out more about the Toy Story series at Wikipedia