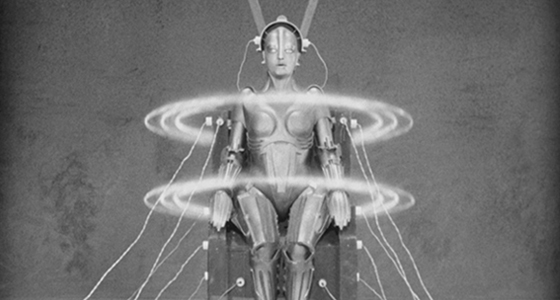 Fritz Lang's 1927 silent film about a sprawling, futuristic city, remains one of the most influential in early cinema and this newly restored version adds 25 minutes of footage never seen before.
Set in a society divided into two classes, with workers toiling underground and rich bosses living high above them in skyscrapers, it depicts the class struggles in capitalism.
When the son of a boss notices a beautiful woman one day, he discovers the underground world of workers who keep the city running and sets in motion a drama which involves the founder of the city, an inventor and scores of workers.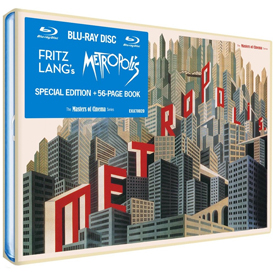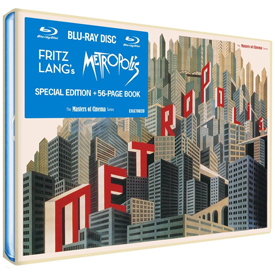 A gargantuan production, it was one of the most expensive film ever made at Germany's UFA, consuming more than half the studio's annual production budget.
Metropolis was adapted from a novel and drew on previous science fiction sources – notably H.G. Wells, who disliked the film – and Lang's own experiences of seeing the Manhattan skyline at night for the first time.
Initially, it was not a financial success and nearly bankrupted the studio, but over time its dystopian vision and indelible images have proved enormously influential on films such Bride of Frankenstein, Blade Runner and Dark City (as well as David Fincher's 1989 video for Madonna's Express Yourself which is a direct homage).
Like a lot of silent films, it can be difficult for modern viewers to adjust to the older visual grammar and cutting styles of the time, but the images are still remarkable and this is as good as the film has ever looked.
Eureka have done an excellent job with the transfer, given the materials they had to work with, and the restored footage cuts in well with the pre-existing material.
The quality of the print unearthed in 2008 means that there are still stains and damage (even after the digital cleanup) and a black bar is noticeable whenever it cuts to the newer stuff.
Of particular note is a 55 minute documentary that explores the restoration process and the painstaking archival work of the Friedrich-Wilhelm-Murnau-Stiftung after the missing 25 minutes of footage were found in Buenos Aires.
The audio commentary by David Kalat and Jonathan Rosenbaum is also highly informative.
Here are the extras in full:
150-minute reconstructed and restored 2010 version (including 25 minutes of footage previously thought lost to the world)
Separate DVD and BD editions with wraparound embossed sleeve, or Ltd Ed Steelbook Dual Format edition
Pristine new HD transfer (1080p on Blu-ray)
New 2010 symphony orchestra studio recording of the original 1927 Gottfried Huppertz score in 5.1
Newly translated optional English subtitles as well as the original German intertitles
Full-length audio commentary by David Kalat and Jonathan Rosenbaum
Die Reise nach Metropolis (2010, 53 minutes), a documentary about the film
2010 re-release trailer
56-page booklet featuring archival interviews with Fritz Lang, a 1927 review by Luis Buñuel, articles by Jonathan Rosenbaum and Karen Naundorf, and restoration notes by Martin Koerber
Metropolis (Reconstructed & Restored) is released today by Eureka as part of their Masters of Cinema Series
> Buy Metropolis (Reconstructed & Restored) on Blu-ray or DVD from Amazon UK
> Find out more about the film at Wikipedia and IMDb