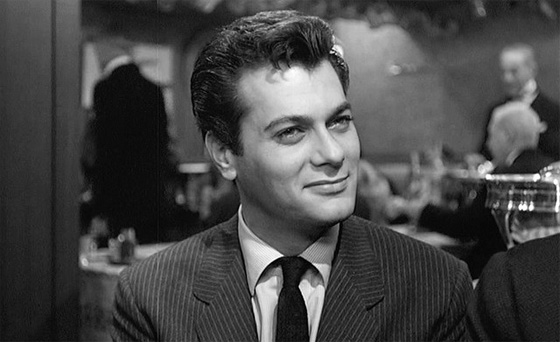 The actor Tony Curtis has died from a heart attack at the age of 85.
He was best known for his roles in Hollywood classics such as Sweet Smell of Success (1957) and Some Like It Hot (1959), as well as performances in The Defiant Ones (1958), Spartacus (1960) and The Outsider (1961).
Born Bernard Schwartz in 1925 to Hungarian-Jewish immigrants in New York, his early life was beset by poverty and family problems (his mother and brother both suffered from schizophrenia).
After serving in the Navy during World War II, where he witnessed the official Japanese surrender in Tokyo Bay, he enrolled in acting classes in New York and got a contract with Universal Studios in 1948.
In 1949 he dated Marilyn Monroe before marrying actress Janet Leigh, who he starred alongside in Houdini (1953), but his early years in Hollywood were marred by formulaic supporting roles, despite being an attractive star hugely popular with teens and fan-magazine readers.
His major career breakthrough came in 1957 as a Broadway press agent opposite Burt Lancaster's Broadway columnist in Alexander Mackendrick's Sweet Smell of Success.
Finally achieving the critical acclaim that had eluded him, he went on to star in The Vikings (1958) with Kirk Douglas and Stanley Kramer's social drama The Defiant Ones (1958) alongside Sidney Poitier.
By 1959 he was a major star and that year saw his most famous role in Billy Wilder's Some Like It Hot, a comedy which cast him and Jack Lemmon as struggling musicians forced to dress in drag whilst fleeing the mob.
His next films, Operation Petticoat (1959) and Spartacus (1960) cemented his success but this golden period was soured by the box office flop of The Outsider (1961) and his divorce from Janet Leigh in 1962, following an affair with the 17-year-old German actress Christine Kaufmann.
In retrospect his career never recovered, and the 1960s saw him appear in a succession of unsuccessful comedies such as Captain Newman M.D. (1963) and the widely panned Wild and Wonderful (1964).
By the late 1960s his career was in severe trouble and an attempt at a more serious role in The Boston Strangler (1968) earned some good reviews, despite being attracted controversy.
Some bizarrely titled failures followed with Those Daring Young Men in Their Jaunty Jalopies (1969) and Suppose They Gave a War and Nobody Came? (1970) before he came to Britain for the 1971 television series The Persuaders! alongside Roger Moore.
Although it never cracked the US market, it is still regularly repeated around the world.
The 1970s saw him crop up in a variety of guest appearances on TV shows, such as Vega$ and by the late 1970s he had seen his daughter Jamie Lee Curtis become a star with the low budget horror Halloween (1978).
His colourful private life had always kept him in the public eye and by the 1990s he was on his sixth marriage and published his autobiography in 1994, with a second volume in 2008.
Two years ago he gave a fascinating interview on the UK show Shrink Rap where he talked to Dr Pamela Connolly about his life in often searing personal detail, discussing his violent mother, his guilt over the death of his brother and his various relationships down the years.
UK viewers can watch it here.
> Tony Curtis at the IMDb
> Various tributes and retrospective links at MUBi
> Jeffrey Wells pays tribute to the actor he knew at Hollywood Elsewhere
> GQ interview from June 2010