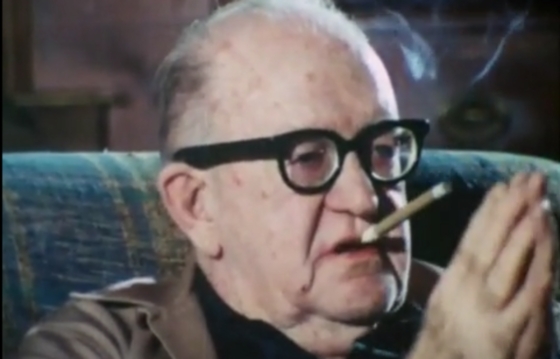 By the late 1960s John Ford was firmly established as one of the great directors of his era, for films such as Stagecoach (1939), The Searchers (1956) and The Man Who Shot Liberty Valance (1962).
The following BBC interview from 1968 is a fascinating snapshot of Ford in his later years (he would die in 1973).
Years of heavy drinking had clearly taken their toll and the opening question sets the tone:
Interviewer: What sort of childhood did you have? Where you interested in movies way back?

Ford: Not really. Not interested in them now, actually.
Also note the heavy smoking, Ford's belligerent attitude, awkward zooms, random transitions to black and white and the obligatory posh English interviewer.
It is almost a short film itself.
> John Ford at the IMDb
> Essay on John Ford at Senses of Cinema