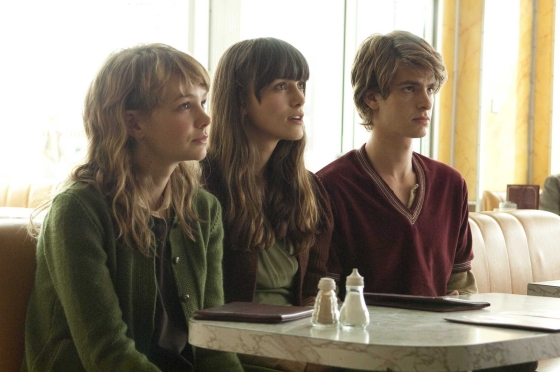 Never Let Me Go will be the opening film at this year's London Film Festival on October 13th.
Adaptated from Kazuo Ishiguro's bestselling novel, it stars Keira Knightley, Carey Mulligan and Andrew Garfield and is directed by Mark Romanek (One Hour Photo).
Alex Garland (The Beach, 28 Days Later) wrote the screenplay and it is the story of three young adults and an English boarding school which hides a dark secret.
A co-production between DNA Films, Film4 and Fox Searchlight, it is likely to feature in the end of year BAFTA and Oscar nominations.
Sandra Hebron, the Festival's Artistic Director has said:
'It is a great pleasure to be able to open the festival with a film as accomplished and imaginative as NEVER LET ME GO. It combines impeccable film making, outstanding performances and a deeply moving story, and I couldn't wish for a stronger or more appropriate opening night.'
On having the film's European premiere at the Festival, Andrew Macdonald of DNA Films said:
'We're delighted that NEVER LET ME GO has been selected to open this year's festival. It has been a privilege to be involved with bringing Kazuo Ishiguro's remarkable novel to the screen, and to work with such an exceptional British cast. We look forward to unveiling the film in London.'
Director Mark Romanek also adds:
'I think I can speak for the entire cast and crew when I say that we are deeply honored and excited to have been selected to open this year's festival. For me personally, it seems the perfect way to celebrate the conclusion of an incredible filmmaking experience in the UK.'
The full programme for The 54th BFI London Film Festival will be announced on Wednesday 8th September and it will run from 13th-28th October 2010.
Fox Searchlight are seasoned pros when it comes to getting films attention in the awards season and the first trailer was an impressive first glimpse at what can be expected:
Never Let Me Go will be released in the UK on January 14th 2011.
> Official site
> Never Let Me Go at the IMDb
> BFI London Film Festival