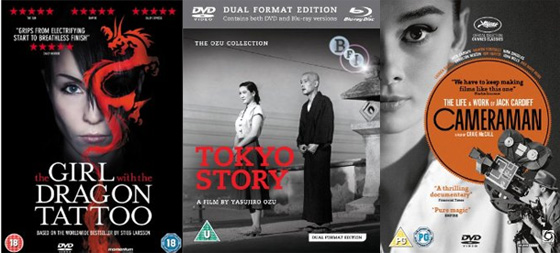 [ad]
DVD & BLU-RAY PICKS
The Girl With The Dragon Tattoo (Momentum Pictures): The adaptation of the bestselling novel by Steig Larsson sees a discredited journalist (Mikael Blomkvist) and a mysterious computer hacker (Harriet Vanger) uncover dark secrets about a wealthy family, whilst trying to solve a 40 year-old murder.
The Millennium Trilogy of novels has been one of the publishing phenomenons of the last few years, so much so that a Hollywood remake with David Fincher directing is in the works.
This is the first of the Swedish films and is an absorbing story, even though some of the darker elements make take unsuspecting audiences by surprise.
Danish director Niels Arden Oplev keeps up the suspense and intrigue over the 151 minute running time and the two leads do a solid job of translating their characters from page to screen.
Extras included on the DVD and Blu-ray include:
Interview with actress Noomi Rapace by Anwar Brett (12:30)
Interview with producer Søren Stærmose by Anwar Brett (11:49)
UK Theatrical trailer (1:35)
Exclusive Sneak Peek of The Girl Who Played With Fire (5:28 – trailer – 1:14)
Photo Gallery
Vanger Family Tree
Book advert
Separate DVD of the film
The forthcoming Swedish films in the trilogy are The Girl Who Played with Fire and The Girl Who Kicked the Hornets' Nest.
> Buy The Girl With The Dragon Tattoo on Blu-ray from Amazon UK
> Find out more about The Millennium Trilogy at Wikipedia
Tokyo Story (BFI): The most famous and acclaimed film from Japanese director Yasujiro Ozu is a moving family drama about a married couple (played by Chishu Ryu and Chieko Higashiyama) who visit their grown children in Tokyo only to find their offspring too absorbed in their own lives to spend much time with them.
Exploring family relations, regret and the difficulties of life in a nuanced way Ozu crafted a film that has gathered enormous momentum down the years.
Partly this is down to the distinctively sparse style of Ozu's camera work (he loves stillness and stationary shots) but it is also because the themes explored have a timeless poignancy.
Added to this is the backdrop of 1950s Japan which had only just emerged from the devastation of World War II which gives it a distinctively bittersweet flavour.
The film is usually included on more serious critics polls, so the its UK debut on Blu-ray from the BFI is a fairly big deal for serious cinema fans.
This is a dual disc version that includes the Blu-ray and DVD disc also contains a liner notes booklet with an essay by Professor Joan Mellen and Ozu biographer Tony Rayns.
Extra Features:
Dual Format Edition: includes both Blu-ray and the DVD versions of the main feature
Also contains full length Ozu feature, Brothers and Sisters of the Toda Family (DVD only)
Original Theatrical Trailer
Extensive illustrated booklet featuring essays and film notes
Dolby Digital mono audio (320 kbps)
> Buy Tokyo Story on Blu-ray from Amazon UK
> Tokyo Story at the IMDb
Cameraman: The Jack Cardiff Story (Optimum Releasing): A new documentary from director Craig McCall explores the career of Jack Cardiff, one of Britain's most famous cinematographers.
With a life that spanned the development of cinema, taking in silent film and the advent of Technicolor cinematographer Cardiff worked with luminaries such as Michael Powell, John Huston, Alfred Hitchcock, Marilyn Monroe, John Wayne, Humphrey Bogart and Audrey Hepburn.
On films such as A Matter of Life and Death (1946), Black Narcissus (1947), The Red Shoes (1948) and The African Queen (1951) he established himself as a world class talent and in 2001 he became the first cinematographer to receive an honorary, Lifetime Achievement Oscar® for:
"Exceptional contributions to the state of motion picture arts and sciences; and for outstanding services to the Academy."
Director Craig McCall has been working on this documentary for several years, interviewing Jack himself (who passed away last year) and various admirers including Martin Scorsese, Thelma Schoonmaker, Kathleen Byron, Kim Hunter, Moira Shearer, John Mills, Lauren Bacall, Charlton Heston and Kirk Douglas.
Extras on the DVD include the following:
Interview With Craig McCall by Ian Christie (12:50)
Jack's Actress Portraits (3:59)
Jack's Behind-The-Scenes Movies (9:59)
Cinematographer and Director Relationship (11:33)
Working With Three-Strip Technicolor (4:51)
Theatrical Trailer (2:00)
Photo Galleries
Production Stills
> Buy Cameraman: The Jack Cardiff Story on DVD from Amazon UK
> Listen to our interview with Craig McCall about Camerman: The Jack Cardiff Story
[ad]
ALSO OUT
Chloe (Optimum Home Entertainment) [Blu-ray / DVD]
Donnie Darko: The Original and the Director's Cut (Metrodome Distribution) [Blu-ray]
Early Summer (BFI) [Blu-ray with DVD]
Late Spring (BFI) [Blu-ray with DVD]
Nanny McPhee (Universal Pictures) [Blu-ray]
Nanny McPhee and the Big Bang (Universal Pictures) [Blu-ray with DVD]
The Crazies (Momentum Pictures) [Blu-ray / DVD]
The Karate Kid (Sony Pictures Home Ent.) [Blu-ray]
The Karate Kid 2 (Sony Pictures Home Ent.) [Blu-ray]
> UK cinema releases for Friday 16th July 2010 including Inception
> Browse previous DVD and Blu-ray picks