[ad]
NATIONAL RELEASES
Prince Of Persia (Walt Disney): The latest big budget extravaganza from Jerry Bruckheimer is an adaptation of the 2003 computer game and the story follows an urchin (Jake Gyllenhaal) in the 6th century Persian Empire who is adopted by the king as his heir. He then teams up with a Princess (Gemma Arterton) to stop a villainous nobleman (Ben Kingsley) from stealing a dagger which allows the user to alter time.
Disney don't actually make that many live action films anymore but Jerry Bruckheimer made billions for the studio with the Pirates of the Caribbean franchise so they have entrusted him and director Mike Newell to bring this action-adventure to the screen. Like a lot of big summer films it has opened in Europe early to avoid the World Cup and despite poor reviews will hope to appeal to less-than-discerning family audiences. [Odeon Leicester Square & Nationwide 12A]
Streetdance (Vertigo Films): A British film hoping to cash in on the trend for 3D films is about street dancers and ballet dance students who are forced to perform together in preparation of a street dance championship.
Shot in 3D, the cast includes the dance acts Diversity and Flawless (who came to fame on the TV show Britain's Got Talent) and the soundtrack features N-Dubz, Tinie Tempah, Lightbulb Thieves, Chipmunk, and Cheryl Cole. A co-production by Vertigo Films, BBC Films and the UK Film Council, it is getting an unusually wide release for a British film and the backers will hope the 3D factor will boost audiences and profits. British film companies will no doubt be keeping an eye on this as a test of how live action 3D films can fare at UK cinemas. [C'World Shaftesbury Ave., Odeon Tottenham Ct. Rd., Vue West End & N'wide / PG]
Cop Out (Warner Bros.): Kevin Smith's latest comedy is about two mismatched New York cops (Bruce Willis and Tracy Morgan) on the trail of a stolen baseball card, who find themselves up against a merciless, memorabilia-obsessed gangster.
A critical and commercial disappointment in the US, this was not a film that Smith wrote and working at a major studio seemed like an uncomfortable experience. The ongoing grumbles on Twitter about the critical reaction was perhaps a sign that this film would not rank among his best. [Nationwide / 15]
ALSO OUT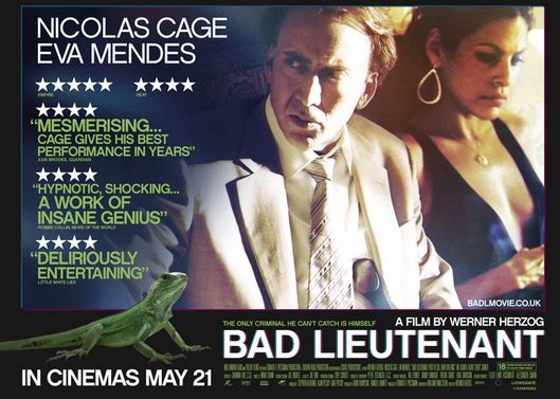 Bad Lieutenant: Port of Call New Orleans (Lionsgate UK): When the remake of Abel Ferrara's gritty 1994 cop drama was announced with Werner Herzog directing Nicolas Cage in the title role, it sounded like madness. Reset to New Orleans, it is indeed a mad concoction, but also an inspired black comedy with a memorable performance from Cage.
Set in the aftermath of Hurricane Katrina, it follows the increasingly bizarre life of a corrupt, drug addled cop who steals from clubbers, cuts deals with gangsters and has visions of iguanas. Herzog throws in a lot of his usual obsessions (especially animals) and sails very close to utter nonsense, but this is actually surreal, inspired lunacy that will become a late night cult favourite for years to come. [Curzon Soho, Empire Leicester Square & Nationwide / 18]
Heartless (Lionsgate UK): A drama about a young man (Jim Sturgess) born with a large heart-shaped birthmark on his face, who discovers that there are demons on the streets of East London. Directed by Philip Ridley, it co-stars Timothy Spall and Noel Clarke [Apollo Piccadilly Circus, Genesis & Key Cities / 18]
Paradise (ICA Cinema): Director Michael Almereyda makes a 'home movie' that he describes as "a description of the world we inherit, fumble around in, and grow into." [ICA Cinema]
Kites (Reliance Big Entertainment): A Bollywood film directed by Anurag Basu starring Hrithik Roshan and Barbara Mori. [C'Worlds Feltham, Haymarket, Shaftesbury Ave., Ilford, Wandsworth, Wood Green & N'wide]
Pimp (Revolver): A british film starring Danny Dyer. Haven't we had enough of these? [Key Cities / 18]
> DVD and Blu-ray Picks for Monday 17th May including Minority Report and The Road
> Get local cinema showtimes for your area via Google Movies