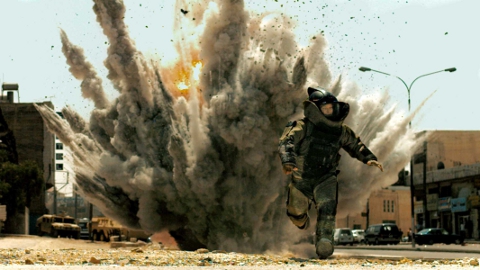 Tonight could see the Iraq war drama The Hurt Locker win the Oscar for Best Picture, but even if it goes to Avatar, the real winner is a film which has gradually found widespread acclaim and recognition.
After it first premiered at the Venice film festival back in September 2008, the idea that it would have ended up as a heavyweight Oscar contender in 2010 would have seemed highly unlikely.
The climate for Iraq themed films back then was not a good one. Films such as Redacted, In the Valley of Elah and Body of Lies had underperformed at the box office.
An independently-financed drama about a bomb squad in Baghdad during 2004 might have seemed to many observers as one that would struggle to find an audience. The fact that several studios had turned down the script suggested what they thought of its potential.
Despite that it was acquired at the Toronto film festival soon after its Venice premiere by the newly formed mini-studio Summit and by this point was attracting some serious critical acclaim from those who had seen it on the festival circuit.
Summit made the decision to release it the following summer – effectively taking it out of the 2008-09 Oscar race which was dominated by Slumdog Millionaire – and to some this looked like they were effectively dumping the film.
After all, when you actually see it, this isn't some hand-wringing polemic about US troops in the Middle East, but a visceral drama which takes you inside the tension of what certain troops have to go through.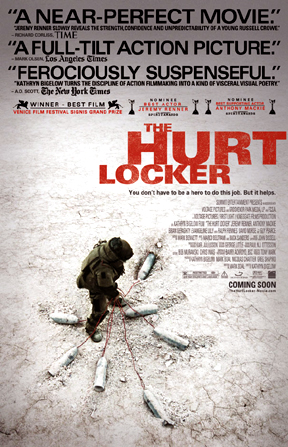 Seeing last summer I felt strongly that it had genuine mainstream potential and was disappointed that Summit went for an unusual platform release.
After opening in major cities like New York and LA, where it achieved terrific per-screen grosses, the studio went for a curious 'rolling' distribution where it went around the country gradually.
Perhaps as a smaller outfit, without the marketing dollars of a major like Warner Bros or Paramount, they felt this was a way of building on the huge critical acclaim and igniting word of mouth.
Unfortunately, it didn't work (in the short term at least) and a talking point amongst film sites last summer was why something as good as The Hurt Locker could perform so badly whilst something as bad as Transformers 2 could be such a hit.
At this point, it also seemed odd that Summit's release strategy wasn't more attuned to delaying  it closer for the awards season.
Most of the films contending for the Oscars open in the final three months of the year, before the late December deadline, so that they are fresh in voters minds although there have been exceptions like The Silence of the Lambs (1991) and Gladiator (2000).
When I walked in to a studio to interview director Kathryn Bigelow and writer Mark Boal about The Hurt Locker on its UK release last August, the Oscars seemed far away.
At the time, it seemed like a genuinely important film was going to be painted as an acclaimed box office failure.
But in the autumn something remarkable happened. The Hurt Locker started to pick up a slew of critics and guild awards and when the Academy announced that it was expanding the Best Picture slots to 10 films it seemed a given that it would find a place.
What surprised me was how it slowly began to become the front runner as early contenders like Up in the Air began to fizzle slightly.
By the time Avatar arrived at Christmas and quickly smashed box office records, it quickly established itself as the rival for Best Picture whilst Jeff Bridges (Crazy Heart) and Sandra Bullock (The Blind Side) became the frontrunners in the acting categories.
The battle tonight between Kathryn Bigelow's war drama and James Cameron's sci-fi epic is interesting.
One is gritty, contemporary and earned just over $21 million dollars worldwide; the other is a futuristic fantasy that has grossed over $2.5 billion worldwide to become the most successful film of all time.
Despite their differences, thematically they both speak in different ways to the present conflicts in the world. Intriguingly, Cameron and Bigelow – who were once married – remain friends and even solicited opinions from each other on their respective films.
Personally, I think The Hurt Locker will win Best Picture tonight as it has the momentum of winning so many awards this season (the Golden Globes can be discounted as the votes of 90 celebrity-obsessed journalists based in LA).
Strangely, Summit's release strategy – criticised by some – will ultimately be vindicated if it wins one of the major categories tonight.
Even if Avatar scoops Best Picture, it is The Hurt Locker which has benefited most from this awards season.
As a film that finally found wider acknowledgement in the awards season, it is a potent sign of how the Oscars can remind Hollywood and audiences around the world that quality still matters.