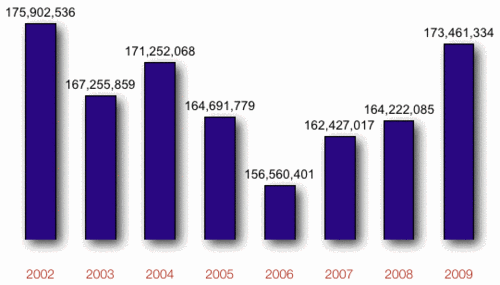 UK cinema admissions in 2009 reached their highest level since 2002, according to data from the UK Film Council.
Last year there were 173.9m customers, who collectively bought £944m worth of tickets with the most successful films being:
Harry Potter and the Half-Blood Prince – £50.72m
Avatar – £41.00m
Ice Age III – £35.02m
Up – £34.42m
Slumdog Millionaire – £31.66m
The Twilight Saga: New Moon – £27.08m
Transformers: Revenge Of The Fallen – £27.06m
The Hangover – £22.12m
Star Trek – £21.40m
Monsters Vs. Aliens – £21.37m  [Source: Nielsen EDI, UK Film Council]
Ticket sales have varied in the past seven years, peaking in 2002 with a total of 175.9m admissions and dipping to 156.6m in 2006.
The World Cup was a factor for both of these years, as televised games in the summer always eat into the summer box office.
But the very early kick off times in the 2002 tournament (when the tournament was in Korea and Japan) didn't have the same effect as in 2006 when a lot of games in Germany were in the same time zone.
However, the big trend for last year was the surge in ticket sales which was helped in part by three films: Harry Potter and the Half-Blood Prince, Twilight: New Moon and Avatar.
Potter is the most bankable film franchise in history, New Moon has brought younger female audiences out in droves and Avatar is essentially the new Titanic.
It is also worth looking at how successful family friendly animated films are: Up, Monsters vs Aliens and Ice Age III have all done major business. The international grosses of the latter are truly mind boggling given how relatively cheap it was to make.
I don't always subscribe to the notion that cinema does well in a recession but if the right mix of films hit the spot for mass audiences across the board then it is cheaper than other leisure activities and an escape from going down the pub and discussing how miserable life is.
It remains doubtful that 2010 will be as successful as 2009 and I imagine Avatar will cast a long shadow over fellow box office rivals.
But summer releases that look set to do serious business include Iron Man 2, Sex and the City 2 (God help us), Robin Hood, Toy Story 3, Twilight: Eclipse and Harry Potter and the Deathly Hallows Part 1 in November.