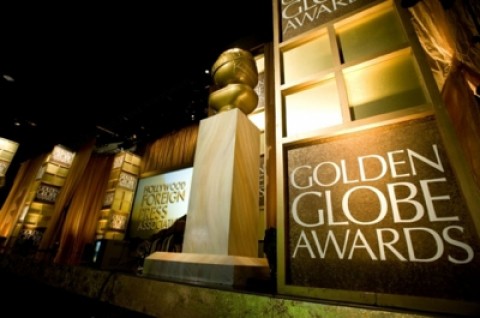 Here are the winners at the Golden Globes, which took place in Beverley Hills earlier today.
FILM
Best Picture (Drama): Avatar
Best Picture (Comedy/Musical): The Hangover
Best Director: James Cameron, Avatar
Best Actress (Drama): Sandra Bullock, The Blind Side
Best Actor (Drama): Jeff Bridges, Crazy Heart
Best Actress (Comedy/Musical): Meryl Streep, Julie & Julia
Best Actor (Comedy/Musical): Robert Downey Jr, Sherlock Holmes
Best Supporting Actress: Mo'Nique, Precious
Best Supporting Actor: Christoph Waltz, Inglourious Basterds
Best Foreign Language Film: The White Ribbon
Best Animated Feature: Up
Best Screenplay: Jason Reitman & Sheldon Turner, Up in the Air
Best Original Score: Michael Giacchino, Up
Best Original Song: The Weary Kind, Crazy Heart
[ad]
TV
Best TV Series (Drama): Mad Men
Best TV Series (Comedy): Glee
Best TV Miniseries: Grey Gardens
Best Actress, TV Miniseries: Drew Barrymore, Grey Gardens
Best Actor, TV Miniseries: Kevin Bacon, Taking Chance
Best Actress, TV Drama: Julianna Margulies, The Good Wife
Best Actor, TV Drama: Michael C. Hall, Dexter
Best Actress, TV Comedy: Toni Collette, United States of Tara
Best Actor, TV Comedy: Alec Baldwin, 30 Rock
Best Supporting Actress, TV: Chloe Sevigny, Big Love
Best Supporting Actor, TV: John Lithgow, Dexter
[ad]
The Golden Globes should always be taken with a pinch of salt, as they are voted for by a select group of foreign journalists in Los Angeles who basically try to second guess what the Oscar nominations will be.
The win for Robert Downey Jnr in Sherlock Holmes is reflective of the nonsensical, showbiz tastes that are rife amongst the ageing cabal of hacks that make up the HFPA.
With that in mind, the major winners could mirror the Oscars this year with Avatar, James Cameron, Jeff Bridges and Sandra Bullock all looking very strong in their respective categories.
Oscar pundits will tell you that Christoph Waltz and Mo'Nique have been virtual certainties in the supporting categories for quite a while and their wins here were no surprise.
> Official site
> More about the Golden Globes at Wikipedia