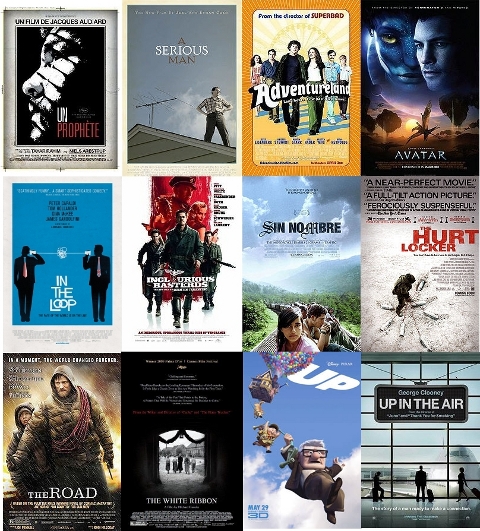 As usual my best films of the year are presented in alphabetical order and in the interests of brevity I've decided to make the descriptions shorter so I can post each one on Twitter.
THE BEST FILMS OF 2009
A Prophet (Dir. Jacques Audiard): A stunning French prison drama with grit, style, humour and killer performances from Tahar Rahim and Niels Arestrup.
A Serious Man (Dir. The Coen Brothers): This sly re-working of the Book of Job was arguably the finest film of the Coen Brothers distinguished career.
Adventureland (Dir. Greg Mottola): A coming-of-age drama which defiantly proved that movies featuring teenagers can be funny, moving and smart.
Avatar (Dir. James Cameron): The dialogue creaked but Cameron returned with a dazzling sci-fi experience and took cinema visuals into a new world.
In the Loop (Dir. Armando Ianucci): The joyous foul-mouthed wit of this political satire was only matched by the intelligence of its observations on modern politics.
Inglourious Basterds (Dir. Quentin Tarantino): A cinematic mash up of WW2 movies and spaghetti westerns saw Tarantino return to form with a bang.
Sin Nombre (Dir. Cary Fukunaga): This beautifully shot immigration drama featured some fine performances and heralded a new talent in director Cary Joji Fukunaga.
The Hurt Locker (Dir. Kathryn Bigelow): A pulsating and provocative examination of a US bomb squad in Iraq that may come to be a defining film of the conflict.
The Road (Dir. John Hillcoat): Cormac McCarthy's parable of a book came to the screen with admirable levels of emotion, horror and realism.
The White Ribbon (Dir. Michael Haneke): A stunning examination of a German village beset by mysterious cruelties which became a telling meditation on the roots of Nazism.
Up (Dir. Pete Doctor): Pixar triumph again with this lovingly rendered tale of the young and the old learning from one another on a unique balloon trip.
Up in the Air (Dir. Jason Reitman): A skillful comedy-drama that was both funny and thoughtful, featured a terrific performance from George Clooney.
HONOURABLE MENTIONS
A Single Man (Dir. Tom Ford)
An Education (Dir. Lone Scherfig)
Broken Embraces (Dir. Pedro Almodóvar)
Coraline (Dir. Henry Selick)
35 Shots of Rum (Dir. Claire Denis)
District 9 (Dir. Neill Blomkamp)
Moon (Dir. Duncan Jones)
Star Trek (Dir. JJ Abrams)
The Cove (Dir. Louie Psihoyos)
Fish Tank (Dir. Andrea Arnold)
Where The Wild Things Are (Dir. Spike Jonze)
FROM 2008
Encounters at the End of the World (Dir. Werner Herzog)
Two Lovers (Dir. James Gray)
Il Divo (Dir: Paolo Sorrentino)
Mid-August Lunch (Dir. Gianni di Gregorio)
What about you? Leave your favourites from this year in the comments below.
> Find out more about the films of 2009 at Wikipedia
> Check out more end of year lists at Metacritic
> Have a look at the Movie City News end of year critics chart
> Check out our best DVD and Blu-ray releases of 2009