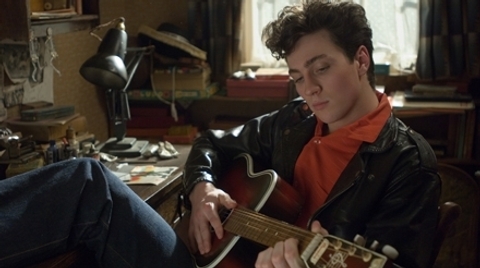 Despite a plethora of potential pitfalls this drama about the early
years of John Lennon is a stylish and engaging biopic.
Nowhere Boy explores the teenage years of Lennon (Aaron Johnson) and the two important women in his youth: his aunt Mimi Smith (Kristin Scott Thomas) who raised him and his mother Julia (Anne Marie Duff). It also charts his early forays into music as he forms The Quarrymen with a younger guitarist named Paul McCartney (Thomas Sangster).
Bringing a cultural icon like John Lennon to the big screen was always going to be a tricky affair but director Sam Taylor Wood (making her feature debut) has wisely focused on the intriguing family dynamics of Lennon's childhood and how they fed into his career.
But perhaps most importantly there is a craft and intelligence here that pays tribute to Lennon's art without indulging in histrionics or clichés.
The opening of a film can nearly always reveal something about its quality and the nice use of a famous Beatles chord to kick everything off indicated to me that things were going to be OK.
It is inevitable that most of the attention and focus of the film would fall on Aaron Johnson, as filling the role of Lennon is perhaps one of the more daunting tasks faced by an actor in recent times.
But he does a good job at capturing the youthful intensity of the young songwriter and although it is a little rough around the edges, that feels appropriate given the emotional tumult of his home life.
Part of the strong bedrock of the film is an admirably tight script by Matt Greenhalgh (who wrote the 2007 Ian Curtis biopic Control) which treats Mimi and Julia as central characters rather than just peripheral support.
Based on the memoir 'Imagine This: Growing Up With My Brother John Lennon' by Lennon's half sister Julia Baird, it focuses quite tightly on their influence on Lennon's formative years and his burgeoning friendship with McCartney.
Scott Thomas nicely captures the stern but ultimately loving adoptive parent whilst Duff is excellent as the energetic and erratic soul mate Beatles fans have long read about in various biographies.
Wisely the film – unlike some British efforts – looks properly cinematic by being shot in 2:35 widescreen and cinematographer Seamus McGarvey (who has a considerable experience of music vidoes) shoots with taste, tact and intelligence.
The locations have a richness and vibrancy to them that is similar in some ways to Control and the recreation of 1950s Liverpool is entirely convincing. It is also a relief to see parts of the UK (specifically the North West) presented with a touch of class.
Taylor-Wood might have seemed an odd choice to direct a film like this
but if Steve McQueen's Hunger proved anything last year, it is that artists from different disciplines (she came to prominence in the 1990s as a conceptual artist) can give cinema something of a creative kick up the arse.
Her artistic background doesn't always leap at you from the screen, apart from one time-lapse sequence of Lennon learning the banjo, and in general this shows admirable restraint as the style rarely overpowers the emotional content.
In any musical biopic, be it The Buddy Holly Story, The Doors or Walk The Line, there is usually that moment where the principal characters play 'that song you know'.
Here the equivalent moments are when John first meets Paul and when they first play together with The Quarrymen at a local fete (Shea Stadium was still a while off).
Although this could have been cheesy, but it says a lot about the strengths of the film that it feels natural and convincing. My first reaction on seeing Paul was 'doesn't he look young?' but given that he was 15 at this point, he probably did look young.
There is one moment towards the end when a certain character is about to say the phrase 'The Beatles' and doesn't, which was the moment when it occurred to me that it hadn't been said at all.
It's a shrewd move and emblematic of the film, which fills in the emotional gaps whilst not retreading the well worn images of the early Fab Four.
The audience I saw it with was an early morning press and industry crowd and it would be fair to say they didn't applaud or go for it in the way they did for last year's LFF closing film Slumdog Millionaire.
Whilst there will always be doses of cynicism and schadenfreude amongst these kind of crowds I was surprised they didn't go for it a bit more. (I overheard one person sitting in front of me profess dislike for Sam Taylor-Wood's 2008 short film Love You More despite being "very well made".)
Maybe this is me being optimistic but if this is marketed well then I can see some very healthy box office ahead for Icon (the UK distributors) and The Weinstein Company (who have the US rights).
After all it is a film about the adolescent pain which fuelled some of the most popular songs of the 20th century.
Nowhere Boy closes the London Film Festival tonight and opens in the UK on December 26th