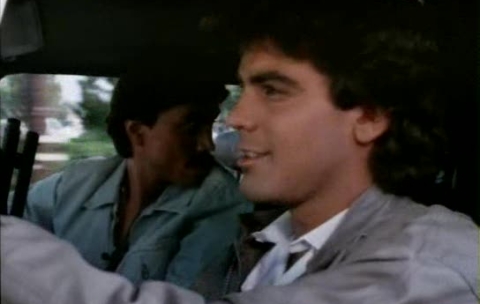 [ad]
George Clooney has three films showing at this year's London film festival – Fantastic Mr Fox, The Men Who Stare at Goats and Up in the Air.
Fox got a big gala premiere last night, Goats screens tonight, Up in the Air shows on Sunday and even The Times wrote a gushing editorial declaring him 'Fantastic Mr Clooney'. Which, to be fair, I'd mostly agree with – of all the major A-listers he is perhaps the most consistent in doing interesting work within the Hollywood system.
But before he became a big star in the 90s with ER, he paid his dues in TV such as Street Hawk. For those who never saw this 80s show, the premise was basically Knight Rider with a motorbike (i.e. former government agent becomes a crusader against crime with the aid of a hi-tech vehicle).
Clooney was in an episode called A Second Self and here is some of his appearance in two videos.
In this one he comes in around the 2.00 mark.
For some reason this one is dubbed in French: