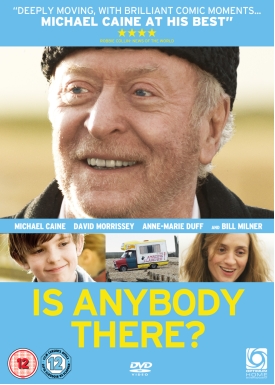 We have 3 copies of Is Anybody There? to give away on DVD or Blu-ray courtesy of Optimum.
Set in a sleepy British seaside town in the 1980s, it tells the story of a morbid, bookish 10-year-old boy Edward (Bill Milner) who becomes increasingly obsessed with the afterlives of the residents of the old peoples' home which his parents run, until he is distracted by the arrival of "The Amazing" Clarence (Michael Caine), an anarchic retired magician and grieving widower who is determined to age disgracefully.
As an unlikely friendship blossoms between them, the old man comes to terms with his past, the child masters his fear of the future, and both learn to seize the day.
Extras include:
Interview with Michael Caine
Interview with John Crowley
Interview with Bill Milner
Interview with Ann-Marie Duff
Theatrical Trailer
TV Spots
[ad]
To stand a chance of winning a copy just answer this question:
Which 2008 film starred Michael Caine alongside Christian Bale?
Just email your answers and postal address to competitions@filmdetail.com
The competition closes when we run out of DVDs, so that means the first 3 correct answers get a DVD. Simple as that.
Is Anybody There? is out on DVD & Blu-ray on Monday 14th September from Optimum
> Is Anybody There? at the IMDb
> Find out more about the Blu-ray Disc at DVD Times