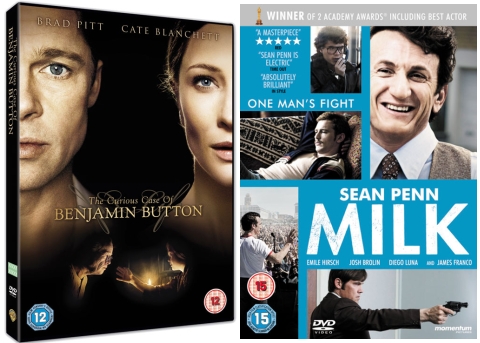 DVD PICKS
The Curious Case of Benjamin Button (Warner): A high profile big budget adaptation of F. Scott Fitzgerald's short story, which stars Brad Pitt as the title character, a man who is born as an old man and ages backwards throughout his life. Directed by David Fincher, from a script written by Eric Roth and Robin Swicord, it also stars Cate Blanchett, Taraji P. Henson, Julia Ormond, Tilda Swinton and Jason Flemyng. Told in flashback, it is an epic tale of one man's life during the 20th century, from in 1918 to 2005.
On first viewing I admired it more as a technical exercise and was puzzled as to why a director like Fincher was attracted to this material. Why did they alter the original story so much? What were the contemporary references all about? And wasn't it a bit too similar to Forrest Gump? (also scripted by Roth). However, on second viewing I found it to be a much richer experience – it is essentially a fable about love and loss and gains its power from the central concept of living life in reverse.
Far from being a gimmick, it actually becomes a profound way of dramatising the ageing process. Forget the Oscar fuelled hype and snarkycritical hate surrounding this film and approach it with an open mind. The makeup, visual effects, cinematography, score and performances make it an unusual and affecting big budget rarity.
Disappointingly Warner Bros (the UK distributor) have put all the extras on the Blu-ray version and the regular DVD is a barebones single disc with only audio commentaries.
If you have a multi-region player I would strongly recommend getting the US Criterion edition on import, although I imagine there will be a 2 disc DVD at some point in the future.
The extras on the DVD and Blu-ray versions break down like this.
Single-Disc DVD – Includes the film presented in 2.40:1 anamorphic widescreen with English and Italian DD5.1 Surround and English Audio Description; The only extra is commentary by director David Fincher.
2-Disc Blu-ray – Extras include:
Commentary by director David Fincher
The Curious Birth of Benjamin Button

Pre-Production (RT 32:20; New Featurette)
Production Part I (RT 24:14; New Featurette)
Production Part II (RT 31:36; New Featurette)
VFX- Benjamin (RT 16:52; New Featurette)
VFX- The Chelsea (RT 8:50; New Featurette)
VFX- Youthenizationo (RT 6:21; New Featurette)
VFX- Performance Capture (RT 7:57; New Featurette)
VFX- The Simulated World (RT 12:50; New Featurette)
Sound Design (RT 16:29; New Featurette)
Desplats Interumentarium (RT 14:52; New Featurette; Interviews by Alexandre Desplat and the scoring of Benjamin Button)
Costume Design (RT 7:33; New Featurette)
Tech Scouts (RT 12:53; New Featurette)
Birth (RT 4:00; New Featurette)

Easter Egg (RT 2:00)
Digital Copy
[ad]
Milk (Momentum): Sean Penn is often regarded as one of the finest actors of his generation and his portrayal of Harvey Milk in this biopic was one of his very best. Milk was a gay rights activist who in the 1970s became the first openly gay man to be elected to public office in California as a member of the San Francisco Board of Supervisors.
The film opens with opens with archive footage of police raiding gay bars during the 1950s and 1960s, followed by the announcement in November, 1978 that Milk and Mayor George Moscone have been assassinated.
What follows is an inspiring and moving tale of political courage and hope with many fine performances across the board from Emile Hirsch, James Franco and Josh Brolin.
Directed by Gus Van Sant from a script by Dustin Lance Black, it skilfully juxtaposed the drama of Milk's political battles against the inner conflicts of his private life. It was also a nice change to see Penn play a warm and inspirational protagonist, a dimension to the film which gave it an extra lift.
Watching the film unfold just a couple of weeks after the election of Barack Obama it was hard not to see the parallels: both were political outsiders who thrived on changing the status quo through a combination of hope and grass roots activism.
Sadly, Milk's legacy was not enough to prevent the passing of Prop 8 – a California ballot proposition that changed the laws of the state to ban same sex marriage. But this film will almost certainly become a lasting testament to his political and moral courage.
The extras on the DVD and Blu-ray include:
Deleted Scenes (3m 44s)
Remembering Harvey (13m 21s)
Hollywood Comes to San Francisco (14m 32s)
Marching for Equality (7m 58s)
UK & International Trailers
On DVD the film is presented in anamorphic widescreen with English DD5.1 Surround audio and optional English subtitles.
[ad]
ALSO OUT
Dasepo Naughty Girls (Third Window Films)
Elephant Diaries – Series 2 (2 Entertain)
Green Green Grass – Series 3 (2 Entertain)
Kick the Moon (Third Window Films)
Marriage Italian Style (Mr. Bongo Films)
My Bloody Valentine 3D (Lionsgate)
Odette (Optimum)
Rescue Me – Season 3 (Sony)
Stargate Atlantis – Season 5 Volume 3 (Fox)
The Incredible Human Journey (2 Entertain)
The Shield – Season 7 (Sony)
Top Gear: The Challenges 3 (2 Entertain)
Valkyrie (Fox)
Whale Wars – Series 1 (Demand DVD)
> Browse more DVD Releases at Amazon UK and Play
> Check the latest DVD prices at DVD Price Check
> Take a look at the current UK cinema releases (W/C Friday 5th June)