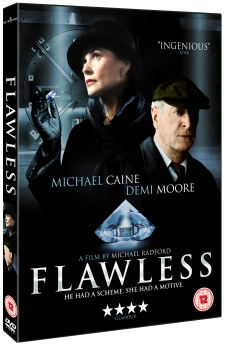 We have 3 DVD copies of Flawless to give away courtesy of Metrodome.
Set in London during the early 1960s, it tells the story of a janitor named Mr. Hobbs (Michael Caine) who is about to retire but does not want to leave empty-handed.
He asks Laura Quinn (Demi Moore), a disgruntled executive victimized by the glass ceiling, to help him steal from the company for which they both work: the London Diamond Corporation.
It is directed by Michael Radford, who made Il Postino (1994) and The Merchant of Venice (2004).
Extras include:
Trailer
Director's Commentary
Behind The Scenes Featurette
Deleted Scenes
To stand a chance of winning a copy just answer this question:
In which 1984 film did Michael Caine and Demi Moore work together?
Just email your answers and postal address to competitions@filmdetail.com
Closing Date: Friday 29th May 2009
Flawless is out now on DVD from Metrodome
> Flawless at the IMDb
> Buy the DVD at Amazon